a $296 cookbook,' />
With NFL star Tom Brady selling a $296 cookbook, the Herald looks at the best and worst products endorsed by sports stars.
THE BEST
Maria Sharapova - Sugarpova
The world's highest-paid female athlete invested US$500,000 into the chocolate company in 2012. It is run by her long-time agent Max Eisenbud after she spent 15 months for the right chocolate maker. Eisenbud
earlier this year that Sharapova, who owns 100 percent of into the business, has invested "seven figures" into Sugarpova and that it may triple revenues to US$20 million by 2018.
"We're building for when her career is over," Eisenbud said in an interview at the Australian Open in Melbourne. "The plan is to turn Sugarpova into a lifestyle brand," which may also sell home goods, sleep and loungewear, he added.
Sharapova has had plenty of time to concentrate on the business after being handed a provisionally ban from tennis after failing a drug test for banned substance meldonium.
George Foreman - George Foreman Grill
The former heavyweight boxing champion was approached by company Salton, Inc. to promote their fat-reducing grill in the early 1990s after wrestler Hulk Hogan reportedly turned them down. More than 100 million units have been sold since it was first launched.
Foreman has never confirmed exactly how much he has earned from the endorsement, however he was paid US$137 million by Salton, Inc in 1999 in order to buy out the right to use his name. Before the payout he was paid 40 percent of profits from each grill sold, meaning he was getting at times around $4.5m a month. Overall he's estimated to earn more than $200m from his endorsement of the George Foreman Grill.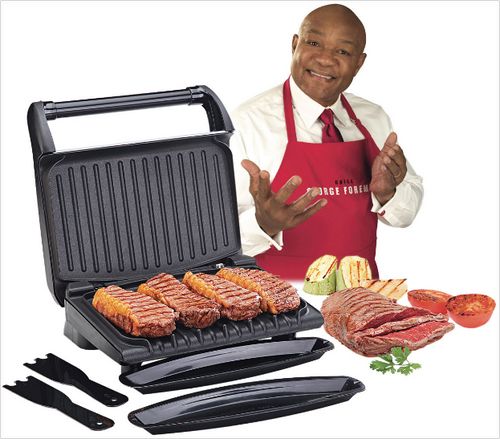 Michael Jordan - Air Jordan
NBA legend Michael Jordan had his first pair of Air Jordan shoes produced in 1984. The brand has since made Jordan one of the richest men in the world, as he made his debut on the Forbes billionaires list for the first time in 2015.
Jordan has a current net worth of US$1.1 billion (NZ$1.6 billion). After making US$90 million from his playing career, Jordan has been able to make a further billion dollars through investments and endorsements. According to Forbes, Jordan earned $100 million from Nike and other partners last year, more than any other retired or current athlete.
THE WORST
Ben Johnson - Cheetah Power Surge
Canadian sprint Ben Johnson is trading on his disgraced past, endorsing a sports drink called Cheetah in a TV commercial.
Johnson was stripped of his Olympic gold medal and world record in the 100 meters at the 1988 Seoul Games after testing positive for steroids. After a two-year suspension, he received a lifetime ban in 1993 for a second positive drug test.
One ad is a mock interview between Johnson and Frank D'Angelo, the president and chief executive of D'Angelo Brands, which makes the drink.
D'Angelo asks Johnson: "Ben, when you run, do you Cheetah?"
"Absolutely," Johnson says. "I Cheetah all the time."

Lamar Odom - Unbreakable
Former NBA player Lamar Odom, a two-time champion with the Los Angeles Lakers, married reality star Khloe Kardashian after a month of dating. The pair subsequently released a unisex fragrance called "Unbreakable".
The tagline for the fragrance included "there is a beauty believing one cannot exist without the other, that sometimes the bond between souls is truly unbreakable."
Unfortunately, the pair split in 2015 as Kardashian filed for divorce from Odom and legal restoration of her name.
Rafael Palmeiro - Viagra
During his 19-year career, former professional baseball player Rafael Palmeiro had run-ins with performance enhancing drugs, testing positive for anabolic steroids in 2005.
Palmeiro "defiantly denied" the allegations, but there is no denying his endorsement of a different kind of performance enhancing drug, appearing in advertisements for Viagra in 2003.
Palmeiro also appeared on a graphic for the medication that states "I take batting practice", "I take infield practice" and finally "I take Viagra, let's just say it works for me".