The Rio Olympics and Ryder Cup are special sporting layers this year above the annual attractions of the Super Bowl, Boston Marathon, FA Cup final, NBA finals, golf and tennis majors, Stanley Cup final and Melbourne Cup.
For Kiwis, there will be significant interest in the visit from the Australian cricket side next month and the regular inspection of rugby, racing, league and netball.
Away from the usual events which chain our interest, a host of off-piste events have their devotees who take their sport to another level. Here are six which have piqued our interest as the strangest competitions to keep an eye on this year.
Ferret-legging
Celebrities such as Michael Parkinson, Arthur Scargill, Dickie Bird, Darren Gough and Mick McCarthy were raised in Barnsley in the heart of Yorkshire. Now there's another name on the list - retired miner Reg Mellor - the undisputed champion of this dangerous sport.
Where once the world record was 40 seconds for keeping two vicious ferrets down a competitor's pants, Mellor has taken the mark for "keepin' 'em down" to five hours and 26 minutes.
The animals with vicious claws and teeth try to get out while Mellor and his mates shed any underwear, tie their trousers tight at their ankles and waist and endure the pain of the scrabbling varmints.
Rules allow leggers to knock a ferret away from a biting zone but the heavily tattooed Mellor says they never let go. He used ferrets when he hunted in the moors outside Barnsley and found they were more effective when he kept them dry, for hours, down his trousers.
Mellor had found his sporting niche and reckoned he could put up with the pain of ferrets hanging from his crown jewels for hours. The champ introduced white trousers at tournaments to show the blood better and donated his winnings to a local children's home.
Buzkashi
This national sport of Afghanistan resembles polo played with an animal carcass.
Contestants ride horses, which are trained to bite their rivals, and try to pick up the dead goat or calf carcass and move it into the scoring area which can be a line, a vat or a net.
There's no waste. Once the game is done and the competitors have worked up an appetite, they adjourn to cook the corpse, compare notes and tell some tales.
Buzkashi has a growing appeal while there are unconfirmed reports Borat may become the global spokesman for the code.
They play a version in China where they operate from yaks while another style has made its way to the US where a sheepskin-covered ball has replaced the animal carcass.
Eukonkanto
Began in Finland where men have to carry a female teammate - piggyback, fireman's lift or hanging upside down holding on to his waist with her legs around his shoulders - through a 253.5m water-filled obstacle course.
The woman must be over 17, weigh more than 49kg and top prize is the woman's weight in beer.
The sport is now practised in Australia, the United Kingdom, Hong Kong and the United States, where the North American championships are held in Maine in October, where, surprise, surprise Dennis Rodman has been an enthusiastic supporter.
Cheese rolling
In late May, competitors gather at Cooper's Hill near Gloucester for the 200-year-old tradition of cheese-rolling.
They wait at the top of the 200m slope until the organiser fires a double-Gloucester wheel of cheese down the hill. The racers are usually restricted to four teams of 15, in a nod to safety, with the aim of chasing down the runaway cheese.
Invariably the pursuers take a tumble in their haste to catch the fugitive fromage which has been measured at speeds of 112km/h. If the cheese escapes its pursuers the first chaser to cross the finish line wins the wheel.
There are injuries every year while those who are more cautious or can't get in the select field, can watch the race unfold on an iPhone app.
Chicken wing eating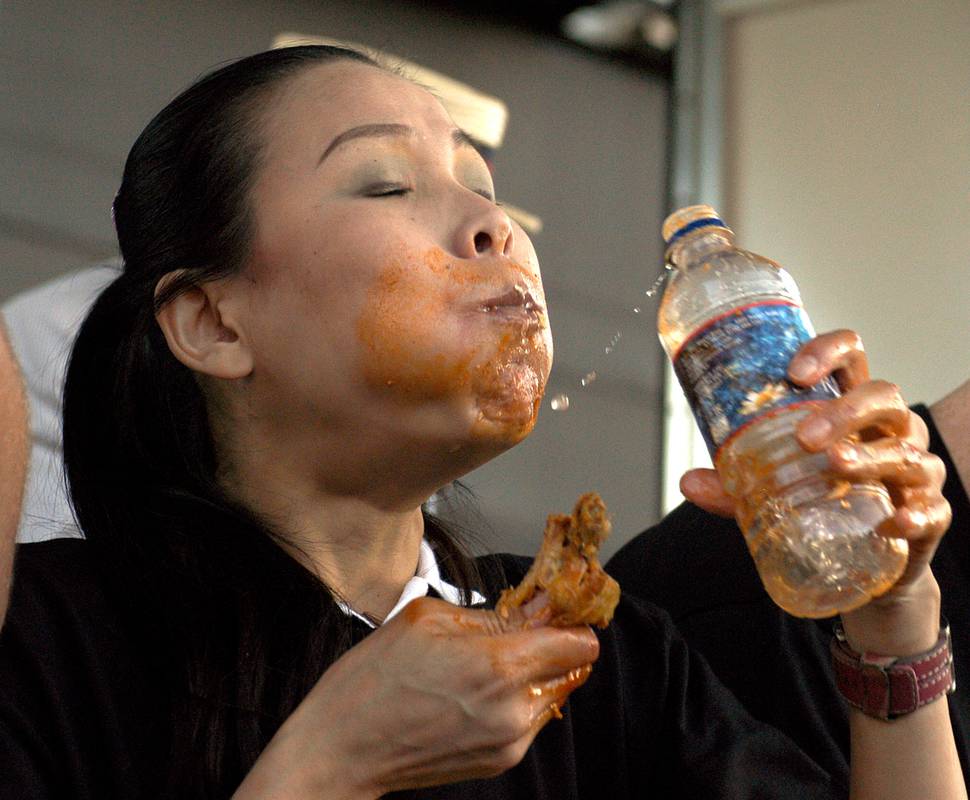 People shovelling hot dogs into their gobs is a bit passe so for a bit more panache, they point the family wagon in the direction of Buffalo and watch them devour piles of chicken wings in the annual eating festival.
The 48-year-old Sonya Thomas, born Lee Sun-Kyung and known as the Black Widow, does not fit the stereotype of a massive tooth person, weighing in at just 44kg, but she holds a slew of eating records.
Fruit-cake, hot dogs, chilli, tacos and bratwurst are no match for Thomas who trains on an inclined treadmill for several hours most days and usually eats one large meal a day unless she visits all-you-can-eat restaurants to keep in race shape. She believes her gastronomic maximum is about 8kg and her competition foods of choice are hard-boiled eggs, oysters and chicken wings.
For five straight years she took out her chicken wing rivals including a 183 wings effort in the 12-minute time limit before Joey Chestnut dethroned her, chomping through 191.
Chess boxing
Knockout or checkmate? This hybrid sport has regular events in Germany, England, France, Holland, Japan and Russia where competitors aim to complete their cross-training so they are both Garry Kasparov and Muhammad Ali when they reach the ring.
Each match starts with a four-minute round of chess before the action moves to a three-minute round of boxing in an 11-round contest with a minute between rounds. Opponents wear headphones and remove their gloves for the speed chess rounds when they are expected to make a move every 10 seconds.
Decisions in the chess segment are rare and results go to a countback on the boxing where if there is a stalemate, victory is awarded to the player with the black chess pieces.
Honourable mentions
Oil wrestling which has been popular in Turkey since 1350, Poohsticks on the River Thames, teams of five bed racing in North Yorkshire, bossaball in Spain, unicycle polo and dog-surfing in San Diego.