Time for your weekly edition of the ASB Premiership Funbag. Got something on your mind? Email the Funbag. Today, the league's best Maori footballer, the dearth of long throw-ins and Jonah Lomu.
Read more:
Where would a team of 11 Ivan Vicelich's finish in the league?
Would Southern United win the league with Lionel Messi?
The worst names in NZ Football
Anderson: Here at the Funbag, we aim to both please and promote the New Zealand football community and competitions.
Instead, it seems like we are doing the opposite.
Last week, we got a question asking if WaiBOP was "the most desperate name ever for a national league team". I innocently mentioned that there should be a WaiBOP remix of the Hansen's hit "Mmmbop", made some other similarly inane comments, and left it at that.
Lo and behold, just days later, WaiBOP sent out a letter to their members that they are set to hand their league licence over to Hamilton Wanderers for the proposed revamped 2016 campaign. Auckland City's fan club had a solid argument as to what went down.
Forget all the logical reasons for the decision - it is either that, or the WaiBOP board were so appalled at the potential thought of the Hansen/WaiBOP remix that they decided they should throw in the towel before that horror emerged onto the internet.
The proposed licences and evolution of the league is an extremely interesting subject in football circles at the moment, and I'm sure we'll crack into it at a later date.
But for now, let us focus on the competition currently at hand, and get to your questions.
From Ivan, Napier
Hey lads, what were the highlights for those who missed the WaiBOP v Hawke's Bay game last night?
Anderson: While the late strike from Khair Jones to give Hawke's Bay the 1-0 win was top-drawer, there was a far bigger highlight for me last night.
I'm talking about this tweet.
What a moment. While I think we all know what the poor tweeter was trying to say - and it's something I fear doing whenever I'm in control of a sporting team account - the crafting of the tweet is just unbelievable.
I conjured the picture of Hamish Watson being so annoyed at WaiBOP keeper Zac Speedy being able to deal with all his excellent, good and even average crosses and shots that the thought crosses his mind "Wait a minute.... I know what will catch him unaware - a shit cross!"
Hard to see this tweet being toppled all season.
From Andrew, Auckland
I would like to bring a bit of cultural sensitivity to the Funbag. In your opinion who is the greatest Maori footballer to play in the ASB Premiership?
Holloway: I was lucky enough to grow up in the golden era of Maori footballers in New Zealand. I went to school with some of the Ngapuhi tribe's biggest names like Michael Mayne and Lindsay Pijnenburg and played for Waikato alongside Joe Simpkins, Hone Fowler, Stu Watene and Sam Messam.
Mayne, Fowler and Watene were the pick of that bunch, but their achievements at national league level have perhaps already been usurped by exciting young Auckland City duo Te Atawhai Hudson-Wihongi and Clayton Lewis, who have both recently been called up to the All Whites.
But the player who falls on top of the Maori football pyramid dominated the NZFC in its formative years.
Hoani Edwards was Waitakere United's midfield conductor from 2004-2007, and a real class act. Smooth on the ball, fierce in the tackle and full of energy in the dressing room, Edwards was once described by former Waikato coach Declan Edge as 'the best New Zealand player never to have played for the All Whites.'
But they all live in the shadow of the kaumatua of Maori footballers in New Zealand - Heremaia Ngata (who never played in the NZFC or ASB Prem).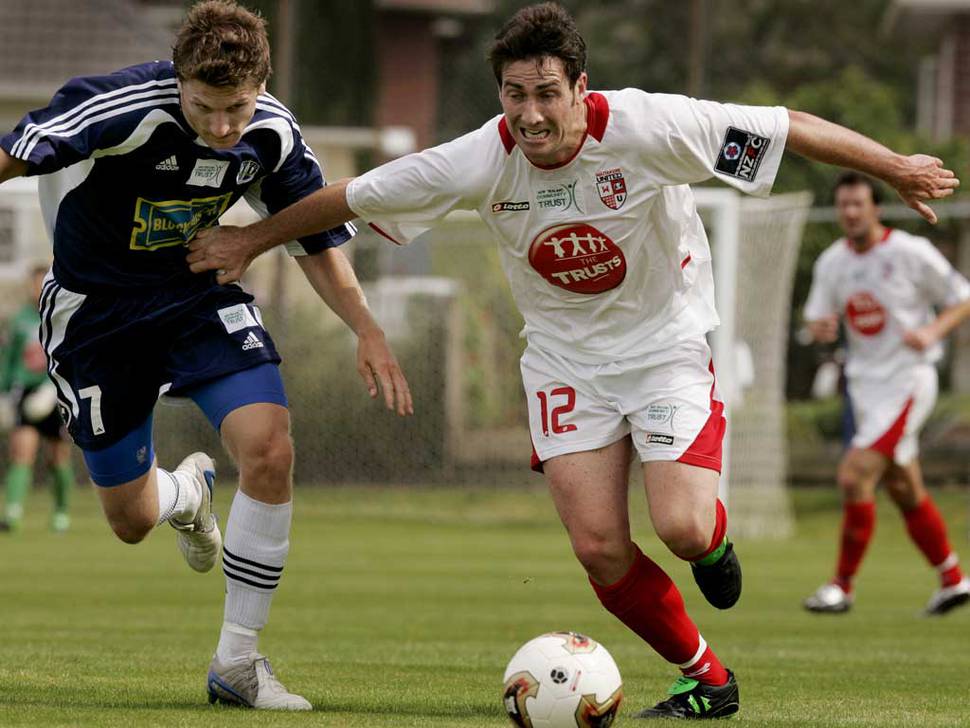 From Cordwainer, Hamilton
Was it a bit weird to hold a 1-minute silence for Jonah Lomu before the start of the Waitakere-WaiBop match at North Harbour Stadium, given he never got a game with either club and had no discernable link with the national league or even football?
Holloway:
Yes, it was a little incongruous. But whenever some bright spark suggests a minute's silence for anything, it always desperately hard to say no. For instance, just a few days earlier Waibop women's coach Juan Bautista invoked a minute's silence in the Gower Park clubrooms ahead of speeches following his team's loss to New Zealand Development team. That was in remembrance of the Paris terrorism victims, who surely had only the most tenuous of links with the women's national league.
Of course the thing about Waitakere matches these days is you can get easily 90 minutes of crowd silence without even asking for it. For contrast's sake you'd be better to request a minute's noise.
From Ricki, Maldives
Who is your tip for the sack race? And what is the postal address of the corresponding club?
Holloway: As far as I can tell, there have only been three coaches sacked mid-season in the NZFC/ASB Prem era, and they have all been Hamilton men.
Waikato legend Roger Wilkinson got the snip from Auckland City in 2005 after falling out with a number of senior players, Dave Edmondson lost his job at Waikato FC in 2006 after three of his players were arrested for brawling at 4.00am on a team trip in Napier and Declan Edge got the bump from Waikato FC mid-season in 2012.
History has a funny way of repeating so my money would be on WaiBOP gaffa Peter Smith.
Ok, so last week WaiBOP produced the franchises greatest result, and this year they look like a side capable of cracking the top two, but there's definitely something in that Hamilton water. Those wheels are going to fall off.
So send your CV to WaiBOP. Actually no, send it to Wanderers. Ahh, maybe just hold onto it for now Ricki..
From Patrick, New Plymouth
It sounds like Anthony Hudson has been getting out and about to watch a lot of ASB Premiership games this season which is great. But it got me wondering, what would a typical day look like in the role of All Whites coach? Assuming the All Whites didn't have a game for two months, what does he do?
Anderson: I have heard that Hudson likes to split his workday into a 4-4-2 system, with four hours devoted to scouting 18-year-olds to insert directly into the starting All Whites lineup, four hours making sure those 18-year-olds are eligible, and then two hours emailing Albany Red Badge security to make sure he gets into ASB Premiership games.
Seriously though, I would imagine the majority of his time would be spent scouting, utilising video analysis, searching for overseas players who are eligible for the All Whites (like Themistoklis Tzimopoulos), working with New Zealand's age group teams and schmoozing to create relationships with other coaches and football administrators.
From Michael, Auckland
Why hasn't Ramon Tribulietx been picked up by a professional club? I realise he got close with Brisbane but surely another club would be interested in him given Auckland City were the world's third-best club side last year. Do you think it's his refusal to employ Asterix and Obelix up front which is holding him back?
Holloway: I think it's clear to everyone in New Zealand Football that Tribulietx has the X-Factor. What he did at last year's Club World Cup was astonishing, and quite frankly, I have no idea why a pro-contract didn't come his way. I remember writing at the time that it would surely be his last season at Auckland City, but once again; egg on my face. I can only assume a professional contract hasn't come his way because his name is too difficult to spell. I'm in my sixth year of writing Tribulietx across match reports and it still looks wrong. But, mark my words, he will be with a pro club next year, for sure...
From Stu, Auckland
NZ Football loves a long throw specialist. Nate Strom once scored directly from one in his Otago days albeit wind assisted and with a dodgy keepers touch. Who is the new Nate Strom in this year's ASB Premiership? Will we ever see another goal scored directly from a throw in this country?
Anderson: Every week we get a question where I go "Geez, this is exactly what the Funbag was invented for". As a long-time Nathan Strom long-throw admirer, I keenly remember the Waikato FC days under Willy Gerdsen when the squad would try to play some quality football along the ground, while also mixing in Strom's slightly-illegal, kinda-one-armed long throws.
As for will we ever see another goal scored directly from a throw - sure, why not. But we may have missed our premier opportunity this season, as WaiBOP defender Adam Luque could have hurled one into the mix last Thursday whilst Waitakere keeper Simon Williams was having a flappy display.
With that game gone, I'm going to put my money on it most likely occurring in a game in the Wellington wind. C'mon Team Wellington, lets see what you've got.
Holloway: There will never be a 'new' Nathan Strom.
This weekend's ASB Premiership matches:
Sunday: Team Wellington v Waitakere United - 2.00pm
Sunday: Auckland City v Canterbury United - 4.30pm
Sunday: Southern United v Wellington Phoenix - 2.00pm