Floyd Mayweather and Manny Pacquiao will square off in boxing's richest fight in Las Vegas on Sunday afternoon (NZT). Daniel Richardson takes a look at some of the facts and figures associated with the bout.
Who is fighting?
In one corner you have America's Floyd 'Money' Mayweather who is the 47-0 undefeated pugilist that has won world titles in five different weight classes.
On the other side of the ring you have boxing's only eight-division world champion in Manny Pacquiao. The 36-year-old from the Philippines has a 57-5-2 professional record.
Where are they fighting?
In boxing's mecca Las Vegas at the MGM Grand Garden Arena.
Why is the fight there?
The 38-year-old Mayweather has fought at the MGM for many years and Las Vegas promotes the biggest potential for gate-takings.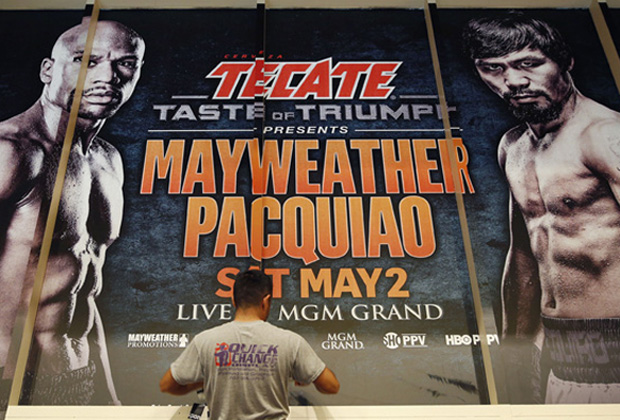 The MGM Grand Garden in Las Vegas. Photo / AP
Read more:
• Pacquiao trainer says he has winning formula
• Pacquiao - Relax, I'm going to beat Floyd Mayweather
• Mayweather: I will not lose to Pacquiao
• The most watched fight of all time

What weight class will they fight at?
Welterweight, which has a maximum weight limit of 67kg or 147lb in American parlance.
What time will it start?
That depends on the undercard, which includes a couple of notable world title bouts, but ring walks are expected at around 3pm NZT with the bout likely to start at 3.30pm. You can book the PPV with Sky TV for $49.99 or catch it at a local bar. Bear in mind that the PPV costs US$89.95 in America, which is $118 NZD.
nzherald.co.nz will also be live blogging the fight from 3pm.
Are there titles on the line?
You bet. Mayweather holds the WBA's 'super' welterweight belt and the WBC title, while Mayweather holds the WBO strap and all of them will be up for grabs.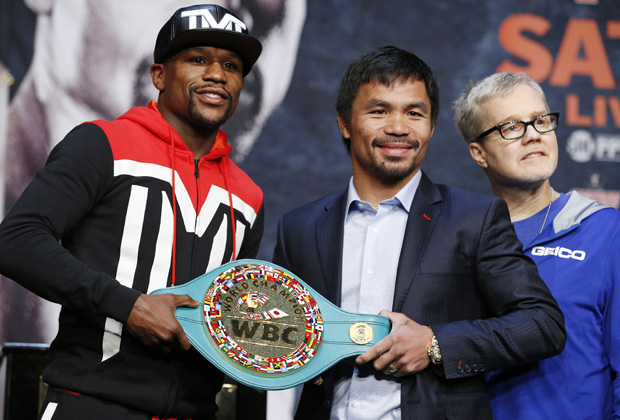 Floyd Mayweather and Manny Pacquiao pose with the WBC belt. Photo / AP

Can you explain why there are so many belts?
In boxing, there are four major sanctioning bodies that are recognised by the International Boxing Hall of Fame, they are the WBA, WBC, WBO and IBF. The WBA like to muddy the waters by upgrading certain champions to 'super' status, while also having a 'regular' champion.
Why did this fight take so long to eventuate?
In 2009, Mayweather announced he was coming out of a brief retirement and around the same time, both Mayweather and Pacquiao were generally recognised as the two best pound-for-pound fighters on the planet. A fight seemed imminent. But their 2010 date fell through as neither party could agree on the drug testing for the bout. The fight laid dormant for a while and took a bigger hit when Pacquiao was sensationally knocked out by Juan Manuel Marquez in 2012. But Pacquiao has recovered since, while Mayweather simply has few options left in regards to potential opponents so the fight had to be made.
Why was the deal hard to make?
There was plenty of animosity among both camps due to the lingering issues from previous failed attempts to make the fight. Mayweather (Showtime) and Pacquiao (HBO) are also signed to rival TV networks who will share of a joint broadcast of the bout as happened when Mike Tyson fought Lennox Lewis in 2002. Such things include huge amounts of red tape and take time to work through.
Read more:
• Why Mayweather vs Pacquiao is not the greatest fight ever
• Beat Manny and retire - Mayweather Snr
• 24 things you didn't know about Pacquiao

What about the money?
Mayweather will get a 60/40 split of the purse but the exact figures around the bout are mind-boggling and may never be known exactly. Mayweather said this week he could pocket up to $US200 million for the bout, while Pacquiao should net around $US120 million, if not more. Pacquiao also has higher sponsorship revenue.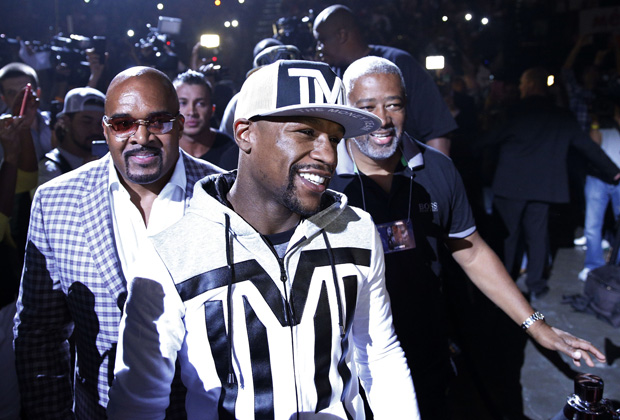 Floyd Mayweather said this week he could pocket up to $US200 million for the bout. Photo / AP

Tickets?
The fight sold out in 60 seconds and only 500 tickets were made available to the public. The MGM seats 16,800. Tickets were available on website StubHub today for as 'little' as $US3069 for a spot in the nosebleeds. You can sit ringside for US$87,755.
Who is the betting favourite?
Mayweather is at $1.45 with Pacquiao at $2.60 with the New Zealand TAB.
What makes Mayweather so good?
He is incredibly elusive in the ring and is a brilliant judge of range. His counter-punching is superb. If you'd like a more in-depth breakdown, check out this excellent piece from our friends at
.
Can Pacquiao dethrone the pound-for-pound king?
Of course, but as his trainer Freddie Roach has said, Pacquiao will need to fight the perfect fight.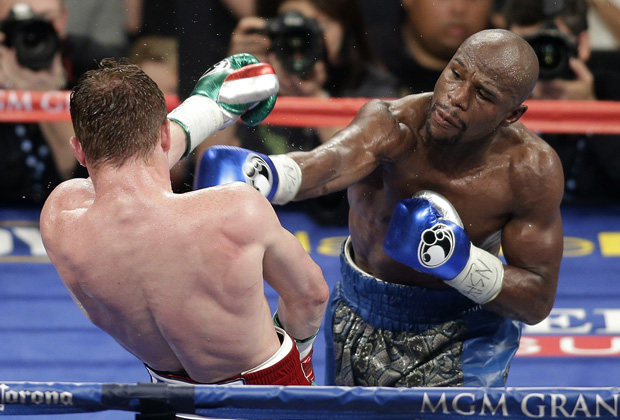 Floyd Mayweather is a $1.45 favourite. Photo / AP

Who is the referee?
Veteran official Kenny Bayless will be in charge. Bayless has the catchphrase: "What I say you must obey".
And, the judges?
Burt A. Clements, Dave Moretti and Glenn Feldman.
Ring announcers?
Michael Buffer (HBO) and Jimmy Lennon Jr. (Showtime).