Gold and silver medals rounded off New Zealand's best Commonwealth Games track cycling campaign at the Chris Hoy velodrome this morning.
Shane Archbold grabbed New Zealand's fourth gold of the Games in the 20km scratch race before Sam Webster claimed his third medal of the meeting, finishing second in the keirin final behind flying Australian Matt Glaetzer.
That took New Zealand's tally to 11 medals - four gold, two silver and five bronze - exceeding the previous best mark of nine, achieved at both the Auckland Games of 1990 and New Delhi four years ago.
For 25-year-old Archbold this was his day.
When team mates Tom Scully and Aaron Gate won the gold and bronze medals in the points race 24 hours earlier, they paid tribute to Timaru rider Archbold's contribution in the race.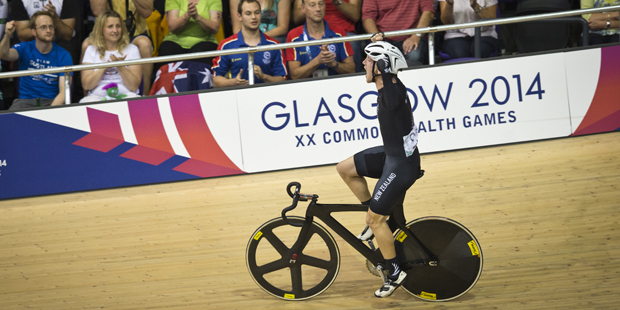 Shane Archbold celebrates after the winning gold in the men's 20km Scratch Race. Photo / Greg Bowker
This time it was Archbold's turn.
"My time was overdue," he said.
"As a bike rider yesterday (helping get two medals in the points race) was my most satisfying day but I'm sure tomorrow morning I'll wake up and change that to today.
It's probably the most successful weekend of my life."
Archbold, who has been in the programme for around eight years, praised high performance boss Mark Elliott and the management group for the outstanding preparatory job they'd done.
"They did a perfect job to help us to our most successful campaign ever."
Once Archbold got a lap up on the field, the plan was for Scully and Dylan Kennett to ride support roles, which they did impressively.
Archbold dug deep when he recognized the gold was his and flung his arms in the air after crossing the finish line, punched the air repeatedly, his delight evident for all to see.
As for Webster, he had no complaints over a meeting which produced individual and team sprint gold medals and a keirin silver.
"The pressure I was putting on out there was pretty minimal," the Auckland rider said.
"I was happy with what we had achieved so far. I really maximized the rest day, and y body came back much fresher than I was expecting."
He was happy with his semifinal ride and while he was chasing gold to equal Gary Anderson's record from 1990, had no complaints, acknowledging Glaetzer had ridden a superb race.
Team mate Eddie Dawkins finished sixth in the final, while Simon van Velthooven, the London Olympic and New Delhi bronze medallist failed to qualify for the final.
There was a good fifth placing for American-based rider Rushlee Buchanan in the women's 25km points race.
The cycling attention now turns to the road and the individual time trial and road race, starting with the time trials on Thursday night (NZT).
New Zealand's performance on the track at the Commonwealth Games
Gold
Sam Webster, individual sprint
Team sprint, Ethan Mitchell, Sam Webster, Eddie Dawkins
Shane Archbold, scratch race
Tom Scully, points race
Silver
Simon van Velthooven, kilo time trial
Webster, keirin
Bronze
Aaron Gate, points race
Eddie Dawkins, individual sprint
Matt Archibald, kilo time trial
Marc Ryan, 4000m individual pursuit
Team pursuit, Marc Ryan, Shane Archbold, Pieter Bulling, Dylan Kennett