From the Blues' rego worries to the world's tallest high school basketballer, Daily Shorts looks at the light-hearted side of sport
Scandalous rugby pic of the week #2
Following quickly on from "Selfie-gate"... Blues beware - your 1966 Fiat Bambina, a high-profile reward for the team's "dick of the week", is in desperate need of a new registration.
Daily Shorts wonders whether the team, who have not won away from home since the start of last year, are playing a dangerous game of chance here - similar to the "credit card" roulette that professional rugby players often employ in order to settle a restaurant food bill.
In that case a group of players hand over their cards and the waitress chooses one at random which pays the entire bill. In the Fiat's case, the unlucky player pulled over by the constabulary could face a hefty fine.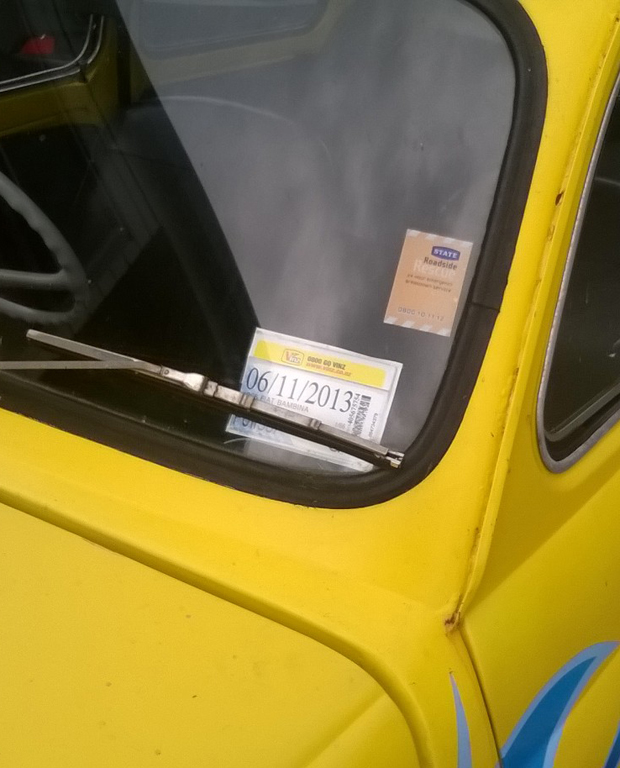 Anyone fancy a run in North Korea?
For the first time in 30 years, North Korea opened its marathon to foreigners yesterday - meaning tourists could come to the normally isolated country to participate in a 26.2 mile race, half marathon or 10k run.
Runners from 27 foreign countries participated in the run, but no one could beat North Korean leader Kim Jon-Un, who finished the 26 mile race in just 23 minutes.
Ok, well maybe that's not true, but it might not hurt 'Dear Leader's' reputation to create a few impressive sporting feats to match his incredible dad's.
Incredible sport stuff his dad, Kim Jong Il 'did'
*According to his biography, he first picked up a golf club in 1994, at North Korea's only golf course, and shot a 38-under par round that included no fewer than 11 holes in one. Satisfied with his performance, he reportedly immediately declared his retirement from the sport.
*Another legend had him bowling a perfect 300 in his first attempt at the sport.
*He also offered coaching advice during the 2010 World Cup, communicating with North Korean coach Kim Jong-Hun via invisible cellphone. Jong Il was said to have developed the technology himself.
After inheriting such miraculous genes, Un has it in him to run the fastest race of all time, hopefully he will be a starter next year. Here are some pics.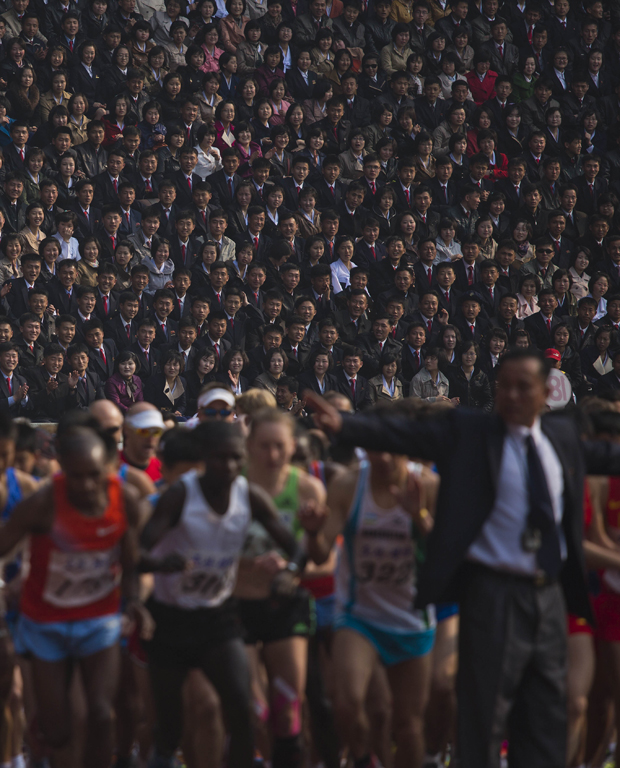 North Korean spectators watch from the stands of Kim Il Sung Stadium as runners line up a the start of the Mangyongdae Prize International Marathon in Pyongyang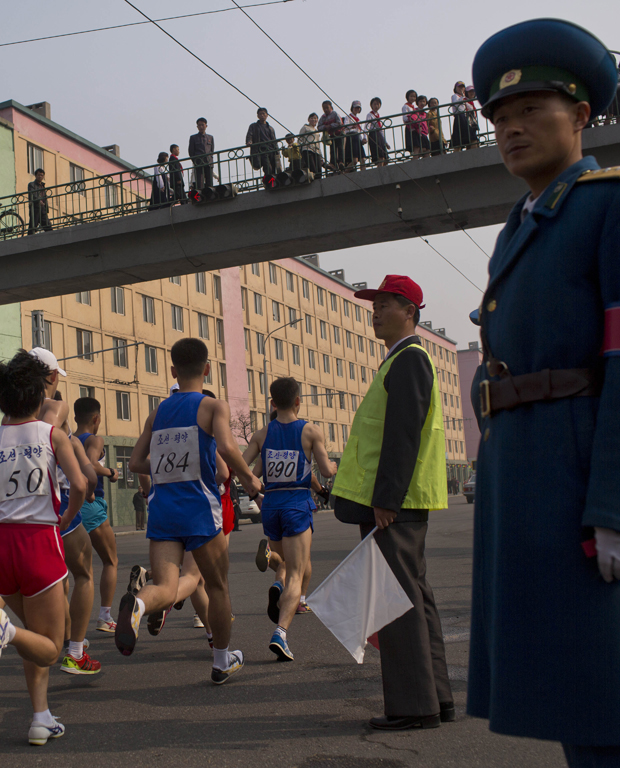 Runners pass under a pedestrian bridge in central Pyongyang during the running of the Mangyongdae Prize International Marathon in Pyongyang, North Korea
World's tallest basketballer
Meet Tacko "Taco" Fall. He's somewhere between 7-foot-4 and 7-5, wears a size 22 shoe and has an 8-foot wingspan. And he's believed to be the tallest prep basketball player in the U.S., if not the world.
According to the Sentinel, he's eating entire pizzas covered in chicken and hamburgers to keep weight on his 250-pound frame.
In that sense, he's your typical teenager. In another sense, he is a ridiculously large human. He stands 1 1/2 inches taller than current Oklahoma City center Hasheem Thabeet, the tallest current NBA player.
Check out this clip of him dominating his high school league.
Welcome to League Two
English Conference side Luton Town gained promotion into the football league last weekend which means Steve McNulty is now a League Two player.
McNulty gives hope to pub players throughout the world who still have a 'bit going for them' despite a greying complexion and a few too many trips to the bakery.
McNulty is a club legend at Luton. Check out this clip of some of his best flicks and tricks.
Tweet of the day:

Feeling really attractive right now!?? #multipurpose pic.twitter.com/GPy4CNNyUP

SHARE THIS QUOTE: