It's the sports fan's greatest game — picking the next big thing. Here, we outline ourtop 14 choices as the young and up-and-coming sportspeople who could catch our eye in 2014.
Molly Meech and Alex Maloney (sailing)
It's difficult terming existing world champions as "new faces" but these two will not get a crack at Olympic glory until Brazil 2016 in the fledgling 49er FX skiff sailing class. They became gold medallists at the world championships in France in October and, though the class is still establishing itself internationally, these two (handled by the same coach, Nathan Handley, as world and Olympic 470 champions Jo Aleh and Polly Powrie), seem set to make their Olympic mark.
While Aleh and Powrie are well known, Meech andMaloney have yet to enter the public consciousness. Meech, 20, and Maloney, 21, both come from families who gave up the concept of living on land and sailed round the world with their kids for years. Their brothers, Andy Maloney and Sam Meech, are also aspiring Olympians in direct competition in the Laser class. Andy Maloney was third at last year's Laser world championships and 11th this year,while Meech placed 13th at the same regatta.
- Paul Lewis
Tuimoala Lolohea (rugby league)
Tuimoala Lolohea didn't have an auspicious start to his career at the Warriors. He struggled in his first two trials before being switched to the halves,where he quickly excelled. In his first year in the Holden Cup, while still a student at Kelston Boys' High School, the standoff featured in all 28 games, scoring 22 tries as he exhibited dazzling footwork and speed.
The 18-year-old was particularly prominent in the play-offs, as the Junior Warriors went all the way to the grand final. Lolohea, who was named NYC Rookie of the Year and the NZRL's Junior Player of the Year, is expected to train with the wider Warriors NRL squad during the off season.
- Michael Burgess
Malia Paseka (netball)
Raised in Sydney, Porirua-born Malia Paseka first cameto the attention of Netball NZ when she told an Australian newspaper it was her dream to play for the Silver Ferns. Two years later, Paseka was one of the stand-outs for the NewZealand under-21 side in their shock win over Australia in the final of theworld youth championships in August. Her form in the tournament sawthe athletic shooter invited to join the Silver Ferns on their tour to the United Kingdom this month as a training partner before she links up with the Magic in theANZ Championship, where she is tipped for a big season.
- Dana Johannsen
Siositina Hakeai (athletics)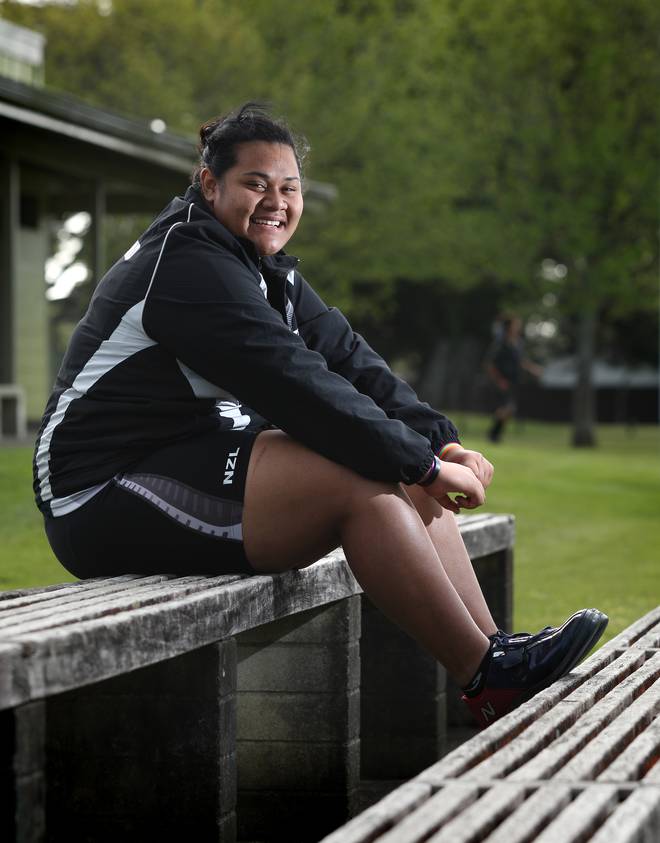 Since being spotted as a 15-year-old, young discus thrower Siositina Hakeai has had the 2014 Commonwealth Games on her radar. The 19-year-old achieved a personal best of 57.91min September - 3cm short of the national under-20 record held by former world champion Beatrice Faumuina - and is said to be steadily improving. Now ranked seventh in the Commonwealth, the B qualifying standard of 58.50m for Glasgow is expected to be within her reach.
- Dana Johannsen
Ryan Thomas (football)
He wasn't widely known outside New Zealand football circles but 18-year-old attacking midfielder Ryan Thomas hasmade a promising start in the Dutch first division with PEC Zwolle. After impressing in trials, the former Waikato FC player has already made five appearances in the Eredivisie for Zwolle, including a match against former European champions PSV Eindhoven. "He has time on his side and could develop into a world-class player," says former All White and long-time coach Declan Edge.
- Michael Burgess
Gabrielle Fa'amausili (swimming)
The Auckland teenager won this year's 50m freestyle event at the national short course championships ahead of Olympians Hayley Palmer and Lauren Boyle in October and looks a decent prospect for the Commonwealth Games in Glasgow. The Avondale College pupil is a cousin of Orinoco Fa'amausili-Banse,who swam in the New Zealand men's 4x100m freestyle relay team at the 2008 Beijing Olympics. She also won gold in the 50m backstroke at the junior world championships in Dubai in August.
- Daniel Richardson
Nikolas Charalampous (boxing)
In his victory over tough Rico Chong Nee on the undercard of the David Tua-Alexander Ustinov fight in November, this young (just turned 21) light heavy weight impressed. Not so much with his form or style, perhaps, he's still pretty raw. But he has rare spirit; he's an aggressor, a predator, a shark circling his opponent looking for an entry point. He may have a way to go to understand that he doesn't have to batter the bejesus out of every opponent but he will similarly never be beaten throwing in the towel.
Though young, he has already had something like 70 amateur fights- and many more outside the ring in a lifestyle marked by violence, drugs, drink, trouble with the law and a life without a focal point. Now he has - boxing - and this young man of Cypriot heritage also has a young daughter and a partner and is using the sport to stabilise his life. There is a lot that can go wrong but the last night of David Tua's career could have been the start of another's.
- Paul Lewis
Jackson Garden-Bachop (rugby)
Being a 'son of' usually brings lofty expectations and Garden-Bachop, son of former All Black Stephen Bachop, is touted for big things in Wellington. The promising inside back made his provincial debut this year in a lone appearance off the bench for the Wellington Lions against Bay of Plenty in the ITM Cup in his first year out of high school. Garden-Bachop turns out for Porirua's Norths, the same club as TJ Perenara, and spent four years playing in the Scots College 1st XV before stepping out against the big boys this year. He has natural size and pace, and also possesses a useful kicking game.
- Daniel Richardson
Tyla Nathan-Wong (rugby sevens)
One of the young stars of the New Zealand women's sevens team, the athletic teen continues to build her profile as the sport grows in prominence. With sevens at the Olympics for the first time in 2016, the women's programme is being bolstered to include more regional tournaments and a greater emphasis on the national tournament. Nathan-Wong, who has also represented New Zealand in touch football, is expected to play a big role for the New Zealand team on the world circuit, although she missed last month's season-opener in the United Arab Emirates through injury.
- Dana Johannsen
Will Young (cricket)
Once in awhile, batsmen appear in New Zealand domestic cricket with classic stroke-making capabilities. The last was Kane Williamson; Young looks like the next. A recent day watching the former New Zealand under-19s captain at Seddon Park for Central Districts saw him ease to 12 and 24 with perfect technique. The 21-year-old already averages around 40 in first class cricket but now needs to go about the business of accumulating a weight of runs and big innings. The next long-term vacancy in the test middle order could be Brendon McCullum. Expect Young to challenge for a place in the New Zealand team in the next few years.
- Andrew Alderson
Mandy Boyd (bowls)
Still in her early 20s, Boyd has a national title and silver medal from last year's world championships to show for her efforts on the greens. She is highly likely to be part of New Zealand's team at next year's Commonwealth Games, it's just a matter of where she will fit in. Bowls is often a sport associated with older athletes but Boyd loves being a youngster among the crowd. "I see it as an advantage because I get the opportunity to play with Jo Edwards who is everyone's idol. I was brought up in the bowling club. My family plays bowls and then I just started playing and it took over," she told the NZ Herald in August.
- Daniel Richardson
Tevita Li (rugby)
Only 18, Tevita Li is already fielding multiple offers from rugby and league clubs. He first caught the eye as a 17-year-old playing for Massey High School where, playing on the wing, he averaged two tries a game in 2012 for their 1stXV. That won him a place in the New Zealand Secondary Schools team, where his pace, power and finishing were on a different level to his peers.
Of Tongan heritage, he's 1.84m and 95kg and has the capacity to run over people as well as around them. It's that dual ability which has seen him already play for the New Zealand sevens side and North Harbour, and he was on the fringe of the Blues this year to the extent that he earned a wider training squad contract for 2014. Plenty of young men have come and gone in the Auckland rugby scene without making their mark but Li is a little different. He's grounded and as taken with the performing arts as he is with rugby. He's a keen trumpet player and actor and, having spent time in the sevens environment is a massive believer in hard work.
- Gregor Paul
Men's under-23 rowing eight
The dream of moulding an Olympic gold medal-winning eight to match New Zealand's 1972 heroes remains alive, courtesy of last year's under-23 representatives. Stephen Jones, Brook Robertson, Alex Kennedy, Joe Wright, Finn Howard, Shaun Kirkham, Isaac Grainger, Tom Murray and coxswain Caleb Shepherd won the eights at the under-23 world championships in Austria under the coaching of former Olympic bronze medallist Ian Wright. It's understood there's enough height and natural ability to justify persevering with the majority of the crew through to the 2016 Rio Olympics in the sport's blue riband discipline.
- Andrew Alderson
Josh Munn (golf)
Manawatu's Josh Munn is a highly promising amateur who already has two wins on New Zealand's Charles Tour.
When he won the Muriwai Open in 2011, his nine-under 63 in the opening round had only 21 putts. Munn, 22, plays off a +2.7 handicap and won the prestigious Lake Macquarie Amateur in Australia last year in what he called his most significant win. Munn is coached by Palmerston North's Andre White, the same man who works with Kiwi PGA Tour professional Tim Wilkinson. Munn is a strong candidate to be part of New Zealand's team at the Eisenhower Trophy in Japan in September.
- Daniel Richardson