Gone are the days of painted macaroni necklaces and hopscotch - some kids will return to school having spent the holidays at a business boot camp or learning the art of the perfect flat white.
A growing number of school holiday programmes are offering intense courses in everything from barista skills to coding, with the idea it's never too early for kids to start upskilling for their future.
While many parents might agree, a children's therapist said it was important parents let their kids relax, and remembered balance.
Kidz Therapy director Marie Kelly said there was nothing wrong with a school holiday programme focusing on an individual achievement.
However, she said this could come at the cost of social engagement and time outdoors - something already lacking in many youngsters' lives.
While some programmes have 7-year-olds figuring out a budgeting plan for a start-up business, Barista Academy in Auckland Central has spent the past two weeks teaching slightly older kids how to make coffee.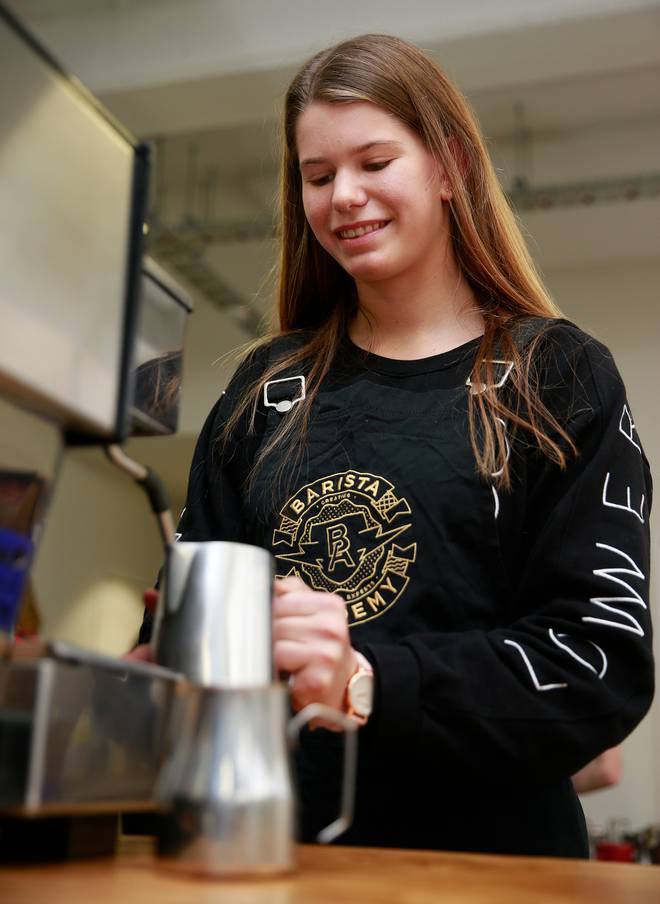 Manager Rachel Berry said the youngest kids they took on for the school holiday programmes were 13-year-olds - any younger and the hot equipment became too much of a hazard.
Niki McLennan, 15, was a Kings College student who had taken a week out of her holidays to pick up the new skill.
"I want to be able to get a part time job in the next holidays, to earn some extra money," McLennan said.
The course offered industry-level training, which Berry said kids often picked up a lot quicker than their adult counterparts.
One unusual issue the age aspect brought up was that the kids didn't typically drink coffee themselves.
"The majority don't like coffee," Berry said.
"As much as we don't recommend it, we can totally teach you the skill of making coffee without you actually drinking coffee. You can learn to identify what to look for… they will do a lot of smelling tests too."
Berry said most of the kids weren't hugely phased by this, more were interested in the potential of earning some pocket money at the other end of the course.
Around 70 per cent of the young high schoolers who came along had been enrolled by mum or dad, Berry said, who wanted them to expand their job options.
Another group she often saw was go-getters thinking of their finances or their future.
A few suburbs across Auckland in Westmere, dozens of other kids spent three days at something of a business boot camp .
Business Camp, run by Australian Taj Pabari, was a school holiday course where kids between 7 and 15 years create, design and plan a business concept before pitching it to a team of judges.
Pabari has recently brought the concept over the ditch, partnering with MYOB to open up shop in New Zealand for the first time these school holidays.
He said the programme focuses on skills like presentation and public speaking, as much as it does research and team work.
"The topmost skills that you will need moving into a job, are people skills," said Pabari.
He was seeing more parents go for the idea of utilising school holiday time to upskill their young ones.
"It's absolutely incredible, the kids are having a lot of fun and they're learning a lot along the way."
Pabari, the founder and chief executive of Business Camp's parent company Fiftysix, was only 18 himself.
Another business, Scratchpad, was running school holiday programmes for kids teaching skills like coding, robotics, Minecraft and graphic design.
The company website said the courses cater for kids upwards of 5-years-old. However, founder Vijesh Nangia said they had taken kids as young as 4, if they showed interest and potential.
"It's very important for these kids to see a different perspective of technology, not just as users but as creators," he said.
It was easier for young, malleable brains to pick up new processes and concepts, Nangia added.
Kidz Therapy's Marie Kelly said the internet and devices had impacted kids' lives and expectations significantly - the world was increasingly fast-paced and kids were expected to keep up.
Despite this, honing kids' skills should be balanced with everything else in life.
"I would hope when kids are on holiday, they just get to be kids, explore, use their imagination, take risks and sometimes just sit, lie or do nothing."