Offensive art
When South Korean artist Lee Bul's work Majestic Splendor, which features sequin-covered rotting fish in plastic bags, was displayed in 1997 at New York's MoMA, the smell made visitors feel so sick that the artwork eventually had to be removed. So when the piece was going to be shown recently at London's Hayward Gallery, Lee put the fish in a blend of chemicals to suppress the smell. The result: the fish spontaneously combusted and once again had to be removed.
Promises, promises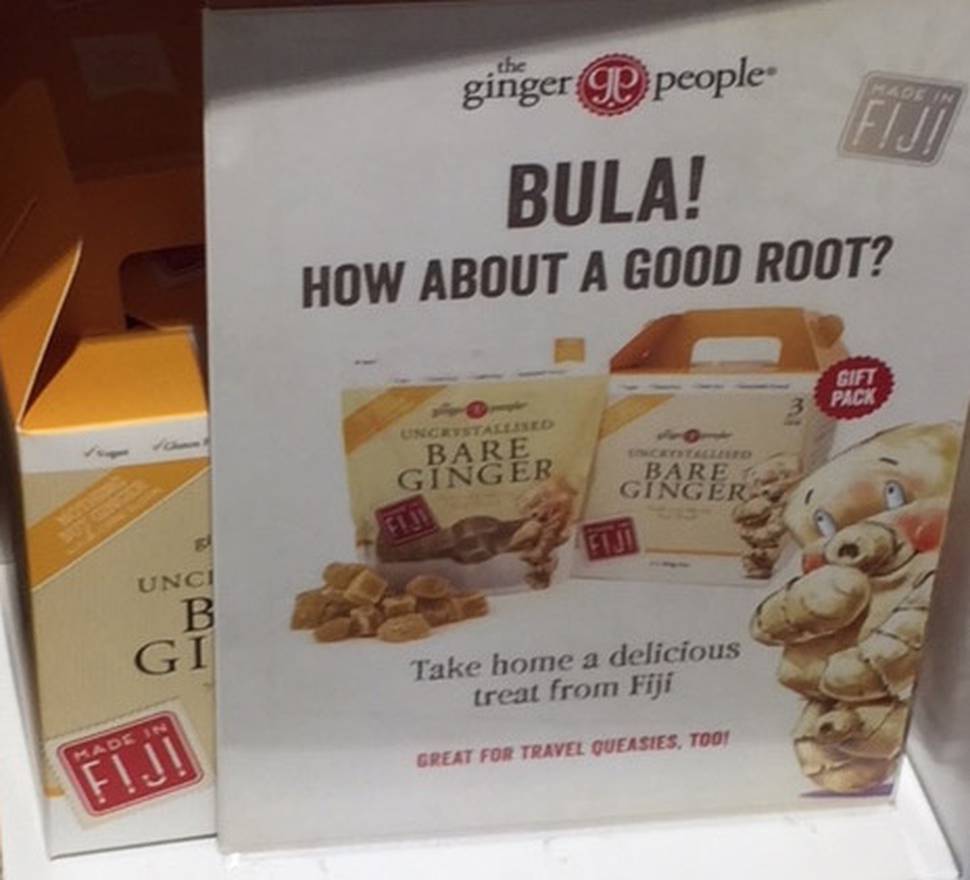 "Recently at Nadi airport duty free looking to spend the last of my Fiji dollars when this advertisement jumped into view," writes Elizabeth. "I only wanted to buy a packet ginger but this offer was very tempting. With the promise of a good root I bought 6 packets. Still waiting; but my digestive system is working well."
Childhood as it was
1. Janine Brearley came across an old photo of herself sitting in an old fashioned hook-over-the-seat car seat on the washing line. "Mum said 'we used to put you on the clothes line in the car seat and give it a little spin - you loved it!' ... I always loved any kind of swing or fairground ride so I guess that's why."
2. "In Rotorua in the fifties my two brothers and I would love to accompany our father on a trip to the dump," writes Ross Thomas of Te Awamutu. "We would find all sorts of 'valuables' to make trolleys and the like. But what we enjoyed most was the ride home afterwards on the trailer. Bouncing along with the wind in our faces ... "
3. "When I was a babe (decades ago now), we lived on Great Barrier Island," writes Simon. "My parents would plop my two brothers and I (me: 4 years old, my brothers: 8 and 10) on the roof of their old Landrover and drive to the shops along the dirt roads with us holding on for dear life. Occasionally one of us would start to slide down the windscreen, necessitating a stop and readjustment".
4. "My siblings and I used to vie for what we saw as the right to ride in the boot when my parents took ownership of their first ever new car - a bright orange Ford Falcon 500," writes Craig. "We'd ride holding the boot lid down somehow, but not quite shut, likely looking like kidnap victims. It seemed the pinnacle of fun to us kids in the day."
Video Pick
Finally, a computer especially for women…