A reader writes: "After a busy Sunday morning out I decided Sunday afternoon was going to be dedicated to the couch and that one of those awesome looking Kentucky Tower burgers was called for. All that yummy coleslaw, crispy onions, hash brown ... But the reality was not quite as sumptuous as the image on the TV."
Firefighters' simple act of kindness
John McCormick of Baytown, Texas, was mowing his lawn when he had a heart attack. His family summoned emergency responders. A fire truck followed the ambulance, which took him to the hospital. The firefighters could do nothing to immediately contribute to McCormick's health, but they could finish what he started. So they quietly mowed the lawn, locked the mower away in the garage, then left the key in the mailbox. Sadly, McCormick did not survive. But their simple act of kindness meant a lot to the family. "They say honour is doing the right thing when nobody's looking. That's a fact," says son-in-law Dan Blackford.
'Time for big rethink on Big Wednesday'
William writes: "I checked the outcome of [Lotto's] Big Wednesday to see what the prizes were like and do you know what? The first prize has not been struck since April! That means the jackpot hasn't been struck either. That's six months of taking without giving. Maybe it is time it was changed so that people can actually win sometimes. Say, 10 people getting $500,000 each"
'I'm a little teapot'



Labour leader David Cunliffe does his best teapot impression.
Picture this: Australian model Meaghan Kausman said she was "extremely shocked" when she learned a swimwear company had Photoshopped her body to be thinner. She posted the before and after images on her Instagram account.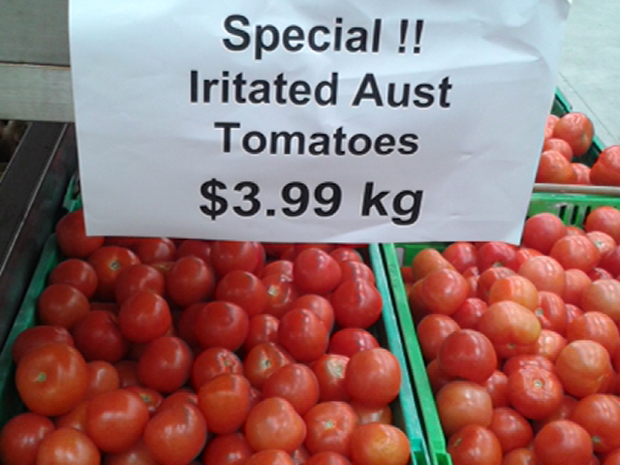 Moody tomatoes.
Video: Fans of sheep will love this promo for Auckland's FCB ad agency... 'watch the dingle berries!'...
Picture this: These Parisian Subway etiquette signs are all class...
Video: Jet Ski navigates birth canal...