Phil Goff on a billboard, literally.
Recycling by any other name
A reader writes: "I was having a clear-out of our garage and the kids had out-grown their bikes. Since there was nothing wrong with them that a little TLC wouldn't fix, I made a "free to a good home" sign and placed them at the end of our drive. Within 10 minutes both bikes had been taken, which was good, I thought. Two days later the large house on the opposite side of our street was having a garage sale. Another neighbour and his young son went to their garage sale and he was chuffed to pick up two kids' bikes for just $40. The bikes looked familiar, very familiar."
Sarcasm used well is a wonderful thing
A real advice column question answered by That Bad Adviser.
Q: Why in hell do you think pointing out that someone is fat is so rude? They are obese, and they are killing themselves. I am 78 years old and weigh the same as I did in high school through effort and sacrifice.
A: I don't know where fat people get off taking offence to being told that they're fat - it's not like they could possibly have been aware of their fatness before you, in your honestly benevolent glory, informed them of the fact. It's like fat people think they have a right to exist in the world without being constantly berated for having a fat body ... Your thinness is proof that you have human worth. After all, they're killing themselves - you can tell, because your honesty also affords you the psychic capacity to evaluate their physical health with nary a physical examination. You're just trying to help - the same way you yell at people in California for carelessly living in an earthquake zone, and pull people out of cars before they foolishly put themselves in danger by using automobiles. Your concern for these lazy fatties is 100 per cent centred on obesity-related health risks that you are uniquely positioned to identify with your eyes. (Source: thatbadadvice.tumblr.com)
Free-to-good-home box a nice gesture
Box with "free to a good home" at Britomart Station (as featured in Friday's Sideswipe) was not filled with puppies or kittens. "It looks like the box that was in Aotea Square had bunches of daffodils in it and I now have one in my office. I felt it was a nice gesture by someone to physically remind us of Daffodil Day coming up. I am a cancer survivor as well, so thanks to whoever has done this."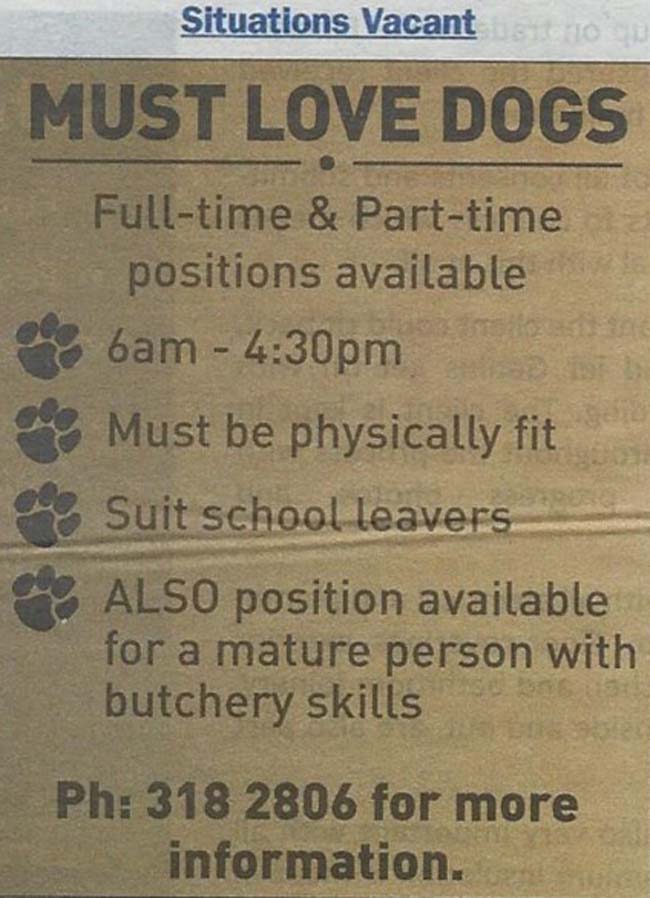 Nadia found this intriguing ad in her local community paper, The Record, which services the Rolleston, Darfield and West Melton districts of Canterbury.
Local: What each region in New Zealand is Googling, according to Vice Magazine...
Picture this: 1) What the Hell was the question? (Via @RiffRaff41) 2) Unenthusiastic Venn diagram... 3) When I grow up I'd like to be...
Video: To reproduce, salmon swim from the ocean up rivers, but how do they get through dams or other "artificial water constructions"? The salmon Cannon!
Video: Footage of what appears to be a ghost in the forest...
Herald app users click here for today's video.
Got a Sideswipe? Send your pictures, links and anecdotes to Ana at ana.samways@nzherald.co.nz