"This is our goat, Dick, waking up Tommy the horse,'' write the Turners in Maungaturoto, an hour north of Auckland. "Dick got his name because this behaviour is considered normal for him.''
Epic illegal income earner
Branko Bogdanov, 58, his wife Lela, 52, and daughter Julia, 34, were arrested this month and charged in a 10-year shoplifting enterprise run out of their upscale Northbrook, Illinois home, which they allegedly used as a base while prowling stores in states as far away as Florida, stealing high-end toys and jewellery, which they resold on eBay. Police estimate the Bogdanovs swiped as much as US$7 million ($8.1 million) worth of stolen goods. (Source: News of the Weird)
Love actually
About 5.30pm on Sunday, Sue spotted a newlywed couple, in their full wedding regalia, walking along Mokoia Rd, Birkenhead, in the rain. "They were getting out of a vintage car which looked as though it had broken down. Unfazed, this young couple, besotted in the rain, walked a few hundred metres then disappeared into a hedge, of sorts, not before they were saluted with toots and fond wishes by many a passerby."
More ribald headlines
1. A reader writes: "On headlines ... 1957 was the International Geophysical Year with Ed Hillary and Vivian Fuchs due to trek across Antarctica. Wellington paper the Evening Post ran a headline 'Hillary, Fuchs, off to the pole'. 2. A member of the racing desk called the trainer of a fancied runner in a race at Ellerslie. The horse, a mare, was named Lover's Dream. The trainer told our man: 'I'd like to see some rain around before the race because it might be a bit hard for her.' The reporter, who also wrote the headline, headed it 'Lover's Dream if it's wet'."
Strange but true
1. A woman whose body was too trim has fallen foul of the "no gymtimidation" policy of Planet Fitness gym in Richmond, California, after other gym-goers complained they felt intimidated by her toned-ness. The chain, which targets Americans of "all shapes and sizes" has registered its "Judgment Free Zone" as a trademark. 2. An intoxicated Indiana man found passed out in the driver's seat of a car was "wearing only a T-shirt, underwear and one sock", according to the police report. The officer added that the man did have trousers on, "but they were on his arms. Both arms were inserted into the legs of his jeans."
Are speed bumps now "traffic calming''? asks Denis Orme.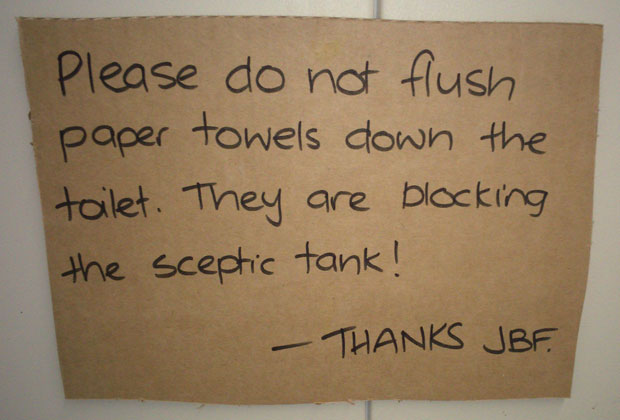 Video: Hey kid, tell us all the bad words you know...
Picture this:The lovely story behind Tunnel Beach in Dunedin...
NSFW: I apologise in advance. Rude meat one, Rude meat two...
Quick Clip: Slo-mo breaking glass is beautiful...
Video: Lights Out - a creepy very short film...
Lights Out - Who's There Film Challenge (2013) from David F. Sandberg on Vimeo.
NZHerald app users please click here for video.
Got a Sideswipe? Send your pictures, links and anecdotes to Ana at ana.samways@nzherald.co.nz