COMMENT:
There's everyone fretting about the dire state of all things rugby in Auckland, seemingly oblivious that Christchurch is by far the bigger problem and way more deserving of intervention.
The city and its surrounds are New Zealand's rugby stronghold. The centre of excellence is still, as it has been for the better part of the last 20 years, very much in the middle of the South Island.
Canterbury basically own the Mitre 10 Cup. They have won it 10 times in 11 years, which is frankly ridiculous and the Crusaders look just about unbeatable in their quest to defend their Super Rugby title.
It's not necessarily the country's most active nursery, but Canterbury is easily the aspiring All Blacks' finishing school of choice.
The region attracts an enormous number of young men who believe their best chance of fulfilling their rugby goal is to show a heap of promise and then sign with either Canterbury or the Crusaders.
It's a well-worn path that worked for Jack Goodhue in 2014 as well as it worked for Kieran Read in 2005 and it hasn't gone unnoticed that the Crusaders retain the art of rejuvenating those who arrive a little later in their careers.
Bryn Hall regressed at the Blues after a promising age-grade career and is now back pushing to get into the All Blacks and Seta Tamanivalu has been, after a couple of so-so years with the Chiefs at centre, recast as one of the most dynamic and deadly wings in Super Rugby.
The old saying that New Zealand rugby can only be strong if Auckland is strong, is patently not true.
Auckland has been a basket case for 10 years, if not longer, and the All Blacks have won two World Cups and increased their win ratio to 90 per cent.
It's a strong Christchurch that New Zealand needs and while there is no doubt that the rugby machinery in that part of the world is quite amazingly proficient and delivering way beyond expectation, it has to operate in a temporary stadium which has outlived its natural life and long outstayed its welcome.
In the aftermath of the 2011 earthquake, the city had to work through a number of higher priorities, rendering calls for a firm commitment to a new stadium a touch premature and insensitive.
But seven years have elapsed and the scaffolding and rickety stands in Addington that were bashed up in 100 days are no longer testament to the Government's swift action and innovation, but instead a jarring reminder of bureaucracy at its worst.
It is a national disgrace that Christchurch remains uncertain about when it will have a permanent stadium and that for some time yet - at least two years but probably longer - the Crusaders will be forced to play at a stadium which is the antithesis of all that they stand for.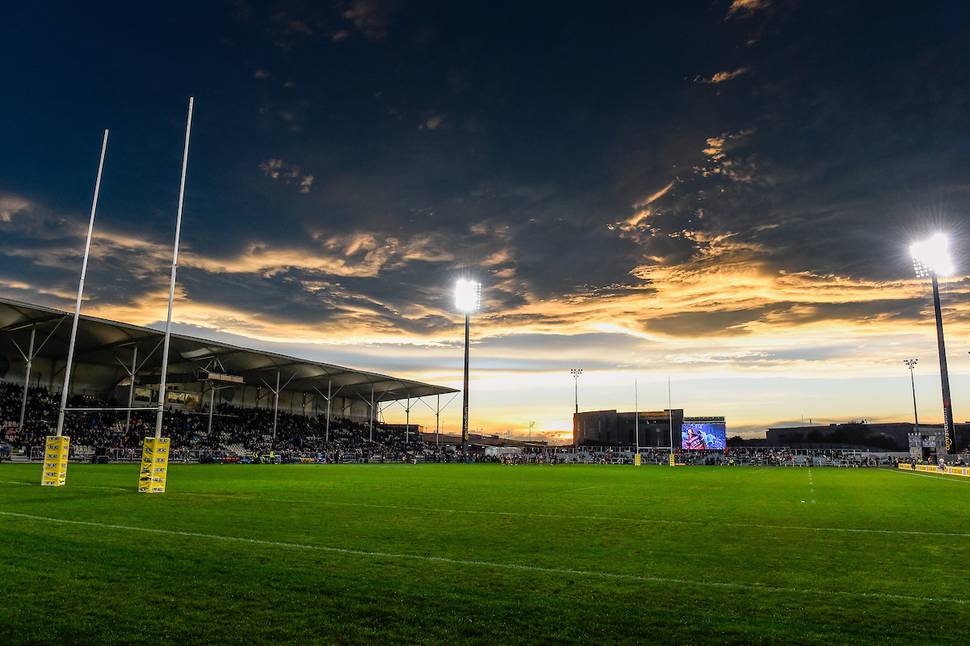 They are Super Rugby's most compelling team to watch and yet they played their quarter-final surrounded by a sea of empty seats.
With a proper stadium they would have banked at least a $1 million in the playoffs, if not more. Three extra home games buy a lot, but not if the fans don't turn up because while they love the team, they don't love the experience of watching the team.
Build it and they will come only rings true when the stadium is bold, visionary, state-of-the-art. Build it out of four-by-four from the back shed and they will come, not in any great numbers and not on nights when it might rain or there is something good on the telly.
The jaundiced view of sports fans often fails to realise that not everyone shares their passion but Christchurch's connection with the Crusaders is undeniably strong and the team embodies the resilience and tenacity which has defined the city since 2011.
It's a fair guess that thousands of people who don't currently go to Crusaders games probably would if they had a better stadium that made the whole business of being there something to be enjoyed rather than endured.
A permanent stadium for the country's greatest rugby dynasty hardly seems too much too ask now that most, or certainly the worst, of the domestic carnage has either been fixed or agreed to be fixed.
The region needs certainty because without it, the Crusaders might end up like a US sporting franchise and be packed off to Nelson or Timaru.
That's not as fanciful as it seems because the temporary stadium really was only deemed fit for five years of purpose.
If they get a proposed date to move into a new stadium, the Crusaders can guts it out at Addington, but if they are left hanging, what are they going to do?