Twelve-year-old Auckland East prop Petelo Lemeki towers above most men.
And standing next to fellow intermediate school rugby player Regan Brown he looks like a giant.
But such is the nature of schoolboy rugby - the pair have enjoyed the school holidays playing in the open weight Bill McLaren Tournament in Auckland.
Regan, also 12, wears size 5 boots, stands 151cm and weighs 44kg. Perfect for a halfback.
Almost 40cm taller is Petelo, at 189cm and weighing 121kg. He wears size 14 boots.
Petelo's mum Mele Lemeki says she has to take his passport to every game to prove his age.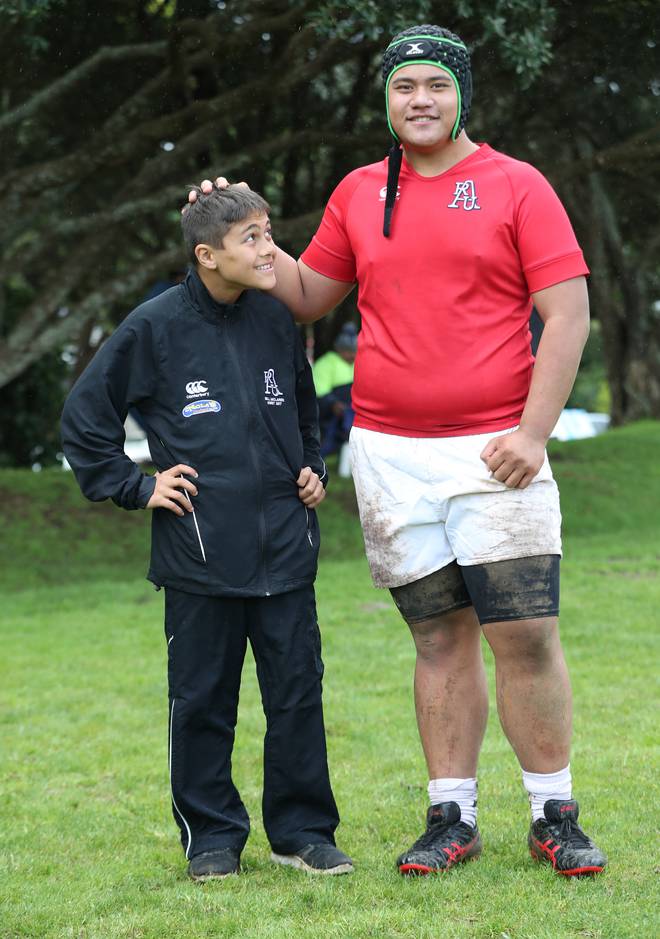 Her son had been an average-sized baby but began to shoot up when he started primary school. She and her husband were an average height but Petelo's size was not a surprise because they both had tall siblings.
Being so tall came with benefits and pitfalls on the pitch for young Petelo.
"He becomes like a big target on the field - because he stands out he gets marked as soon as he walks on so he has to work harder or just as hard as everyone else on the field," said Lemeki.
"Some people see him and say he's just buff and all muscle but he's very intelligent," said Lemeki.
"He's in the top maths class."
Petelo, in Year 8, is also deputy head boy at Dilworth Junior Campus.
Regan is in Year 8 at Glen Eden Intermediate.
His mum, Julie Brown, said her only worry about her son was that he might get hurt.
"But I kind of look at it as he could get injured even playing with the little boys. He has always played open weight in rugby or league. He enjoys the challenge of the big boys."
The sports-mad kid - who is also in touch, softball and tag teams - played league from age 4 before changing to rugby union about four years ago.
"Regan has always excelled in either one of them. He's got a bit of speed. I guess what most people would describe him as is he's just quite fearless for his size."
What he lacked in size, Regan made up for in spirit, his mum said.
"He likes to run his mouth quite a bit for a little boy on the field, which is why they put him at halfback because he yells at his own players to tell them where they should be.
"He gives a bit of mouth to the opposition to get them worked up."
According to Ministry of Health figures, in 2015 the average height and weight of 12-year-old boys was 156cm and 51kg. For adult men the figures were 175cm and 87kg
The tournament was won by Petelo's team, East Auckland.