Things you've stashed away may be worth more than you think
The attack of the new clutter - otherwise known as Christmas - is on its way. Personal finance journalists, budget advisers, debt counsellors and financial planners all recommend people have the mother of all garage sales to turn clutter into money.
It's one piece of advice that I live by. Stuff of value that isn't used in our house gets quickly dispatched to Trade Me and turned into cash. When I'm on a roll nothing is safe.
Nearly a decade ago I offered to help declutter an elderly relative's house and turn her junk into cash by selling it on Trade Me. A couple of sales later my relative was hooked.
Little did I know that it would lead to me selling the most unmitigated junk imaginable. It has turned out to be a fabulous journey in reuse and recycling.
One of the first auctions I set up for my relative was a box of 1960s broken model aircraft bits. I listed it for $1. A bidding war ensued and the buyer paid $45, plus postage.
When he received his accurately described "broken model aircraft bits" he sent a lovely thank-you email. Apparently most people would throw such things in the bin, but the box was a goldmine for him.
I've discovered over the years that only your imagination constrains what can be sold on Trade Me.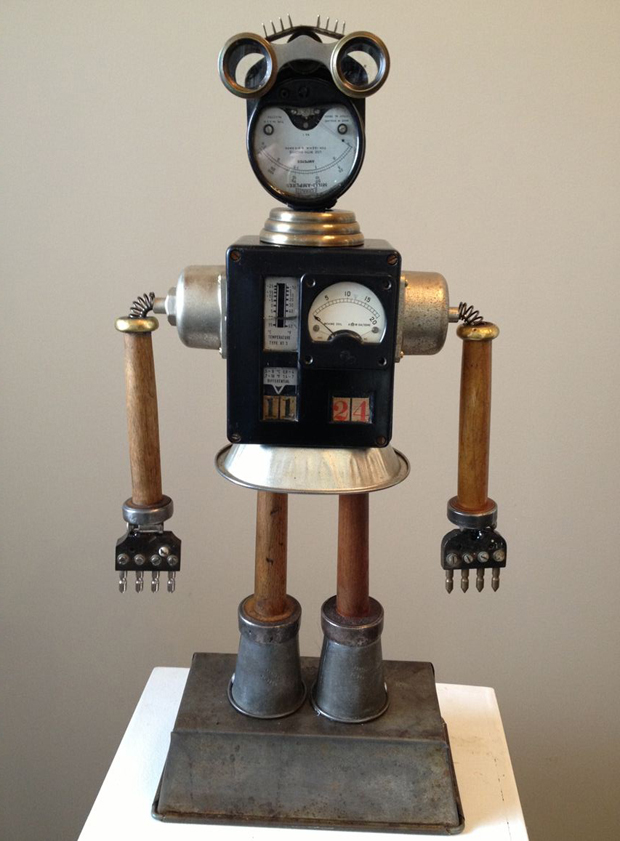 Artist Grant Sutherland made Veronica using old cake tins he bought on Trade Me.

On three occasions I've sold plants from my garden on the condition that the buyer digs them out. The first time it was two monster bird of paradise plants that had outgrown their space.
They would have cost hundreds of dollars at the garden centre, so my buyer got a great deal at $60 each. Had I had them removed professionally it would have cost me money so we were both winners.
On another occasion neighbours were warned that a buyer was coming over a holiday weekend when we were away to dig an unusual guava out of my front garden.
Broken things sell. When my ancient dishwasher broke down one too many times I replaced it. Being too lazy to remove the old machine and take it to the tip (where I'd be charged), I listed it for parts at a $1 reserve. This broken, nasty, annoying, ugly home appliance proved popular and sold for $65. The buyer fixed it up and sold it for a couple of hundred dollars.
Likewise my sewing machine is about to be sold for parts unless I can find a foot control for less than the $200 the shop wants. Chances are that I'll cover what I paid for the thing second hand a decade ago.
My relative's junk is often way more obscure than broken dishwashers and living plants. The trade that still makes her laugh is the kapok mattress. For readers too young to remember, these were lumpy, dusty mattresses used before the innerspring was invented.
The mattress in question was ripped, must have been 50 years old and probably hadn't been washed in that time. But a very excited buyer turned up for the pickup.
She had a business making poufs and kapok was the best stuffing. She would extract the kapok from the mattress, wash it and reuse it. That's a recycling conquest.
I'm constantly amazed at what I can sell. Coals to Newcastle is an understatement. At one of the most recent visits to the relative's house I was handed a big box full of battered, discoloured cake tins.
I thought no one could possibly want them, but as usual I was wrong. Artist Grant Sutherland snapped them up, and Veronica (pictured) and two other pieces of art utilising the cake tins are on exhibition, unless sold prior, until New Year at the Artbase gallery in Orakei.
Many creative people have bought my junk. Two yellow bedspreads that I would have hated as a child because they were so dated were bought by Laura Barwood and turned into "custom-made doggy swag".
That's clothing for dogs. The swag is made from vintage fabrics such as the bedspread and sold worldwide via the Etsy website under the Dogs of Desire brand. It's possible that these two old bedspreads are now keeping a pooch of the rich and famous warm.
This week there were 2.7 million things for sale on Trade Me. There will be equally obscure items being snapped up by collectors, artists and others.
Some things that would have been junk 10 or 15 years ago are now collectible. One such item that has come back into fashion is vintage technology.
The Amstrad computers I was handed to sell went for more than they would have cost new. Earlier this year I even sold a cyclostyled Aamber Pegasus 6809 user manual to a grateful collector.
He had one of the computers in his collection and thought that no such manual had survived the march of time.
As well as artists and collectors, cafes have bought my relative's junk. Cafe Urania in Auckland's Dominion Rd has a couple of the pieces. They include a wobbly plant stand and the mirror from a dresser, which now has pride of place in the toilet.
The chest of drawers itself is in cafe owner Aaron Clark's home.
Not everything sells easily. I've been finding crystal plates and vases are out of fashion even if they date back to the 1950s and earlier.
They're hard to sell on Trade Me. But Shelley Avison bought some of my relative's old crystal items and what she did with them next can be seen on Glamglass.co.nz.
Selling stuff on Trade Me takes time and it's not for everyone. But I get a buzz when I keep something worthwhile from going to the landfill.
What's more, people value their time differently. I work fulltime and don't want to eat through my spare time on Trade Me. There are people, however, who really need the money or have more time than me such as stay-at-home parents.
Trade Me has proved a good way for my children to do jamboree fundraising. We wandered around the house together looking for stuff that was longer wanted, but wasn't worth my time to sell. That included unwanted books, toys, clothing and other bits and pieces. The auction site helped my son be the first in his Scout pack to finish his fundraising.
A lot of the things I sell would be turned away by a hospice shop. Some of the items wouldn't even get picked up during the inorganic collection. The advantage of Trade Me is that someone somewhere is always looking for oddities and is willing to pay for them.
The Trade Me smartphone app makes it quick to list items because you snap a photograph as you go and it's loaded in directly. If I feel the urge at any time of the day or night I whip the phone out and spend five minutes listing some items.
I did this recently at 7am one Sunday. Pity the bidders who had to get up at 7am the next Sunday when the Lazy Susan auction ended in an intense bidding war. The eventual buyer picked up the purchase that morning to use it as a prop in a rap video.