Michelle Robinson holidayed on Fiji's Coral Coast with family and friends, and a very young collective brood.
Fiji lives up to its visual reputation. Postcard-perfect islands framed by white sand, coconut fronds and copper sulphate reefs. What surpasses is the hospitality of the locals.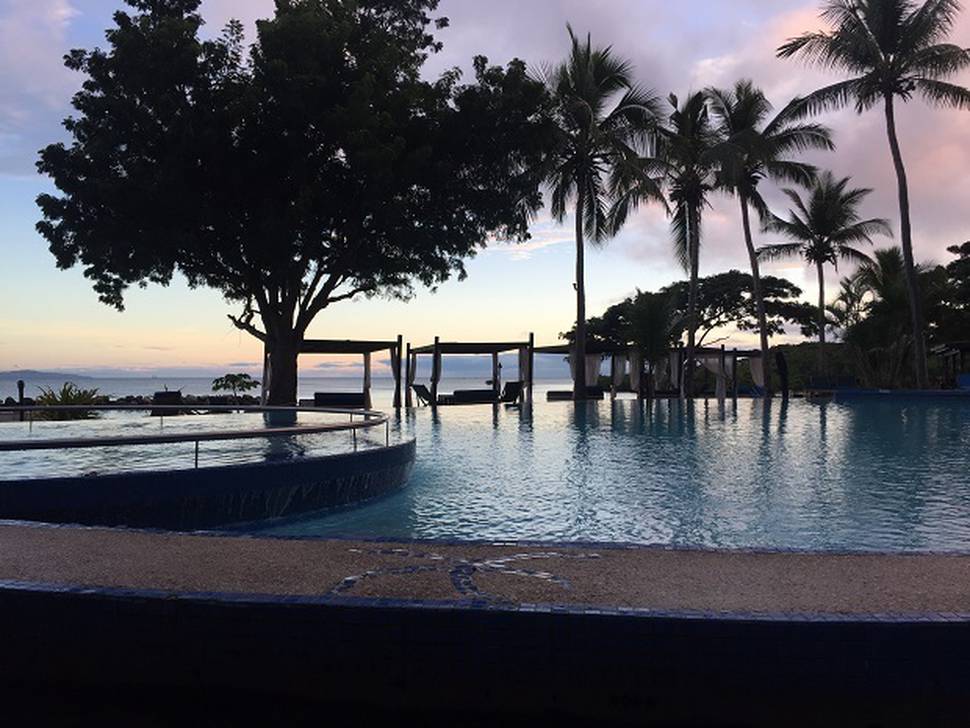 The highway from Nadi to the mainland's southern Coral Coast is like time travel. Faded town buildings appear like shadows of a more prosperous yesteryear. Locals commute by hitching rides in $1 mini-buses or on the back of trucks. Washing dries from lines at the beach and mattresses are left outside to air. Older gentlemen paint fences or tend sentry boxes and smiling white-toothed children sell coconuts and "hot con" (corn) on the roadside. It's a dichotomy of luxury resorts intermittent with often one-room shacks.
Just minutes' drive from the villages, the dirt roads of the Coral Coast's Maui Bay invite our van up a hilariously steep driveway and to our gorgeous home for the next five nights, the Fijian Star Vakaviti Kalokalo (about $340 a night). A lush terraced garden pops with red flowers, greenery, sugar cane and giant moths. Inside, the 10-bed villa awaits with polished mahogany floors, gorgeous artworks, open spaces, a balcony with a death-defying drop and ocean vistas.
Fijian hospitality comes by way of a home dinner cooked by our housekeeper Esita and her family. Plates cover the large wooden table with fried wahoo in coconut cream, boiled cassava, lemon and garlic fried spinach, chicken curry and potato salad.
Food shopping in Fiji is an experience in itself. Market merchants ply us with sweet bananas while we scoop up coconuts for $3.50 a bunch, pawpaws for less than $1, bok choy at $1 a bunch and pineapples for $2.50 each. I laugh when I discover our friends brought their NutriBullet with them, but it doesn't go unused.
For basic grocery items, the 24/7 store in Maui Bay is reasonably stocked. But it's cheaper to bring what you can from home as many goods are imported and therefore cost more.
At $2, coconut oil is cheap but we discover there's good reason for that.
"In Fiji, we never cook with this," Esita says huskily, a tea towel slung over her shoulder, as she holds up the yellow liquid we have brought back. "It's massage oil. It makes your hair black, it keeps it shiny."
We laugh about it at dinner and the next day, when frying leftover cassava, we are introduced to the rancid taste of non-virgin coconut oil.
With a 4-month-old, a 5-month-old and two toddlers in tow, we expect to be met with a few challenges. Think of hiring a capsule that doesn't clip into the car or fearing that the mosquito bite on your baby's neck is that of a dengue-laden aedes.
We needn't have worried. The friendly greetings, conversation starters, welcoming arms and hospitality our kids incited, outweighed any inconveniences. "Bula, bula! Au-gust, can I take your baby brother home?" Our eldest son, August, was whisked away for walks and served jelly and icecream while we dined in peace, and there was no shortage of willing hands to hold the babies.
Fiji's busiest season is the Christmas and New Year break, but it is luscious swapping the dregs of New Zealand winter for a balmy 28C average.
Breastfeeding has its challenges in the heat so I'm glad we've brought a baby bottle for cooled boiled water when needed.
Our clever friends who planned our trip, booked us into the tranquil Tokatoka Resort across the road from Nadi International where we start our trip, and later, at the Vakaviti Kalokalo villa.
With a nice pool, quality food, comfy rooms and friendly service, Tokatoka ($164 a night) is convenient without all the noise. It provides a great base for our first jaunt, a day trip to Beachcomber Island.
Island excursion options seem endless for first-time visitors to the archipelago, until you whittle down the ones that are close enough to the mainland to be child-friendly while still offering decent snorkelling. And then again by what is not closed for filming.
Our day trip trip costs $104 per adult and is free for children under 4.
Beachcomber is part of the Mamanuca Island group, about 40 minutes by boat from Port Denerau in Nadi. It advertises itself as party by night, paradise by day. Its warm waters invite us for our first ocean swim, despite the rain. We enjoy a relaxed morning of swimming after being welcomed with morning tea, then a sumptuous buffet lunch followed by turtle viewing and a glass-bottom boat trip where the kids enjoy feeding scores of tropical fish. We are allowed a complimentary room, easing the burden of luggage storage and outfit changes.
Our friends opt for neighbouring Treasure Island, where they enjoy feeding turtles and for the adults, a snorkel tour. We're told the lunch isn't so good and the journey to the island is more like 90 minutes but it's a beautiful old boat and the PJ's Sailing Adventures crew make up for the tedium with flax weaving and songs, plus there's a babysitter.
The Coral Coast is a sweet spot for activities, local life and resort luxury.
Vakaviti Kalokalo offers access to nearby resorts, beaches and a swimming pool. Think of meandering along the tide on horseback, tropical fish-spotting off the pier and working on your tan poolside or beachside in a hammock. For more adventure, Kula Wild Adventure Park near Sigatoka is worth a visit. The ecological park hosts just the type of wildlife you want to see in a layout that's quick to get around. Holding a lime-green iguana is a highlight for the adults and kids alike and my husband braves having a boa constrictor draped around his neck. But if having your biceps squeezed by a 3m long reptile isn't your thing, there's plenty more tropical wildlife of the avian and oceanic kind that's worth a gander, and more sea turtles to feed. Entry is $27 for adults and free for children under 3, with extras including the Kula Krazy Canopy Flier roller coaster zip rail and Kula Splash Mountain Jungle water slide. The kids eat lunch and have a splash in the water park while the adults get our adrenalin fixes.
Personally, a day relaxing at the Warwick Fiji resort better epitomises what a Fijian holiday should be. Pool, swim-up bar, beach, kayaks, restaurants, icecream. In any order. Our boys prefer paddling in the warm waters of the reef and helping Mummy orient herself on the paddleboard.
On our final night, hubby and I enjoy a drinks and dessert date at the same restaurant we have lunch, Pappagallo. We can rate the kids' bento box, the pina colada and the chocolate semi-freddo. The latter is so decadent, we order another to take home.
Checklist
GETTING THERE
flies from Auckland to Nadi, with Economy Class return fares starting from $622 (kids for $308). Sale period ends on Monday for travel from July 19.
ACCOMMODATION
For information on the Vakaviti Kalokalo, go to fijianstar.com.
ONLINE
fiji.travel