Wayne spotted this on his way to Whangarei. "No points for guessing how he will be spending this weekend," he adds.
MP obliged to apologise
Jacqui Lambie, an Australian MP, has apologised after declaring in a radio interview that she was looking for a partner who was "well-hung" and loaded with cash. "They don't even need to speak," said Ms Lambie, a 43-year-old single mother of two. In a radio interview in her home state of Tasmania, she told Heart FM her ideal partner "must have heaps of cash and they've got to have a package between their legs". (Source: Telegraph.co.uk)
Keeping kids safe near water
Stupid products: A Connecticut company revealed a device to keep kids safe near water. The $120 iSwimband alerts parents when their children fall into a pool. iSwimband is a small, wireless sensor that is worn either as a headband or a wristband and paired with a compatible Bluetooth-enabled smart device. If the app determines that the sensor has been submerged in water, or submerged for a dangerous period of time, an alarm goes off. The device has an effective range of 30m. Speakers can also be linked to provide louder alerts. However, the company adds that it is important the parent knows the general location of the child as the device does not have GPS. (Source: Daily Mail)
Naked and alone in central London
When public nudity goes wrong: "I remember being in London and seeing one of those naked bike rides for charity. Thing is, I think if you're looking at a large collective of naked people it seems less of a deal. However, I can only assume one guy either broke down, lost his way or was trying to catch up but we saw him, alone, pedalling frantically, a good 3 or 4 minutes after the main group had passed. Being naked and alone on a bike in central London is a different story." (Via B3ta.com)
Cheap cut: James was horrified to see this fatty meat in a Mangere supermarket.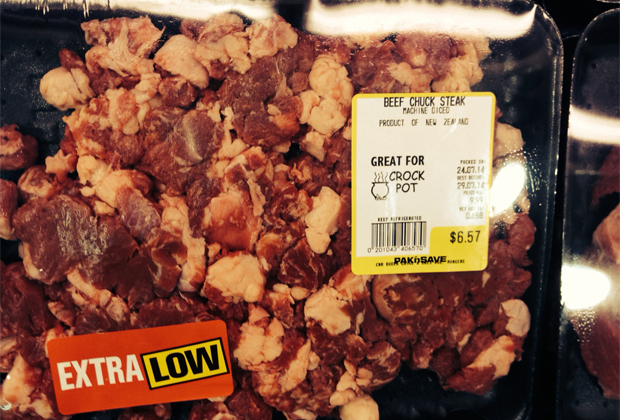 Tweet Goodness: "This is an actual car dealership in Wellington Ohio. What's next, Liam Nissan?"
Video: Goat works out how to get fruit from a tree...
Bookmark this: All the vandalised election billboards...
Amusing: Interacting with statues...
Quick Clip: Adorableness or sick-making?
Video: How to Dad...(Yes, it's an ad, but still...)
Herald app users click here for today's video.
Got a Sideswipe? Send your pictures, links and anecdotes to Ana at ana.samways@nzherald.co.nz