Kirwan is deep into his second season as coach of franchise and still doesn't know who playmaker should be.
No, no, no, no, no... as Aussie league commentator Phil Gould would say.
Another game, another No10, another ethereal explanation. Here's the tip - John Kirwan is making a hash of running the Blues. He's deep into his second season and still doesn't know who the first five-eighth should be, the cardinal sin of rugby coaching and selecting.
Word association game. Crusaders - Dan Carter. England's World Cup - Jonny Wilkinson. Amazing Chiefs revival - Aaron Cruden. Greatest touring team in the history of rugby adventures - Barry John. Australia at its best - Stephen Larkham. First All Blacks' World Cup triumph - Grant Fox.
But the Blues have reinvented this wheel. Deep breath before listing those who have had the No10 carrot dangled in front of them this season: Chris Noakes, Simon Hickey, Matt McGahan, Baden Kerr, Benji Marshall, Ihaia West, George W. Bush... just kidding on the last one, in case you were nodding off. Dare we also add in Gareth Anscombe, who was discarded in favour of this motley crew.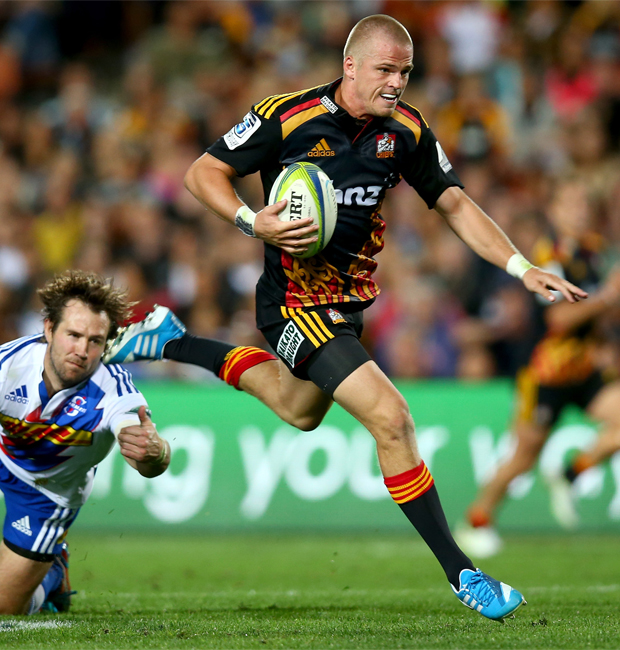 Gareth Anscombe could have been a champion for the Blues, instead he'll feature for the Chiefs in the match of the weekend. Photo / Getty Images
There are shorter queues at my local bus stop. Poor Hickey has now been biffed under the bus. Hickey was pumped up as the next big thing while he still had the training wheels on. If Hickey wants to make his way in this sport it might be best to get out of Dodge.
Meanwhile, Marshall - the fading league star who cost a fortune - continues an extended education he will be hating. People who have been to the top of the mountain don't tend to enjoy mucking about in obscurity.
When Marshall said he was crossing the ditch to play union, few suspected this would involve the Waiheke ferry.
If we read this right though, Marshall is about to play Senior B rugby for the islanders. But wait. Kirwan has deemed him not ready for the Super 15, aimed him at fullback, and yet he is on the bench behind the returning Noakes in Wellington tomorrow night. Huh?
Kirwan spouts the competition mantra like a free marketeer on a Wall St soapbox. But first five-eighths run the show and both they and their comrades flourish on certainty. They are horses who need to learn every course. The No10s have enough to deal with without nervously checking every glance the coach throws their way.
The New Zealand Rugby Union has shown a faith in Kirwan that he is not giving to his own man in the middle. The Super 15 isn't an experiment. The circus came to town because Anscombe was wrongly snubbed in the first place. The time is long overdue for Kirwan to nominate his ringmaster.
Best of best in Tron
Something to lick the lips over. The Chiefs v Crusaders is the best New Zealand conference duel in the Super 15. It involves a clear clash of styles, the new champs versus the old dynasty. It often brings out the best in the freewheeling Chiefs, who love to rise to this occasion. Tomorrow night's match is also a tester for the Super 15. Waikato Stadium should be heaving.
Ko needs PR help
Lydia Ko is already in need of PR savvy. Maybe the 16-year-old could be more forceful in fronting up to issues and the media. But it's a tough deal at her age.
Critics - plenty of them - say the golfing prodigy must be means tested and so denied public money to support her campaign to win Olympic gold. They are appalled that the new professional even applied. This follows a brief but fierce coach-swap controversy.
Taxpayers have every right to argue over where their money goes but hopefully Ko has strong and clever people around her, so she can get through this storm. Having a significant portion of the nation on your back is tough for anyone, let alone a teenager. Ko can flourish into one of the finest Kiwi sports stories. It would be a shocker if her bond with the public was damaged at this stage.
The argument around the value of using sport for national branding and pride is so subjective, as is the relative merits of where the public money goes and how much it should involve. Not that you would know it, but rugby is actually a private business selling a product that appears to have no trouble dipping deep into the public coffers. We don't truly know the state of Ko's accounts either - there are expenses and future prize money is not assured. And she's a better value medal bet than other Olympic charity cases.
I am certain of this: golf should never have been added to the Olympics. The decision was heavily influenced - consciously or sub-consciously - by Tiger Woods' extraordinary celebrity status and corporate pulling power before the fire hydrant firestorm. Entry is apparently okayed for sports in which the Olympics will represent the peak. The five-ringed circus might become the pinnacle for women's golf, but this will never occur for the men and nor should it given the history and theatre of the four major tournaments and marvellous Ryder Cup. As for Ko, hopefully she gets through this okay.