Fire and Emergency New Zealand (Fenz) has evacuated a number of properties as a major vegetation fire rages in the hills above Dunedin.
The fire, which began just before 1pm near the Pineapple walking track on Flagstaff Hill, created a large column of smoke visible across the city.
Flames could later be clearly along the ridge line and firefighters are worries about strong winds forecast to be begin hitting the region from 5pm.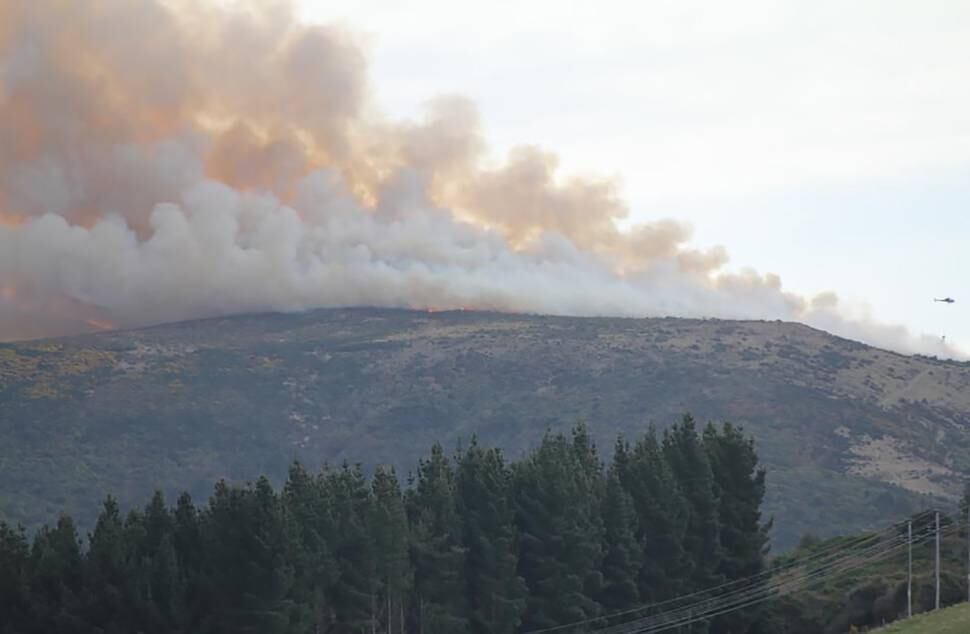 Residents on Rudd Road and those near Redwood mountain bike track have been advised to evacuate, police said.
The owner of Weimar Boarding Kennels, which is near the top of Rudd Rd, was in the process of evacuating just before 4pm.
Dogs staying in the kennels had been moved to a neighbouring property and she was about to leave.
She had been told by police it was a case of being on the "safe side" as emergency services were uncertain whether the fire would spread to her property.
"They are not sure because there is meant to be strong winds coming up [later this afternoon]."
She said she was very "worried".
A witness at the scene said "a huge amount" of tussock and flax had been engulfed by the flames.
The fire had burnt tussock and flax on both sides of the track. Along with eight helicopters, rural firefighters were on the ground on the hill.
A witness in North East Valley said they could see flames along the ridgeline, and a long stretch can now be seen from the CBD.
A Fenz spokesman said there had been fears radio masts might be under threat and a helicopter had been sent to protect them.
Eight helicopters have now been sent to help fight the fire, which was in a very difficult location to access, the spokesman said.
Both ends of the Pineapple Track have been cordoned off, and the track was checked to see if any walkers had been on it.
Dunedin Civil Defence urged people to stay clear of the scene of the fire.
"There are cordons currently in place around the corner of Flagstaff and Taieri Road,'' a statement said.
"There are also cordons around Tanner Road.''
All people had been evacuated from the walking track.
Eight helicopters and three fire appliances were now fighting the fire.
A police spokesman said access to Rudd Rd had been blocked off, but so far there had been no evacuations.
Winds in the area were gusting up to 46kmh.
Smoke from the fire was being blown northeast, with residents in Halfway Bush reporting being swamped with smoke.
The wind is currently blowing northeast, but is forecast to switch to strong northwesterlies later today before changing to a westerly.
The MetService has issued a severe weather watch for Otago, including Dunedin, from 5pm today until 5am tomorrow, saying northwesterly winds could approach severe gale strength in exposed places.