2.30pm: Charlie says he's still in strong spirits and intends to keep going. That ends the live updates for now, but keep following us this afternoon and we'll provide as many updates as we can of the ups and downs.
2.22pm: Charlie's now singing yet another national anthem, with the help of the crowd.
.20pm: So how long will Charlie go? He said he'd go through to 10pm tonight. This watcher has his doubts, given he wanted to quit an hour ago. After the hype has died down, and he's got a bit of breathing room with his record, I'd say he'll step off, and hopefully not collapse.
2.15pm: CHARLIE IS A WORLD RECORD HOLDER. With a clap of the hands he acknowledges the crowd, and just keeps swinging.
2.12pm: He's going to do it guys. He really is. "I'm feeling pretty supported right now. It's awesome". Two minutes to go.
2.10pm: Keen watchers will note Charlie is in bare feet. Smart choice, lighter on the legs, and it's now warm enough in Napier to justify it.
2.09pm: The strategy for the countdown is just being discussed. It's all very unofficial here.
2.07pm: You can see from the video below that he's still got form. These aren't the smallest possible swings, he's getting a bit of height.
2.06pm: Charlie gets political - tells everyone to vote for Labour.
2.00pm: Countdown time. 15 minutes and Charlie will be a world record holder (pending official confirmation of course).
1.54pm: Another obvious hurdle is the potential for a sore bum. Again, the rest breaks have helped, as has the deployment of a cushion in stages, but credit to the Napier City Council - Taradale Park's swing is both reliable and comfortable.
1.52pm: What makes this an even more amazing feat is that that the guy was feeling motion sickness after just 40 minutes. He's battled through that and now he's got just 20 minutes to go.
1.47pm: The crowd is really growing around Charlie now. Cars are tooting in support, his face lights up every time they do.
1.45pm: Half an hour to go: "I'm feeling good, I'm feeling excited!" Charlie O'Brien says.
1.43pm: Charlie's story has reached corners of the globe as he's been speaking to media in Ireland and Scotland - all while still swinging.
1.40pm: Some info on previous continuous swinging records: Guinness World Records' site lists the previous record at 32 hr 2 min 3 sec. This was achieved by Aimee Pivott (New Zealand) in Pukekohe, Auckland, New Zealand, on 4-5 October 2013. However there's some conjecture, with two US High School seniors claiming to be world record holders after swinging for 33 hours and 10 minutes at Andover High in October 2015.
1.37pm: All he's eaten today are some chips, and he's had a coffee and energy drinks. The Antarctic explorers of old will tell you that you need sustenance for endurance, Charlie. Here's hoping there's enough energy (and adrenalin) in the tank to last.
1.35pm: There's no shortage of gingernut biscuits here now, one of the things he was craving as early as two hours into his journey. He's snacking on one now. Still swinging.
1.30pm: Charlie tells us: "I feel like I've got knots in my legs and I probably look like a ghost." It's a mental game is endurance swinging, but there's a serious physical aspect too.
1.25pm: Charlie is now singing the national anthem. This is one of the things that kept him and his team going throughout the night, when temperatures dropped to near single figures. As someone that's done Relay For Life and the associated sleep deprivation, we get that Charlie, we get that.
1.18pm: Charlie has just said he wants to stop after he hits 2.15pm .. but the team want him to keep going. His original plan was to smash the 32-hour record by eight hours, which will require him to go through to 10pm tonight.
1.17pm: He'll break the world record at 2.15pm (if he can keep going). A large contingent is here to cheer him on.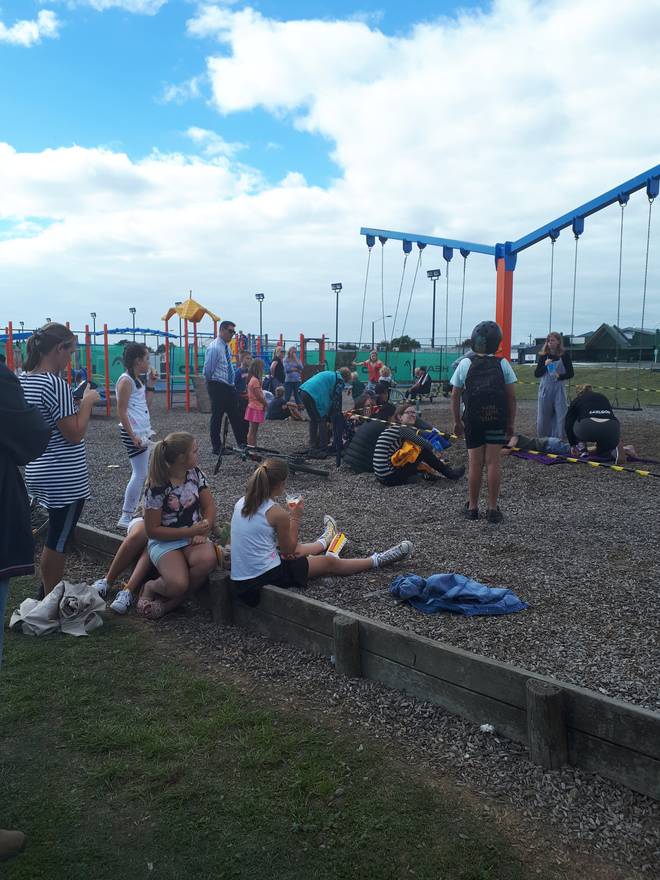 1.15pm: We're at Taradale Park and it's exactly one hour to go before Charlie O'Brien breaks the world record. He's having his final rest break (he's allowed 5 minutes every hour). O'Brien is pushing through the pain barrier big time now and is on the ground getting a massage.
EARLIER TODAY:
Charlie O'Brien remains resilient after making it through a chilly night surrounded by his encouraging support team.
He's been swinging for nearly 24 hours on a park swing at Taradale Park and although his legs are sore - he's not ready to give up anytime soon.
The Taradale High School student wants to break a Guinness World Record - by swinging on a Napier park swing for 40 hours in a row.
O'Brien said the process wasn't as simple as just sitting on a swing and going for it - there's a lot of preparation involved.
In order for the teen to complete the record successfully, there has to be two witnesses and two timekeepers who all keep an eye on O'Brien's progress.
Wrapped in a puffer jacket and a cushion tucked under his knees, O' Brien needs to make it through until 2pm to break the current record of 32 hours.
"I'm feeling pretty good, but pretty sore - but I'm going to push through. It's about that endurance.
"When I get off the swing for my five minute break, I have a good stretch and I had a bit of a massage."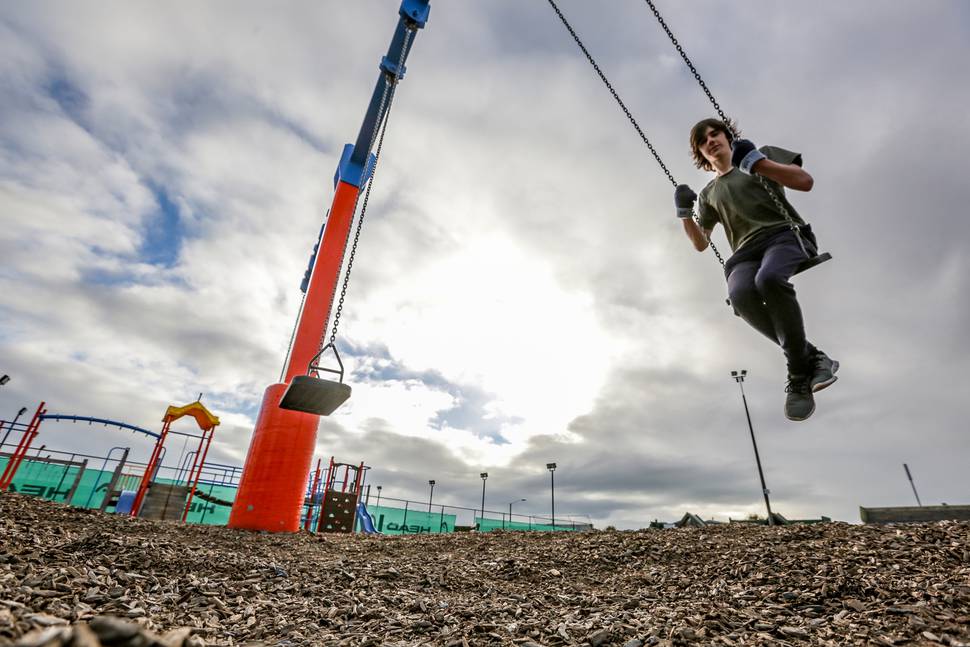 O'Brien has become somewhat of a local celebrity since he started his challenge early yesterday morning.
"The moment that stood out to me most was Seven Sharp - I got to talk to Hilary Barry and that was really exciting."
The support is endless for the 16-year-old as his group of friends stay close by, members of the public have been bringing him gingernuts and energy drinks and cars toot in support as they drive by.
Charlie O'Brien has just six hours to go to break the world record for continuous swinging, but he's very tired. / Warren Buckland
"It's more of a physical challenge than mental, there's a lot of people to talk to all the time so that part of it hasn't been difficult. I'm not bored or anything. We had a group of people come by at 3 o clock this morning which was pretty cool."
The team got through the darkest hours of the morning by screaming the national anthem in a true Kiwi style.
"You can't get more patriotic than that."
With Prime Minister Jacinda Ardern set to arrive in Hawke's Bay for events today, O'Brien extended a cheeky invitation to her.
"You know you wanna see a swinger."