The owner of the only home destroyed in the devastating Tasman bush fires feared his multi-million dollar mansion just metres away had also gone up in flames.
A three-bedroom house in the upmarket Redwood Valley with panoramic north-facing views down to the Nelson bays was burned to the ground last Tuesday.
The unprecedented inferno ripped through the property around nine hours after it was sparked in Pigeon Valley to the south, allegedly by a contractor disc-ploughing a tinder-dry field.
The owner of the engulfed home spoke for the first time, on the condition that he was only known by his first name, Michael.
He told the Herald he was devastated by the fire but amazed his "dream home" had been left standing, despite it being scorched in places by the flames. Everything within a metre of the main house had been destroyed.
Michael bought the 30-hectare property in 2007, with his main residence - a sprawling Spanish-style villa just 25m away from the burned-out property, known to him as "the cottage".
Close friends of the property owner who were "between homes" and who were property hunting had been staying in the cottage.
They were camping at Kaiteriteri for the long weekend but on Tuesday afternoon, they got a call from Michael who was monitoring the fire and its towering smoke clouds developing over the hill, having first noticed it at about 4.20pm.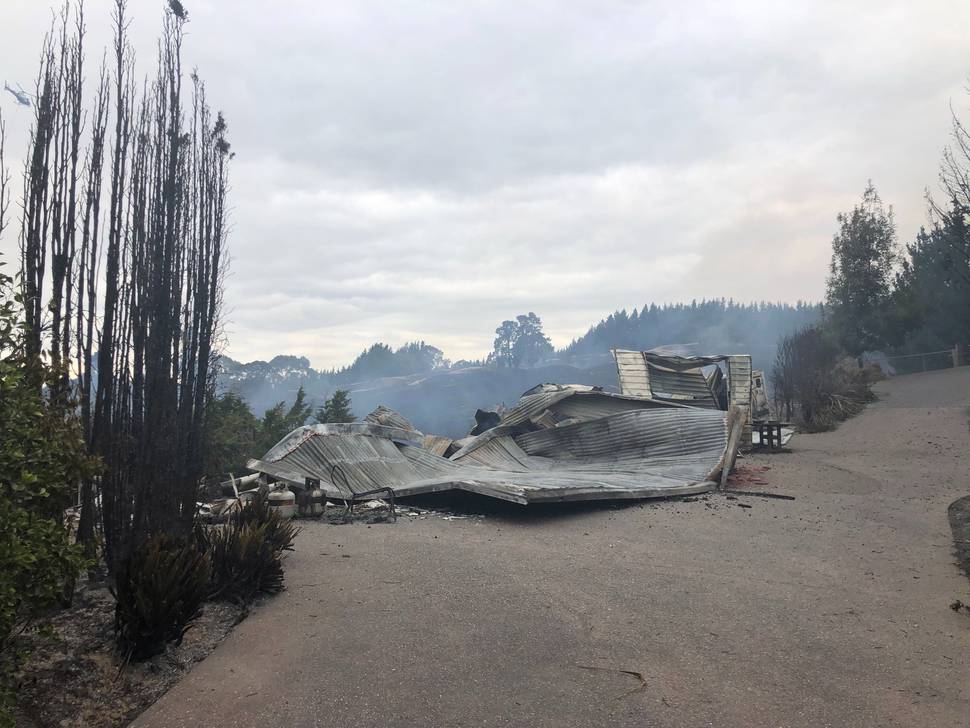 He said they might want to come home and grab some things as the fire threat was starting to look real.
His friends arrived back at about 6.30pm and in a mad 10-minute dash grabbed clothes, whole drawers of possessions, some valuables "and that's about it".
"They had everything they owned in there," Michael said.
"Some people were saying it was a storm in a teacup and that it would blow by. But by 6pm we were starting to think evacuation. And by 8pm-8.30pm, we thought we were going to have a problem."
Michael started to evacuate. He only managed to grab a shirt, T-shirt and jandals.
His main concern was freeing three horses and two dogs.
Once he got them out, Michael left.
By then it was 9pm. He initially went to Redwood Hall, down the bottom of his hill. It was one of the few vantage points from where he could see his house.
For two hours, he stood there watching it, thinking he might have dodged the worst of the fire front.
But about 11pm, he saw the flames "very quickly come over the ridge and move down" towards his property.
"It was a line of fire, just swiping down…"
Soon afterwards, there was an "explosion" which he assumed was his cottage "going up in flames".
Around midnight, he got an alert from his security alarm company saying the cottage was on fire.
He wasn't expecting any more alerts – believing that the fire would've knocked out the security system and ravaged his family's main residence.
All he could do was stand back and watch the pyrotechnics like countless other terrified locals.
When dawn came, after a sleepless night, he feared the worst. News was the fire had spread over 2000 hectares. Nearly 200 homes has been evacuated.
"I wasn't expecting to see a house."
But at 9.43am, he received a text message from a neighbour who could see Michael's house across some paddocks to say his main house was still standing.
"I talked to him later, he didn't have the heart to tell me that the cottage was not standing," Michael said.
"I was very excited but I still didn't know what state it was going to be in."
It was an agonising wait until 3pm last Wednesday – 24 hours after the fire started – until Michael was granted a 30-minute escorted return to his property.
He still feared the worst.
As he drove up his long, winding driveway, the ground was scorched, charred and still smouldering.
He saw his cottage. The three-bedroom home had been reduced to soot, ash, and twisted metal.
"It was absolutely devastating," Michael said.
He drove on up the hill, almost too frightened to see what he'd find.
When he came around the final corner and saw his large house still there, he was speechless.
"I thought it was impossible," he said.
Flames had burned wooden beams protruding from under the eaves, and the heat had melted downpipes but otherwise it appeared to have survived.
As he walked around his house, Michael was amazed at how close it had come.
A pump shed just 2m from the house walls was burned to the ground. Fences, vegetable gardens, wooden boxes were gone.
"Everything was just obliterated," he said.
"Stuff that had been within 5m of the house was all completely destroyed by fire. I just couldn't believe it."
Michael hardly slept for four days after the fire.
"I was quite shell-shocked and basically living out of my car. I don't know how I didn't collapse."
He still hasn't heard the full story of how firefighters saved his place. One account goes that they doused it in retardant which kept the inferno at bay. Another is that firefighters stood firm all night, battling to save the impressive property.
"I just don't know how to express my gratitude to these guys," Michael said.
"I say thank you to them two times a day.
"Those brave and fearless guys saved not only my property but those around me.
"I have no doubt that they went well above and beyond the call of duty to save homes."
Michael's sizeable in-ground 17m x 7m swimming pool, with a depth of 4.5m, also played its part.
Helicopters fighting the blaze used the pool to refill their monsoon buckets. When the pool emptied, firefighters would fill their tankers from a large pond at the bottom of Michael's property and then drive up the hill and refill the pool. Choppers were seen refilling from the pool for the next few days, dumping water on flare-ups.
Michael has been in touch with his insurers and says the process so far has been positive.
For now, he's staying at friends, like so many other evacuees.
He's hoping to return home next week.
"You could say it's been a rollercoaster."