Old wheelbarrow wheels, some pool noodles and a preloved television aerial might sound like items that would clutter up the garage.
But Mike Pettersen has taken these everyday items and used them to replicate something he has loved about Mount Maunganui for many years- tugboats.
Pettersen was in the Army and lived in Palmerston North, but he and his family had been holidaying in Mount Maunganui for about 35 years.
"I've always been impressed with the big tugboats at the Mount," he said.
So Pettersen decided to create a miniature one and took his one-man rowboat, added an old outboard motor and used items he had lying about to recreate a tugboat he had seen in Pilot Bay.
"I just added on bits of plywood, the front is made out of wheelbarrow tubes and pool noodles and the mast is an old TV aerial," he said.
The bright yellow and black mini tug made its debut on Tuesday when Pettersen got the perfect photo opportunity to have the little converted boat park up next to an almost identical, but much larger, tugboat.
"It's a bit of a gimmick for the grandkids," he said.
But Pettersen's three grandchildren, Blake, Micah and Shavanie, enjoyed watching "little tug" launch into Pilot Bay.
"They had about 40 to 50 people stop and ask them what was going on," he said.
Pettersen said he chipped away at the project when he had spare time and all up it would have taken him about seven months to complete.
He said the project was cost-effective and he would have spent only about $50, on the paint.
He picked the colours to recreate the larger tugboat - but it was also a "double whammy" to show support for his rugby team, the Hurricanes.
The Pettersen family had been holidaying in Mount Maunganui this week and gave little tug another spin yesterday before returning home to Palmerston North.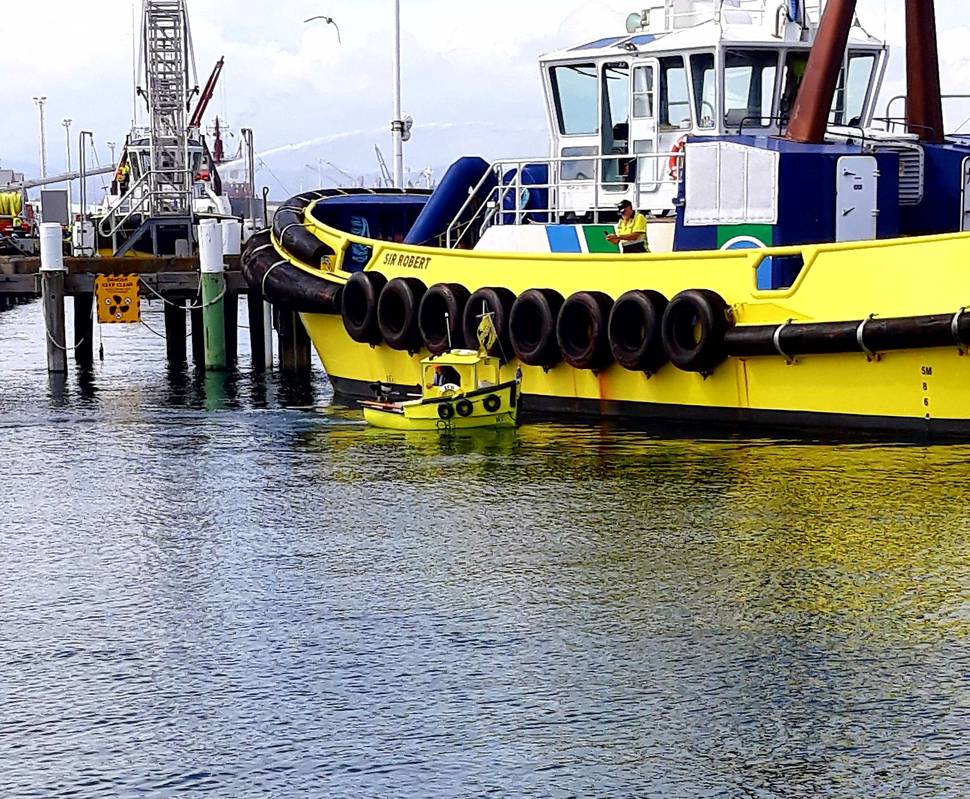 Port of Tauranga tugboats:
-The Port of Tauranga has three purpose-built tugs and two pilot launches, providing a 24-hour, seven-day service to ships entering and leaving the Port.
-
Sir Robert
is a modern state-of-the-art tug, featuring the latest communication, navigation and mechanical technology. The 22m vessel is a compact but powerful tug, boasting 4,400hp and 50 tonne bollard pull, with leading-edge technology allowing it to be operated safely with a crew of two.