A New Plymouth District councillor has revealed why he's happy flying the Confederate flag as well as his decision to defend blackface being used in a Hawera parade.
Speaking to Bryan Vickery on NZME's South Island radio station Hokonui Murray Chong explained why during an Americana festival he displays a Confederate flag in his car.
The Americana festival is an opportunity for Taranaki residents to come together and enjoy all things Americana along with a band and market.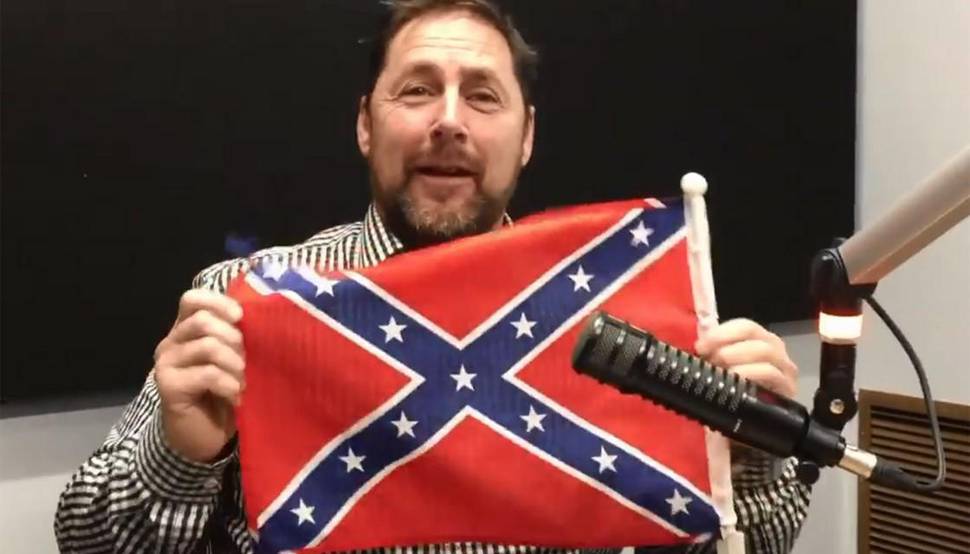 At the beginning of the interview Vickery gets Chong to hold up a Confederate flag.
"They're called window flags," Chong explained.
"I fly this on one side, and I fly the American - the modern American flag - on the other side.
"It's the Independent flag."
Bryan Vickery hits back making it clear many see it as the Confederate flag.
When asked why he had no problem flying the flag in his car, Chong responded saying: "I know it's got a history going back and it's about slavery and all that sort of thing, but I see the flag as a part of Americana because when I was a kid this was on the roof if the iconic supercar of it's day."
The car he is referring is the General Lee that features on the TV series The Duke's of Hazard.
Vickery then pointed out that some people would find it offensive to fly a flag that's banned in some states in America.
"Why should we allow this for Americana?," Vickery asks.
The Councillor responded with: "I'm basing the flag on the Americana muscle car theme rather than the history of the whole flag."
"There are a lot of guys my age her were inspired by American cars because of what was on the roof of the General Lee"
"Sure, it has got a history - but do we actually fully look back, turn around and go the other way? Or do we glance back and look at the history, and make sure we don't make the mistake again?" asked Mr Chong.
"But why hide the history? Let's just have it out there. I've never really had anyone complain because it's Americana. If I flew this any other time, yeah."
Vickery explained that there has only been a couple of young Kiwis who complained about the flag on Facebook because of what they read in history classes.
Chong said young people are offended because they "didn't grow up as a kid to be inspired by the flag on the roof of a car".
When asked what would he would do if African-American went to the Americana festival and told him it was offensive, Chong said:
"That's fine. That's how he sees it or she sees it. That's not what I'm flying it for - that's what people need to realise."
Chong then tried to link his argument with Hawera's blackface controversy where a Lions Club's float had six people dressed as black minstrels, surrounded by black and white balloons.
"The same with the black faces - they were doing that to try and bring people together. Other people saw it another way. This is why it's blown all out of proportion," Chong said.
"Some people just need to be not so offended and worry about their own lives, rather than the history of everything else and reading what they read on the internet."