Tracey Martin decided to do the interview from the couch in her Beehive office, with her hands holding her head up.
Her neck hurts. It's been a big week. On paper her portfolios are meaty, but not like Health or Education which are more likely to erupt into a crisis at any time.
But Martin, a senior New Zealand First MP, is overseeing a massive reinvention of Oranga Tamariki, the Children's Ministry, and ramping up resources for special needs children.
They are areas of particular concern to Prime Minister Jacinda Ardern so Martin wants to get them right.
And, more recently, as Internal Affairs Minister, she has the weight of the probe into Wally Haumaha's appointment as Deputy Police Commissioner pressing down on her.
On top of that, she's had online porn and charity boxing matches to talk about in the last week.
Martin admits that the workload, as a first-time government minister, takes its toll.
"I think that's why I'm sitting here holding my head up. It's certainly diverse. Considering that after the [coalition] negotiations I thought I'd just be a backbencher, it's fairly interesting.
"If I have an addiction, it is probably to work," she says. "I don't like not working. But I have to take better care of my health, that's what this year has proven to me."
Of her new status, Martin says she was shocked to receive the Children's Ministry portfolio.
"I'd led on the negotiations and it had been a really intense period of time. We'd made a decision as a caucus and I went back to my Warkworth office and was typing up some stuff after the negotiations and I got this text on my phone to say 'Tracey would you mind if I give you a call'.
"I didn't know who it was and I texted back and said 'yeah that's fine but who are you'?"
It was Ardern.
It came out of the blue, the pair had worked together on a member's bill and Martin says she sat with Ardern and Phil Twyford once at the airport.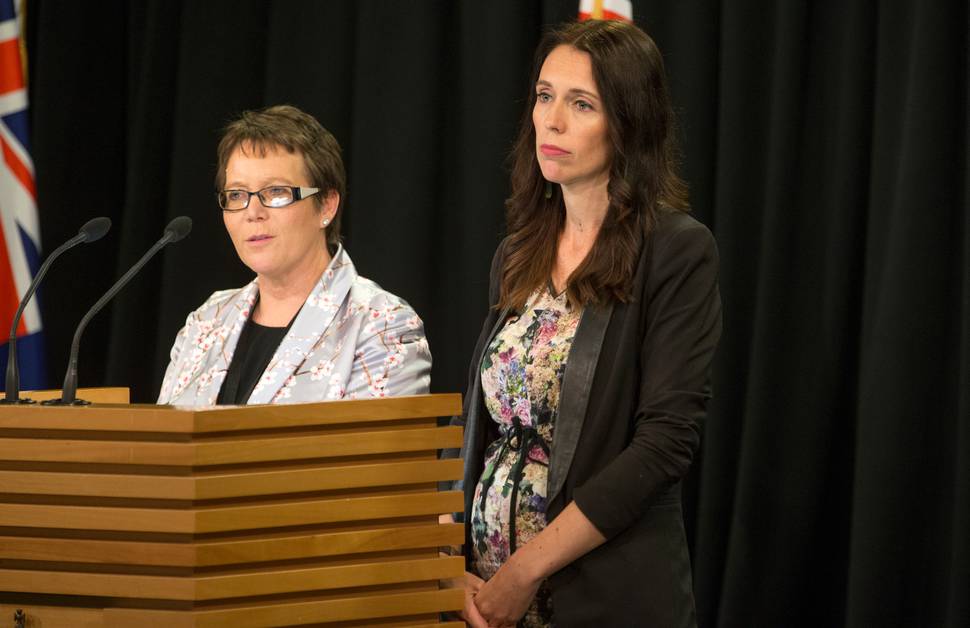 "For her to call me and ask me to take that, I did think about it a lot. Whatever she'd seen in me over the six years that I was in opposition, I guess that was something she'd seen."
Martin is a true child of New Zealand First. Her mother Anne Martin was a founder, along with Winston Peters, and a long-time president and secretary.
Martin has been involved with the party since it started in 1993 and entered Parliament as a list MP, based in Warkworth, in 2011.
Martin is seen as the most Labour-friendly in her party. She's pragmatic and no-nonsense, with a social conscience. But she groans a bit at the inevitable suggestion that she's in the wrong party.
"People say that all the time. If I'm at Forest and Bird they say 'you should be with Labour'. Then I'll go to something else and they'll say 'you should be with National', which means I'm with the right party.
"We're not right and we're not left. We actually have a combination of all those views. We don't have those extremes any more. We've become more and more New Zealand First-ish."
Martin says the increase in the number of true NZ First caucus members has changed the heart of the party.
"There is less of the caucus coming from other parties. Fletcher [deputy leader Fletcher Tabuteau] has been with NZ First since he was 16 years old. I've never been involved with any other political party. There are more of us that have never been anywhere else.
"Everybody that is a candidate now is there because they have gone through a process of being selected as a candidate for New Zealand First, 100 per cent because they are New Zealand First, not because they were known to a circle of people."
And they will survive the inevitable end of Peters' leadership, she says.
"He's an iconic politician. For six years, in my portfolio areas, media would only contact his office. There's this assumption that Winston tells us all what to do."
Martin says she's always been outspoken, but for the right reasons, and that is serving her well now.
"I just say, 'if it doesn't make sense don't do it'. It's got to be a practical, reasonable, responsible decision. I once said to Winston I don't have any ego and he said 'well you're in the wrong job'.
"But I try to put my ego aside to make sure I ask the questions that need to be asked. I try not to worry about looking stupid and people tend to like that."
It was Martin who rose at the New Zealand First conference in September to suggest that a Kiwi values bill, which members agreed should be looked at further, might not be a great idea.
The bill's author, Clayton Mitchell, said it would essentially mean refugees and migrants had to sign up to New Zealand values or be "sent home".
Martin told delegates the bill was trying to fix something that was already being managed under other legislation and suggested a citizenship test might be a better option.
"I was trying to politely let the convention know that ... you can't test people's values. All I did was give permission to some of the other members of New Zealand First [to voice their opinion]."
Martin is looking forward to the end of the year, and a bit of a break. She and husband Ben are moving from Warkworth back to Martinborough where they have bought a house and leased a vineyard.
Ben will go back to his profession as a winemaker, a gold medal-winning producer of pinot noir, and Martin can look forward to a much shorter commute at the end of her working week.
But before that happens, she still has the hurdle of the Haumaha report to get through.
It's been a big test for a new minister, amid an onslaught by National's Chris Bishop over Martin's ministerial oversight, the original choice of Pauline Kingi to lead the review and New Zealand First's links to Haumaha.
Kingi stepped down after it was revealed she had endorsed Haumaha 23 times on networking site LinkedIn.
"I think what was really difficult for me was with regard to Pauline Kingi.
"We asked people to come forward, she was selected on her merits, and then on something as stupid as a LinkedIn account it just become untenable for her to continue. I just felt for her," she says.
"It really smacked of racist undertones to be honest. If you were Māori and there was a Māori person that the inquiry was into, you couldn't be a professional. I found that really, really difficult."
Martin says she's happy with the way the report has been presented and that it has reached its conclusion.
And when the report is publicly released this week, it is unlikely to relieve the pain in her neck any time soon.