Hawke's Bay's top farmer had everything going for him, but behind the scenes he believed his life was crumbling.
Paul John Renton worked 18-hour days in the lead up to his suicide on August 2, 2017.
He was driven to the brink by his desire for a "perfect farm" and haunted by an unreasonable fear of financial collapse.
Coroner Peter Ryan said in a report into Renton's death, released on Thursday, that he had died in spite of the strong support around him from the community, as well as his wife.
Affectionately known as 'Butch', Renton was a happily married father of three.
He was a former representative rugby player and fifth generation farmer who had won the 2017 Hawke's Bay Farmer of the Year award just four months before he lost his battle with mental illness.
He'd had "exceptional" two years, but a tough few seasons with very little rain, followed by a wet and cold winter had Renton worried.
His wife, Marie was confident about their financial position but Renton could not sleep. He was getting up at 3am, starting work at 5am, and not stopping until 11pm on their farm in Maraekakaho.
As a result, his GP diagnosed him with moderate anxiety and depression in July. The 54-year-old denied having suicidal thoughts and declined medication, only asking for something to help him sleep.
On August 1, he again visited his GP when it became apparent his condition was "far greater" than first thought. Antidepressant and hypnotic medication were prescribed and an urgent psychiatric assessment was arranged.
The assessment diagnosed him with major depression and Renton agreed to continue counselling and take medication. He admitted to considering self-harm and to being embarrassed people were coming to the farm to help out.
He died the next day.
Read more: Shock as Bay Farmer of the Year found dead
Community mourns Farmer of the Year
Showgrounds packed as Farmer of the Year Paul Renton farewelled
Marie said in Ryan's report that she believed her husband's depression and anxiety began during his preparations for the Farmer of the Year Field Day, with his strong desire to have a "perfect farm, both operationally and visually".
Even after the competition, he didn't take a break as he "remained busy with paperwork, budgets, end of year accounts and doing the GST".
His distress levels peaked in the last 10 days before his death, she said, as a "number of issues arose".
At one point, he was particularly stressed after a deer had broken its foot during drenching and had to be put down.
Marie said it was "out of character for him to do so as they were not big issues and could easily have been resolved".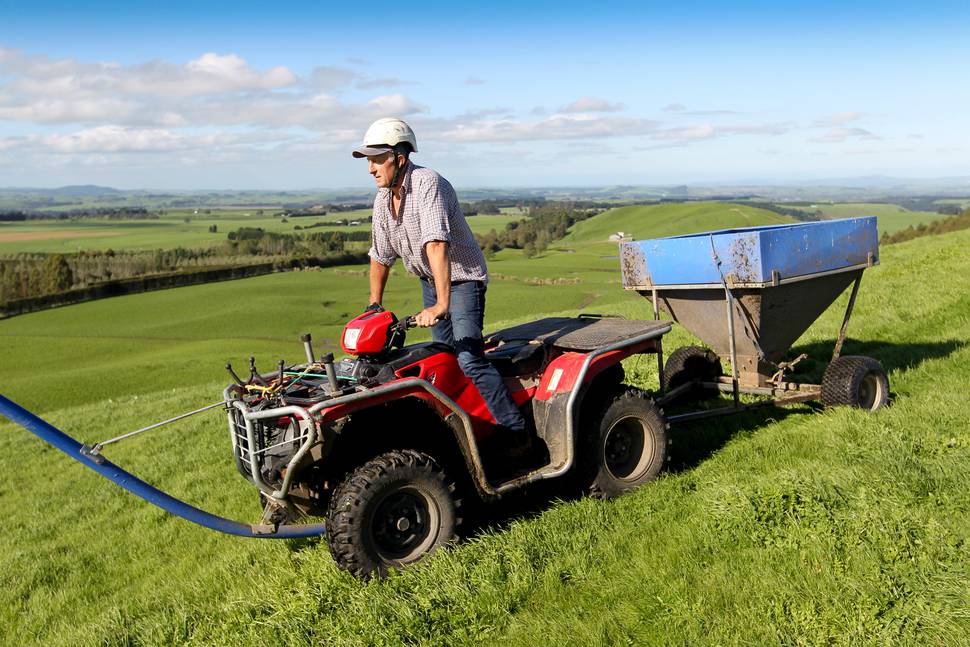 Jeffrey Craig had known Renton for many years and had worked for him for 18 years.
He thought Renton was going to be OK, and said there had been bigger issues in the past that they had "soldiered on through".
In the report, he recalls his friend repeatedly saying "I don't know what to do, I don't know what to do" during his last few weeks.
And on the day before his death, Renton was "almost crying".
Craig said he hugged him and told him "it's alright Paul, we've done this before, we just need to soldier on".
He spoke to Renton about his three children and assured him it was "alright" and that they "would get through this".
Federated Farmers Hawke's Bay president Jim Galloway said it was important to talk about mental illness.
He said farming could be a "lonely" profession where it was not uncommon to go weeks before seeing someone who wasn't immediate family.
He said the Rural Support Trust was a great resource specifically for farmers and those involved in the industry.
Their free phone line also had information available. "Depression is nasty. There are plenty of things that can bring a farmer down, whether it is financial, stock not getting fed right ... I certainly understand how it can get to people."
Where to get help:
If you are worried about your or someone else's mental health, the best place to get help is your GP or local mental health provider. However, if you or someone else is in danger or endangering others, call police immediately on 111.
• Lifeline: 0800 543 354 (available 24/7)
• Suicide Crisis Helpline: 0508 828 865 (0508 TAUTOKO) (available 24/7)
• Youth services: (06) 3555 906
• Youthline: 0800 376 633
• Kidsline: 0800 543 754 (available 24/7)
• Whatsup: 0800 942 8787 (1pm to 11pm)
• Depression helpline: 0800 111 757 (available 24/7)
• Rainbow Youth: (09) 376 4155
• CASPER Suicide Prevention
• Lifelink/Samaritans: 0800 726 666 (available 24/7)
If it is an emergency and you feel like you or someone else is at risk, call 111.