Aucklanders should be debating a wider vision for the city's waterfront, not just the latest sunken stadium proposal, say two of the city's most influential planners.
Four days ago, jaw-dropping plans for a new national stadium were unveiled by a private consortium to gauge public support.
The Auckland Stadium Consortium said the stadium will cost $1.8 billion and be partly sunk off Bledisloe Wharf on Ports of Auckland land used to import nearly 300,000 new and used cars a year. It could be built within 10 years at zero cost to ratepayers, the consortium said.
The best thing about this proposal is that it could start a proper public debate about what should happen on our waterfront
"Our proposal is exciting, very ambitious, but represents a superb solution for the whole waterfront and the city as a whole," said consortium chairman Dave Wigmore.
This view is not shared by councillor Chris Darby, who chairs the council's planning committee, and architect Julie Stout, who chairs Urban Auckland, which monitors design issues in the central city.
"One has to hand it to the stadium consortium for sheer opportunism ... yet again we are handed another scheme that wants to reclaim more harbour," said Stout, whose group successfully took legal action in 2015 to stop the ports company building two long wharf extensions.
"The best thing about this proposal is that it could start a proper public debate about what should happen on our waterfront," said Stout.
Darby said the imagery of the proposed stadium is strong and the concept of a sunken arena and translucent glass curtain wall is innovative, but was not swept of his feet.

"What will sweep me off my feet is a big-picture vision for our post-port waterfront, a vision that all Aucklanders get the chance to contribute to and ultimately feel ownership of," he said.

Darby said such a plan is stuck in the "starter's box" while the council focuses on a $1b downtown programme and fine tunes works for the 2021 America's Cup.

In the coming months, he said, the planning committee will be considering a refresh of the City Centre Masterplan and would like to see it embrace the Waterfront Plan into a single City Centre Futures Plan that will look out to a post-port waterfront.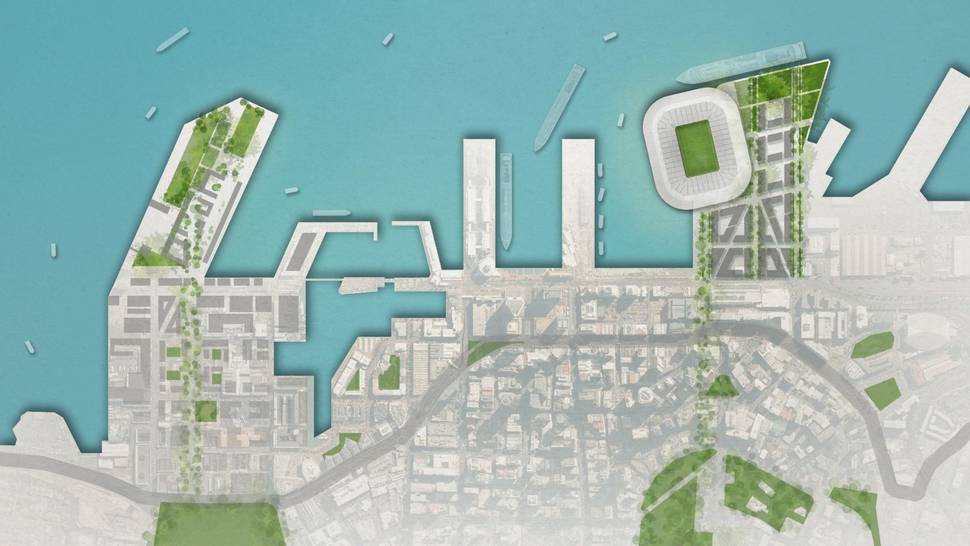 As part of the coalition agreement between Labour and New Zealand First, a Government working party is also preparing a feasibility study on the options for moving the Ports of Auckland, including giving Northport serious consideration. It is due by the end of the year.

Stout said questions of moving the port can only be solved at a national level and that work is underway.

"This opens up the opportunity for a completely transformed Auckland waterfront. For that we need a long-term, big-plan vision," she said.