The 11-month-old daughter of the family living in Papakura's "swamp house" is in the intensive care unit at Middlemore Hospital with bronchitis.
Atamarie Taylor's illness is thought to be linked to the family living the past 21 months in a cold, damp and mouldy home with a lake of water underneath it.
Her mother Dawn Robbie said she became sick earlier this week and they called an ambulance.
"She became lifeless, it was horrible. At the hospital they told us she had severe bronchitis. This is the third time this winter."
A letter signed by intensive care specialist Dr Simpson at Middlemore Hospital, dated September 24, confirmed Atamarie had been admitted with the breathing illness bronchitis.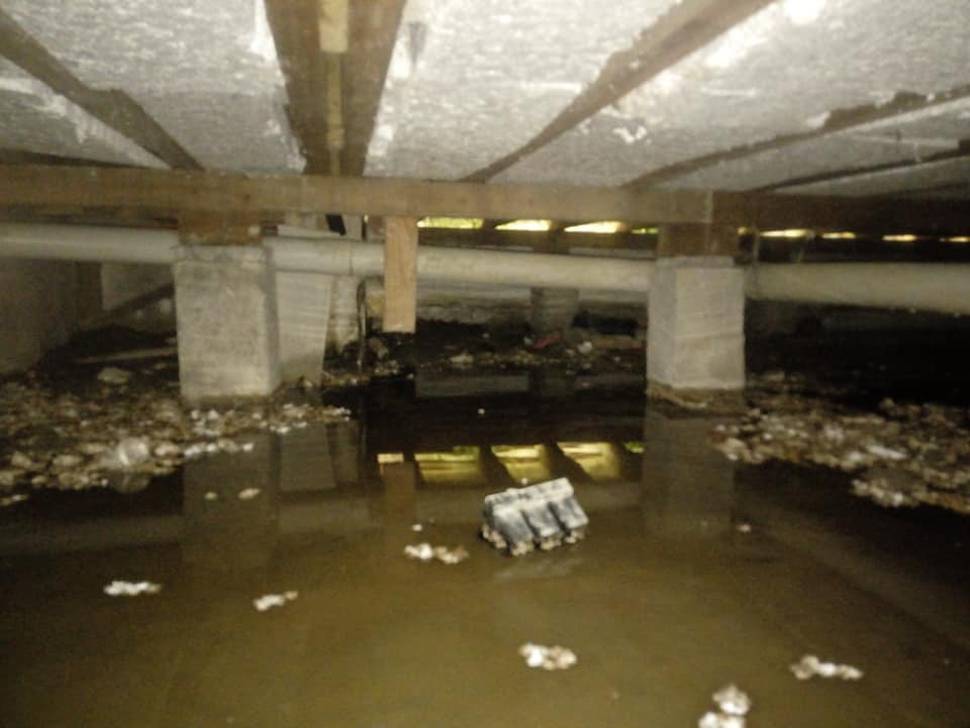 "This has been the third time this winter that Atamarie has been seen with bronchiolitis under the paediatricians at Middlemore Hospital.
"We know that damp cold living conditions increase the likelihood and severity of breathing problems in infants."
Simpson said Atamarie was making good progress and hoped she would be moved into the ward in the next 24 hours.
Robbie told the Herald last month her family was constantly getting sick because of the poor living conditions.
The family moved into the three-bedroom home in January last year, paying $520 a week, and were told by the landlord there were drainage issues but that they would be fixed, Robbie said.
The basement of the property was completely flooded and littered with bits of rubbish and underfloor insulation, filling the house above it with condensation.
Every time it rained water would pour under the house and flood the basement and she had attempted to get the landlord to fix it.
"The kids have been getting sick every couple of months, I've been getting sick too.
"As tenants we are doing our utmost. We pay rent and look after the property, we don't expect to have to live in a cold, damp house that is making us sick," she said.
After taking their case public, on August 31 Auckland Council issued an insanitary notice on the property, giving landlord Aven Raj 10 days to resolve the drainage, dampness and mould issues.
Under the insanitary notice, Raj faced a maximum fine of $200,000 plus $20,000 each day the issues remained unresolved.
The council lifted the notice after repairs were completed, but on September 4 Robbie and the family was given a 90-day notice to vacate the property.
Ray White Papatoetoe manager John McCracken, who began managing the property only after the insanitary notice was issued, said the vacate notice was issued because of further major remedial works.
The notice to vacate had been withdrawn so there was no time pressure on the family to find a new home.
"These tenants are good people, and had to endure some pretty substandard conditions," McCracken said.
McCracken and his team were assisting the family in finding a new home.
Robbie said they wanted to move out as soon as they could.
"Through this whole situation Raj did not want us in his property, he didn't care about our family. Nobody should have to take these steps to get their landlord to do this work."
There was a risk of Atamarie getting sick again if they returned to their damp and mouldy home.
"If an infant goes back into an area where they contracted bronchitis there is a high chance they will get it again. We can't go back into that home."
They had several property viewings over the next few days and if all went to plan they could be in a new home next week.
Tenancy Services - part of the Ministry of Business, Innovation and Employment - was taking a case to the Tenancy Tribunal against the landlord on the family's behalf.