Jimmy the cat was living out his twilight years at the gateway to Mt Kaukau, a popular walking track in Wellington's northern suburbs, until his time was cut short in a vicious dog attack.
The community was sent reeling and an investigation was launched.
Khandallah's Café du Parc owner Kiki Kang was brought to tears when news of Jimmy's attack reached her.
Not even Jimmy's beloved meal of bacon and eggs could tempt him into eating as he lay injured at the local veterinary clinic for several days before the decision was made to put him down.
The black and white cat was originally a stray who made a home for himself at a property on Woodmancote Rd.
A few years ago his owner moved to Khandallah village, but Jimmy kept coming back to the lush bush at the foot of Mt Kaukau and eventually set up shop under the café's deck.
Fundraising is under way for a memorial plaque to be erected there where his food bowl and bed of blankets still remain.
A donation box has been set up inside the café next to the coffee machine and Kang said any leftover money would be given to the SPCA.
Jimmy used to sit by the café's front door every morning waiting for staff to open up.
It was during this ritual three weeks ago when a pit bull terrier slipped its collar and attacked Jimmy from behind, leaving him seriously injured.
"He just couldn't move at all he must've been in shock. I've never seen him like that before so my husband took him to the vet hospital in Khandallah straight away," Kang said.
He was loaded up with pain killers and made comfortable while treatment options were discussed.
The clinic was inundated with visitors and phone calls inquiring after Jimmy's health but eventually the decision was made to euthanise him.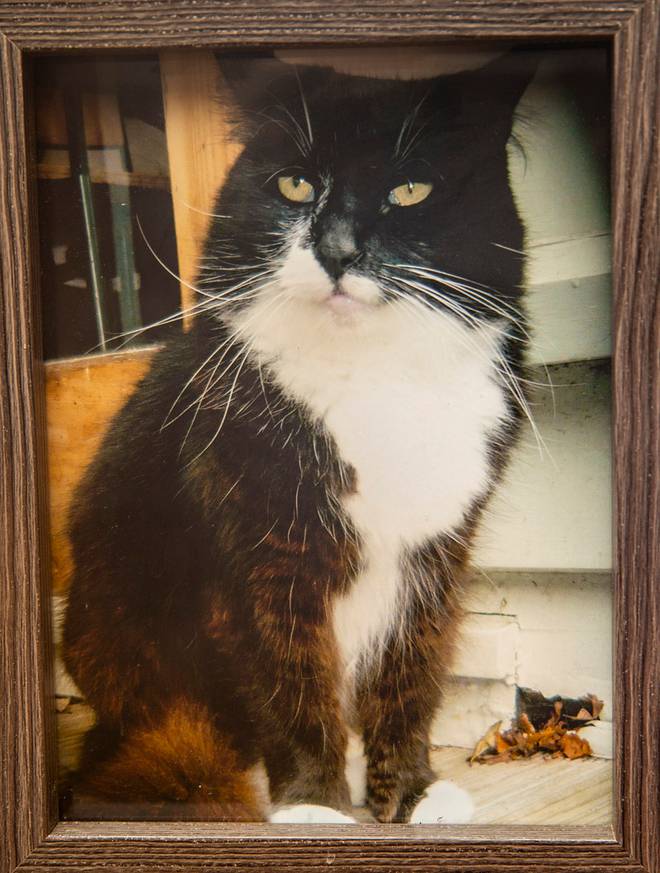 About 40 people showed up to Jimmy's memorial at the Khandallah Bowling Club just across the road from the café.
They brought flowers and messages of love. Some wrote poems like this one.
"They say a cat may have nine lives, but that number's just a fraction of the number of lives Jimmy touched as our café's top attraction."
Kang said Jimmy's death had brought the community together.
"We didn't choose him, he chose us. He's not anyone's cat, he's everyone's cat. Everyone loves him."

Politicians have also paid tribute to him on their Facebook pages.
Jimmy's death is being investigated by Wellington City Council Animal Services officers.
Regional manager Les Dalton said he couldn't provide much detail because the matter could be placed before the courts.
He said there were a range of potential consequences including the dog being classified as dangerous, seized by officers or prosecutions laid to seek a destruction order for it.
Dalton said even if a dog slipped its collar in a public place, it still had to be secure and with a person capable of controlling it.
He said it should note able to "rush on to properties and attack other domestic pets and people and other dogs".
He said a decision on what action to take on the case would be made in a matter of days.
Jimmy's ashes will be buried by the park bench seat he often visited on sunny days.