A Taupo drug dealer was fatally shot in the chest when three men stormed his rural home demanding drugs and cash, a court has heard.
Scott John Henry, 48, was shot after a deadly aggravated robbery involving Whakapumautanga Clarke, 25, Cody Paul Griffin, 25, and Daniel George Chase, 22, all from Taupo, who each deny charges of murdering him on July 20 last year.
The trio are also jointly charged with robbing Henry of a green Ridgeline Pikau bag and its contents while armed with a firearm.
Crown prosecutor Amanda Gordon told the jury in the High Court at Hamilton today that identification wasn't an issue for them to discuss as all three accused admitted being at Henry's Whangamata Rd converted shed that he lived in with his son, Liam Henry, and his partner, Kylie Hartley.
Hartley repeatedly broken down in tears on the stand today as she recalled the events from the night he was shot dead.
She detailed how her partner had installed several cameras around the large double shed which had been converted into their home.
He also grew and sold cannabis and methamphetamine from the house.
Although she didn't know how his operation worked, she said there could be up to five people visiting a day to buy drugs.
There were cameras on the side of the shed and on the front roller doors and also a rear back door and were set up so that they could run through his television.
On the night of his death, she described how she'd just come out of the shower, in her dressing gown and gumboots, then walked up the path to the outdoor toilet.
After walking out she was confronted by three men, one of whom was armed with a shotgun, and asking where her partner was, where the drugs were and where the money was.
She said Henry wasn't home and there were no drugs or money.
Henry then appeared around from the side of the toilet and the two Maori men "raced" towards him, while the third "pakeha" man pulled her beside him.
She then heard a gunshot and the Pakeha man, who was holding her, yell out "did you shoot him, dog?"
"Yeah, shot him between the shoulders," he replied.
She then broke free and ran off, into the darkness, to hide behind a door in the shower.
She could hear the men running around on the gravel outside and see the torch light being thrown around before hearing them start to get in the car.
She then heard one say 'where's that chick?'.
One then replied "worries, dog, get in the car" and they left.
She waited briefly before running to find Henry lying on his back in the doorway of their home with a mouthful of blood.
She tried to rouse him by "shouting at him to stay with me" and tilted his head as she thought he was choking.
He didn't make any further noise so she decided to flee, grabbing a torch and her handbag and heading off to her neighbours.
However, no one was home and after trying two doors she eventually laid down beside a couch where she remained until found by police dogs the following day.
In her opening submission to the court this morning, Gordon said the trio confronted Hartley after she came out of their outdoor shower.
The trio asked her "where is Scott, where are the drugs, where is the money?"
Henry was a dealer of cannabis and methamphetamine from his home, so when she saw a car had pulled up at their home, Hartley was not surprised, Gordon said.
However, she was then confronted by the trio, who had bandannas covering the lower half of their faces, and terrified, she told them Henry wasn't home.
"They kept asking, 'where is he, where are the drugs, where is the money'."
Henry then appeared in the darkness, holding a torch. Clarke and Chase then took Henry around the corner as Griffin is accused of staying, holding on to Hartley.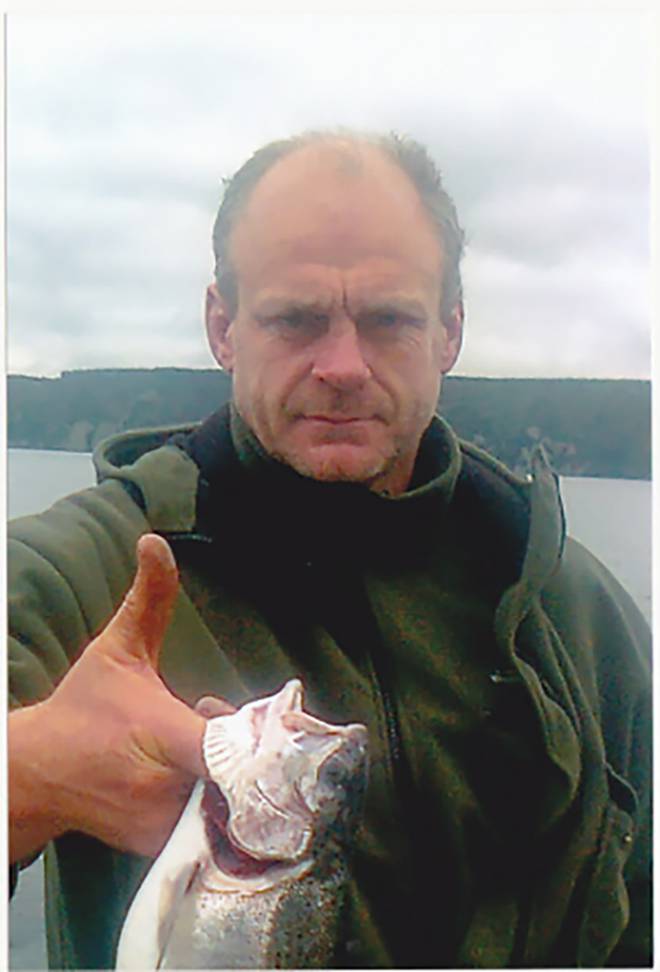 Hartley would testify that she then heard a gunshot. She then managed to get free and ran into the darkness to hide behind the shower door.
Shortly afterwards she heard the men walking around before hearing the car start and hearing one of the men say "where's that girl?".
Another accused then replied "worries dog, get in the car".
Hartley waited a short time before running to the side of her partner who was lying on his back in the doorway, with blood covering his head and face.
"She was yelling at him to stay with her ... but she knew that he had just died in front of her."
Gordon said Hartley was so terrified that she ran, eventually hiding under a couch on her neighbour's porch, staying there until found by police the next day.
The trio fled along State Highway 32, heading to the Pureora Forest where the Crown claims they buried Henry's backpack and a torch that the partner had been holding.
Griffin is alleged to have driven the group around in his blue Mitsubishi Pajero, together with another woman, Natasha Telford, who will give evidence of their movements before and after the shooting.
She said they headed off around the Western Bays area towards Turangi where they stopped and got petrol at the Z petrol station before getting food at Burger King.
Gordon said Telford would give evidence how she repeatedly tried to get out of the car and was eventually dropped off at Rainbow Pt, in Taupo, about 11pm.
A Corrections officer will also give evidence in relation to a comment from Chase while he was in custody.
When she asked him about the incident, he replied that he "wasn't the shooter".
"Chase told her that he was hanging out with the wrong people at the time. He then said to her 'there were three of us and all I can say is that I wasn't the gunman' and then he said to her that he was in fact a 'ladies man' and walked off, laughing."
Gordon said the evidence will prove that Clarke was the one who fired the shot but all three were still guilty of murder.
"That is because the law says where two or more people form a common intention, a plan, to prosecute an unlawful act, a robbery, and they agree to assist each other in doing that, each of them is a party to the offence committed by any other during that plan."
She said by taking the shotgun to the scene they had a "real appreciation that somebody could die".
The trial was initially set down for three weeks and to involve 51 witnesses, however after legal arguments the trial will now go for just over a week and involve 17 witnesses.
The jury comprises five women and seven men and is being overseen by Justice Sarah Katz.
Max Simpkins is acting for Clarke, Bill Lawson for Chase, and John Munro and David Niven are counsel for Griffin.