People resorting to violent crime to fund methamphetamine habits are believed to be fueling an increase in aggravated robberies in the Western Bay of Plenty.
In New Zealand Police crime data analysed by NZME, the number of aggravated robberies committed in the Western Bay policing area climbed from 47 in July 2014 to 101 in 2017.
Already this year, police have been called to 28 aggravated robberies in the Western Bay.
Although there was an expected lag of 180 days after a crime for a resolution to be defined, each year police made arrests for about half of aggravated robberies reported.
Read more: Jurors allegedly filmed and intimidated in Tauranga drug trial
Kawerau drug raids accused maintain denials to charges
In 2014 there were 47 aggravated robberies reported to police, 29 of those were resolved. In 2015 there were 77 robberies and 45 resolutions, in 2016 there were 80 with 42 results, and in 2017 there were 101 with 54 resolutions. So far this year, 0 resolutions are recorded on the official figures, but police have since stated there have been 14 resolutions of the 28 robberies committed before June 30, this year.
Western Bay of Plenty area investigations manager Detective Senior Sergeant Greg Turner said robberies included weapons such as bats, sticks and iron bars and there was "significant concern" for police.
Turner said there was "no question that methamphetamine and other illicit drugs are drivers of too much harm in our communities".
People could be committing crime to generate money to fund their drug habits, and police and partner agencies were doing "everything possible" to prevent more people becoming victims, he said.
"The businesses being targeted for these crimes are part of our community, they provide an important service. We should all be taking an interest in their wellbeing and supporting them to be safe."
Turner said it was something police could not do alone, and they were working with partner agencies, retailers and industry groups.
He also said the current resolution rate in the wider Bay of Plenty was in line or higher than the rest of the country.
"Police want to reassure the community that police do not tolerate this type of offending, and we are committed to making sure people are held accountable for their actions."
Aggravated robbery carries a maximum penalty of 14 years' imprisonment, but Tauranga Sensible Sentencing spokesman Ken Evans said the penalties should be harsher to act as more of a deterrent.
"If only 50 per cent of them don't get caught, it almost makes it worth the risk," he said.
"They are putting people's lives at risk just for cigarettes. It's just ludicrous."
Evans said retailers should also be more proactive in protecting themselves with fog cannons and counter wires to stop people jumping over.
Shopkeepers spoken to by the Bay of Plenty Times were apprehensive about fog cannons, concerned they could make things more dangerous if activated.
Risky business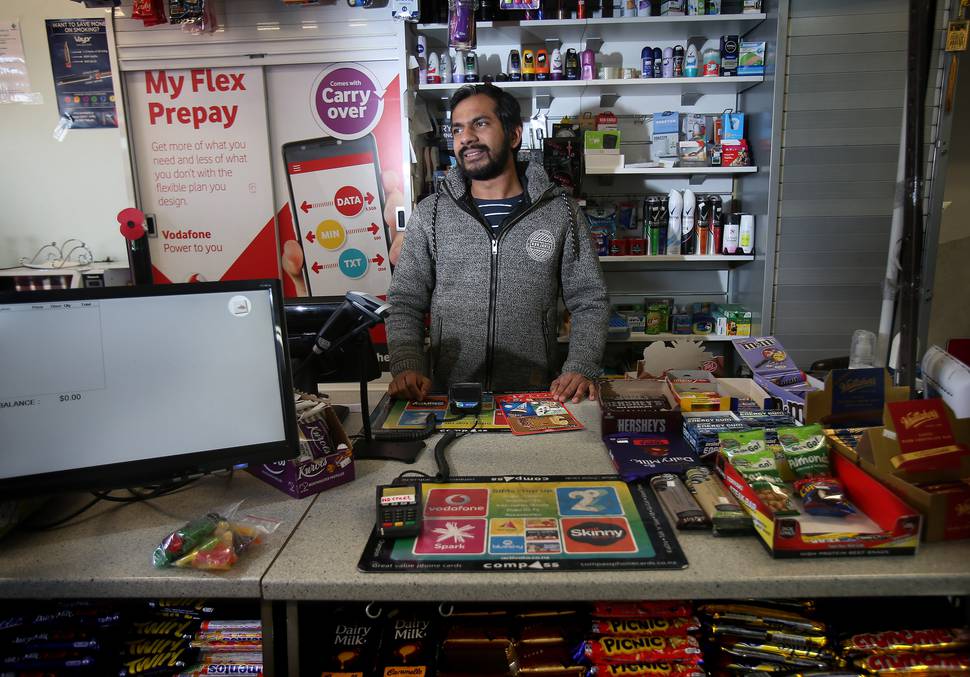 A Tauranga dairy owner admits it is scary running a store "because you never know who is coming through the door".
Mohammad Zaber manages the Colorado Dairy in Greerton and said the number of aggravated robberies he was aware of within the past year was concerning.
"It is definitely a worry, especially last year there seemed to be quite a few in Tauranga. Every day the customer comes in, we always try to look who it is coming here."
Zaber had not been the victim of an aggravated robbery but said: "If it happens, I need to face it.
"Sometimes we try to keep the shop open until 9pm but after 7pm [foot traffic] is pretty slow outside and it's dark, some people, homeless, are hanging around. It makes it a bit scary. But we need to keep going."
Like many retailers, Zaber accepted cigarettes and tobacco were often the target of robberies and said it was a tough call to decide whether to keep selling them knowing this.
"Each year the price goes up and up, and there are people struggling, they want to quit but they can't so they will go for cheaper [stolen] options if they're available.
"It's hard. If we didn't sell them it would probably save us, but at the same time, we're a dairy, you expect us to sell cigarettes, just like a pie or gum or a fizzy drink."
Instead, Zaber has compromised by not stocking many cigarettes so "if something happens we can cover it".
Other dairy store and bottle outlet owners declined to comment on the robberies, for fear they might become targeted again.
One man said the matter was "sensitive", another felt they would only invite future attacks and another just wanted to move on - too shaken from previous experiences.
- Kiri Gillespie