Rotorua is home to some of the country's oldest unsolved cases. Journalist Kelly Makiha reveals new information in some investigations and catches up with family members in others.
Olive Walker (murdered) 1970
Rotorua police have this week confirmed one of several suspects in the historic Olive Walker murder case is out of jail and living in the Rotorua area.
However, police have not got any new information or breakthroughs in DNA to allow them
to progress the investigation.
Walker's bloodied and beaten body was found on the outskirts south of Rotorua on Friday May 15, 1970. She was raped before she was murdered.
The officer in charge of the case, Detective Sergeant George Staunton, confirmed to the Rotorua Daily Post in 2007 that one of the suspects was behind bars for sex offences.
Staunton said this week the man was now out of jail. When asked if he was still in the Rotorua area, Staunton said yes.
"Olive's case has had little progress, where and when police can make inquiries these lines of inquiry are followed up.
"The male of interest from the 2007 article has been released from prison. There is no immediate plan to interview him without substantial information to put to him."
He said information over the years was gladly received and he encourage the public to continue to call.
"DNA analysis is a modern day investigative tool. ESR are currently reviewing our case. The process for these older investigations have a lot more considerations before or if they can move forward."
Walker planned to walk to the house of her sister, Mary Walker, to babysit her children but she never arrived. The next morning, Mary heard on the news that Walker's body had been found at 11.30pm, nearly 5km south of Rotorua.
Walker was described as a shy girl. She didn't have many friends.
Some time between leaving her home on Leslie St in Rotorua at about 6.45pm that Friday and about 9pm, the estimated time of the murder, she was picked up by someone and brutally raped and killed.
She was supposed to walk to Malfroy Rd but was last seen near the Odeon Theatre, now Destiny Church, in Pukaki St at 7.50pm.
Meanwhile, Staunton said whenever Walker's case resurfaced through the media there was always a swell of calls.
"I encourage everyone with information to call the Rotorua police station on (07) 348 0099 or the Crimestoppers line (0800) 555 111."
Roma Joseph (murdered) 2017
Police investigating the brutal murder of Tirau woman Roma Joseph are making good progress, but are stopping short of saying they are closing in on a suspect.
Detective Inspector Mark Loper, Bay of Plenty crime manager, has confirmed the case, which has several Rotorua detectives working on it, is with Crown lawyers but no arrest has been made.
"It has progressed to a point that we are taking a restock and review of the evidence before planning our next lines of inquiry."
When asked by the Rotorua Daily Post if they had a suspect, Loper said: "We keep an open mind".
Joseph, a 58-year-old loved mother and grandmother, also known as Ruma Midwood, was brutally attacked in her Tirau home before it was deliberately set alight somewhere between 3am and 3.30am on the Monday morning of May 1 last year.
Detective Senior Sergeant Matt Cranshaw from Taupo, who is leading the investigation, has described the attack as "cowardly".
"She was violently killed in her own home. Those responsible for this brutal murder need to be held to account," he has been reported as saying.
Lance Kapua (missing) 1989
The sister of missing man Lance Kapua says you never forget the grief and hurt of not knowing how your loved one died, but for your own sake you have to move on.
Lance Kapua vanished in Rotorua on Saturday, July 1, 1989 - the night before his 31st birthday party.
The Rotorua Daily Post caught up with his sister, Audrey Martin, formerly of Rotorua and who now lives in Sydney, this week.
Martin said there had been no new information about her brother's disappearance and it would always remain hard to deal with.
Particularly difficult for the family was the fact only a handful of police helped in the search and the disappearance barely made national headlines.
The fact the case didn't attract large police and media attention had hurt Kapua's family - especially since the case was never upgraded to CIB.
At the time, the Kapuas approached then Police Minister Peter Tapsell asking for more officers but were told they didn't have the resources.
The family raised $1000, presenting a cheque to local police to go towards "more resources" but police returned the money, saying it should be used to increase publicity.
The family used it to hire a helicopter for an aerial search.
Kapua developed schizophrenia while at Waikato University and moved back to Rotorua to live with his mother, Polly Kapua, on Whittaker Rd in Koutu.
He needed to take medication for his illness three times a day.
On the night before his birthday, he told his mother he was heading out for a walk.
In the morning, she noticed he hadn't returned. When family arrived during the day to wish him happy birthday, they grew more concerned and contacted police.
There were several theories about where Kapua could be and suicide was never a likely option.
Police investigated rumours he was picked up by Black Power members and either given a lift out of the city or attacked and killed.
It was suggested he could have slipped and fallen in a Kuirau Park hot pool or in Lake Rotorua, both of which were close to his home.
The family saw a tohunga (Maori priest) who led the family to an empty block of land between Whittaker and Bennetts Rds and pinpointed a spot where he believed Kapua was buried.
Bones were found but they belonged to a dog.
Two psychics told Kapua's parents he was living in a commune in the West Coast of the South Island.
Mrs Martin said a third psychic she saw also hinted at this. It was a theory Kapua's parents believed until their deaths.
Martin said she felt for families going through similar ordeals, especially those such as Nigel Peterson's family, where the loss was still raw.
Peterson disappeared in Rotorua last year.
Martin has survived aggressive breast cancer and she said having been through health issues, it had made her realise she had to move on.
"He (Lance) is always in our minds and in our hearts but we all have to carry on. There's not a lot we can do except hope that one day the mystery will be resolved.
"We can always remember and always hope but with everything that's happened you just have to move on because if you don't take that approach, it is going to ruin you life."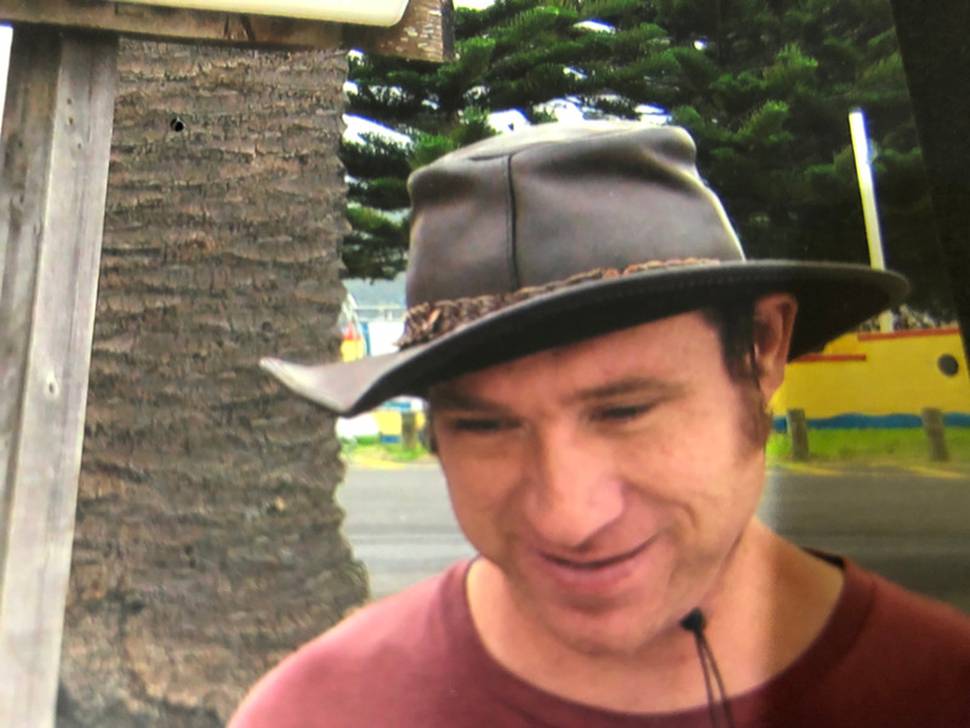 Nigel Peterson (missing) 2017
The tragic disappearance of Nigel Peterson in Rotorua last year is still fresh in local minds and his family is still holding out hope he will be found.
Nigel Peterson was last seen in on November 17 on CCTV footage at the Hemo Gorge roundabout in Rotorua.
The 33-year-old autistic man went missing after walking off from his 24-hour caregiver.
Given his condition, he had misunderstood where he was being driven, despite his caregiver trying to reassure him.
He jumped out of the car near the roundabout on Old Taupo and Otonga Rds and walked off despite her efforts to convince him to come back.
When she sought help to get him back in the car, he was nowhere to be seen.
An extensive ground search of more than 1200 properties and surrounding open spaces, as well as an aerial search of Rotorua and nearby forests, were conducted by teams of police, volunteers and family but Peterson wasn't found.
Police announced this year results from more indepth profiling which resulted in more searches being carried out in forest areas near Rotorua, but they failed to find him.
The slim man of medium height was wearing a green T-shirt, light brown pants, brown sneakers and possibly a denim jacket.
Howard Percy (murdered) 1976
Howard Percy was working as a security guard at an ANZ banking facility on Old Taupo Rd when he was shot and killed by a robber in 1976.
Despite relatively recent efforts by local police to get forensic evidence tested in the United States, the case remains unsolved.
The Rotorua bank was first targeted by a robber on July 16, 1976. The offender then tied up two tellers and Percy before taking about $13,000.
The incident was reported in the Rotorua Daily Post at the time as the first bank robbery in Rotorua.
Four months later, on November 5, the bank was subjected to a second robbery.
Percy was again on duty and this time tackled the offender resulting in him being shot twice. He died on the way to hospital.
Police reopened the case in 2012 after receiving fresh information about the incident. A team of police searched Rotorua's Mangakakahi Stream for the gun which was used to shoot Mr Percy.
The stream was never searched as part of the initial investigation.
His family and other people who were at the bank have urged members of the public to come forward with information about the shooting.
Detective Sergeant Garry Hawkins of the Rotorua CIB told the Rotorua Daily Post this week the forensic evidence was now so old it made it difficult as the quality of it had deteriorated.
He personally went to the United States with evidence in 2010 in the hope advancements in forensic testing could lead to a breakthrough. However, it wasn't successful.
"They still have a portion of the exhibit and we are still hopeful."
Hawkins said there were "people in mind" that were responsible and it would only take what some might think was a small amount of information to lead to a breakthrough.
"Allegiances do change over time. Loved ones and families fall out and they might now want to come forward. It would be great for the community, the family and the police who have worked on this over the years to get an arrest after all this time."
Tewhai Brown (missing) 1996
Tewhai Brown was last seen walking along State Highway 33 from her Okere Falls home on Thursday, March 21, 1996.
Although a coroner has officially ruled she is dead, her family have never given up hope of finding her alive.
There were more than 30 sightings of the 31-year-old, including from road workers who said she was in good spirits dancing and singing along to a yellow radio she was carrying.
The mother of six had been a happy and humorous woman all her life but in recent months leading up to her disappearance she had been in a bad place as a result of a relationship breakdown and was suffering from depression.
The Brown family had always suspected Tewhai was picked up by someone and something awful had happened to her. But they will never know the truth until they find her body.
Her sister, Karaina Brown, told the Rotorua Daily Post in May this year that she finds herself looking at people differently.
" When you meet someone you think to yourself 'did you take her?'," she said.
Pat Sidney Fisk (missing) 1956
Tauranga tax man Pat Fisk vanished from Murupara. On December 5, 1965, the 37-year-old went to the Pekepeke Quarry, 11km from Murupara, where he spoke to the quarry foreman.
His car was found the next day.
His wife at the time, Maureen Thomas, has always said she didn't want to die not knowing what happened to her first husband.
She is still alive living in Auckland and is now aged in her 90s.
Police say Fisk deliberately took off from his pregnant wife and four children but Mrs Thomas refused to believe it.
In 2009 she even offered a $20,000 reward via television programme Missing for any useful information about her husband who she was convinced was murdered.
The family got Rotorua police to reopen the case in 2004 but a 15-month investigation failed to find any new evidence.
Fisk left his Tauranga home telling his wife he might not be back until the following night, which was normal in his job.
His car, a 1954 blue-grey Vauxhall, was found the following day at 4am at the top of Tarapounamu Saddle, between Te Whaiti and Ruatahuna.
Police suspected the English-born man left the country as he had contacts overseas and a background as a superintendent with the Indian police.
He was also considered resourceful as the family had sailed solo in a 28ft yacht from India to New Zealand.
Someone who knew Fisk claimed they saw him in an Australian movie in 1962 called A Painted Country. Police have never been able to find a copy of it.
Heidi Charles (missing) 1977
Heidi Charles was supposed to be on holiday but she disappeared on one of the busiest days of the year in Rotorua.
Police have never been able to determine whether she was murdered or became lost.
It was New Year's Eve in 1976 when her husband, Robert, dropped her off in central Rotorua to do some shopping. She was to meet him and their two sons at their campervan about an hour later on Fenton St.
She never showed up.
The family were staying at the Okawa Bay Motor Camp with Charles' father and his travelling companion. They were new to New Zealand, having moved to Wellington seven months before from Africa.
After his wife's disappearance, Robert Charles made a plea through the the Rotorua Daily Post for her to come forward.
He said his wife had been under pressure, probably more than he was aware of. About six months after her disappearance, the Charles family moved to Germany.
Heidi Charles' bank accounts were never touched and her passport was never used again.
Police doubted her disappearance was suicide, as was speculated at the time, because her body was never found.
Officers searched the lakes and even put a dead sheep into a hot pool at Kuirau Park to test what would happen if a dead body were there. It bounced to the top.

Thomas Edwards (missing) 1985

There is little information about Thomas Edwards' disappearance. According to police he was in his 50s when he disappeared.
The only description police have is that he was Māori. He was last seen on October 9, 1985, at a hostel on Ranolf St where he lived and worked.
His work boots and clothes were all left at the hostel and his rent was paid up until the end of the week.
The Rotorua Daily Post never reported Edwards' disappearance and police have received little information about it.
There is no photo on record of Edwards.

Milton Channing (missing possibly murdered) 1987
Milton Channing set out for Whangamata from Taupo on New Year's Eve in 1987 and has not been seen since.
His ute was found by hunters two years later in a forest.
Police narrowed down inquiries to a local man who was involved in growing cannabis with Channing. He was interviewed but was never charged.
In 1998, police conducted a large-scale search of Tauhara Forest at Broadlands after receiving information Channing was buried there.
Police thought they had a breakthrough in the case in 2012 when a woman came forward claiming she was told what happened.
In an online post, family friend Beverly Jackson wrote she told police the killer's name and gave details about where to find the body.
"Milton did make it to Whangamata that night. He was shot in the head by a certain person named PW. He was killed in Whangamata [sic],'' she wrote. "Milton was shot in the head, buried near a drug patch and his car driven to Rotorua forest and abandoned.''
Jackson said "several people" had passed the same tip to police. Nothing eventuated from the information.
Channing, a roofer, was reported as being a popular man from a respected Taupo family.
There are no photos on record of Channing.