A road worker in Porirua has warmed the hearts of Kiwis across the country after a video of his enthusiastic antics went viral.
On Saturday afternoon Wanganui man Zane Hair and his dog Zeke were passing through Porirua on an adventure when they found themselves stuck in traffic because of roadworks.
But one road worker's happy antics made Zane's 10-minute wait worthwhile after he busted out some hilarious instructions for all to see.
Armed with a stop/go sign, the road worker was seen enthusiastically waving his arms and instructing motorists when to go. But it was his friendly nature and that made locals smile.
"I only started filming halfway through. I was just cracking up and my dog in the back, Zeke, he was going nuts over it. He must have been going for about 10 minutes," Hair told the Herald.
"We were waiting for a while so the traffic build-up was pretty big. I think he was freaking a little bit because there were quite a lot of cars he was having to get through in the short amount of time.
"Typical Porirua sort of stuff. Everyone else was laughing as well.
"He was quite away from the rest of his workers so they couldn't see him. He wasn't doing that because his fellow workers were watching or anything he was just out there by himself having a bit of fun.
"It was pretty cool. We gave each other a wave as we went past. He definitely wasn't playing up for the camera, he was just having a bit of fun."
Zane said it was brilliant to see the road worker happy at work, especially after being lumped with a weekend shift.
The video, which was posted on Saturday, has received more than 330,000 views and been shared more than 1500 times.
Locals praised the road worker for his positive nature, and many said it put a smile on motorists' faces.
"I watched this guy on Saturday and omg he is very happy at work. Smiled the whole time. Hope they pay him well. Good spirits," one Porirua local wrote.
Another said: "What a good fella!! Someone drop him a coffee or some chocolates off."
One Kiwi overseas responded to the video saying "This is why I miss New Zealand! We're a fun lot who like to joke around while still taking the job seriously. Never change. Chur!"
The video comes less than two months after a Wellington road worker decided to "kill some time" while they were packing up and busted out an epic dance move, much to the delight of passing motorists.
Road workers, Ajay Utupo-Vaalepu and Cassius Akavi got up to a bit of fun, dancing during work. Source: Facebook / @Ajay Utupo-Vaalepu
"We weren't expecting it to be so popular but it sort of blew up," the dancing road worker told the Herald.
In May an Upper Hutt road worker was praised for his kind gesture to three young boys.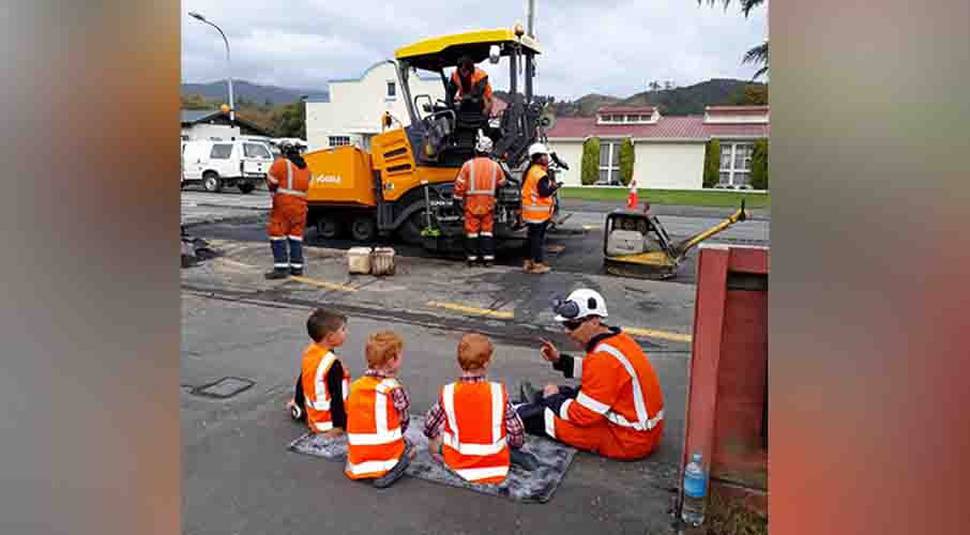 Workers were fixing a stretch of road that was in dire need of maintenance when the inquisitive boys stopped to look at what was going on.
One worker handed the three young boys a hi-vis jacket each and sat down on the side of the road to teach them about the work they were doing.
One local snapped an image of the beautiful moment and took to Facebook to share with the Upper Hutt community.