Murder victim Paul Te Hiko was working with his father on a Wainuiomata property development when his life was brutally cut short.
He suffered a fatal gunshot wound on the night of Wednesday, March 7. Now almost two weeks later, Wellington police are still tight-lipped about where he was shot, whether they've found the murder weapon, and where exactly Te Hiko's body was found on the Jack Vaughan Grove development.
His family have now released a photo of Te Hiko to the Herald in the hopes that someone who knows something will come forward.
"We are deeply traumatised at this time and would like people to respect our privacy," the family said.
"All we ask is that, if you know anything that can help, that you come forward and speak to the police."
Detective Senior Sergeant Mike Sears said 17 detectives as well as various experts are consulting on the case.
One of the detectives is supporting Te Hiko's grieving family.
"They're devastated, but they're supporting each other. The police will continue to support them. The family have been very helpful, as you'd understand, they want answers.
"So we're keeping them up to date, but they're gutted.
"It's a highly regarded family, They're well known not only in the Wainuiomata community but across the [Hutt] Valley and across New Zealand.
"A great family, nice people.
"[They have] the support from various support agencies. But we keep open lines of communication.
"We've got an investigator who's dedicated to meeting them daily and feeding them information, and getting information from them.
"That way we know and can learn about the background of Paul and the area."
Te Hiko was a builder, often helping his father, experienced developer Mike Te Hiko.
Paul Te Hiko's body was found in his father's Jack Vaughan Grove development.
When the development was announced it was hailed as great news for Wainuiomata - helping to improve infrastructure, and becoming part of the story of the area's booming population.
The father-son team had previously built a number of properties in Wainuiomata, and Paul Te Hiko had completed building work on several homes in the area.
Sears said the investigation was centred on the Jack Vaughan Grove development, which was thoroughly searched.
"The address is a property in a semi-rural area of Wainuiomata. There's extensive land in and around the address.
"We've done a thorough and detailed examination of not only the buildings on the address but also the out-buildings and surrounding land."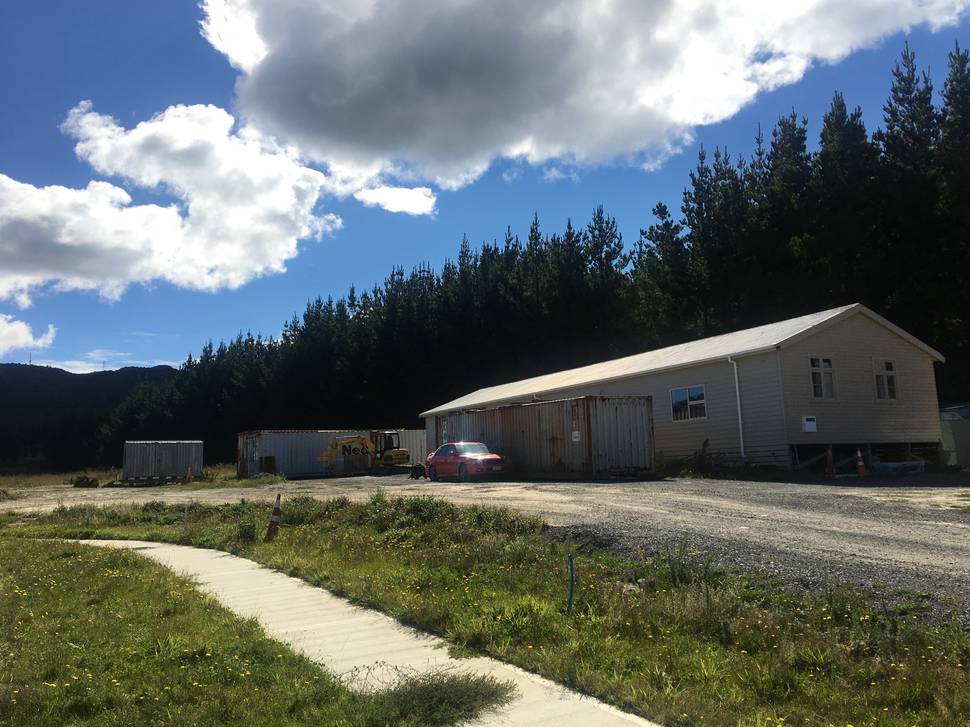 Detectives are still working through a list of Te Hiko's friends and associates that they would like to talk to.
Many in the community have spoken to the Herald about their fears the Black Power gang may be involved.
Those fears were fuelled by the appearance of three patched gang members at Te Hiko's funeral last week.
Sears said it was important not to jump to conclusions.
"We're aware that people have told us that they've seen a number of gang members in the area.
"At this stage we're not in a position to say exactly what part they've played in this investigation.
"We're exploring a number of avenues. We are yet to rule out anybody."
Sears said the most important thing for now was that they gathered every last scrap of information from the community.
He said any information could be important, but they particularly wanted to speak to anyone who had seen suspicious people or vehicles around the Jack Vaughan Grove development or Wise St.
Any sightings of guns, or anybody who heard gunshots, would also be particularly useful.
"Allow us to assess the importance of your information," Sears said.
"We're urging you. If you're holding back on some information, or you've got a little niggle that you saw or heard something that might not be right, get hold of us.
"We need to speak to you."
Anyone with information can ring Lower Hutt Police on (04) 560 2600, or give information anonymously via Crimestoppers on 0800 555 111.