Jane Furlong vanished in 1993 aged just 17. Her remains were discovered by chance 19 years later. In a new book, Herald journalist Kelly Dennett investigates one of the country's most enduring cold cases. This edited extract examines the hours before Jane's disappearance.
The last day of Jane's life started as her days normally did. After working the night before, she was asleep with [boyfriend] Dani Norsworthy in their new flat in Onehunga.
Although this was the first home they'd shared as a couple they'd been living together for some time, often in dingy flats with friends.
This place was no different. On the practically empty fridge there was a "Jayne and Dani" love heart similar to the ones Jane had taken to drawing in her diary.
Jane had signed her name and a date, May 23, 1993. In red and black paint someone had drawn a skull on the fridge door, and the words HEAVY METAL, which appeared to be dripping with blood.
In the lounge there were old couches and a couple of brown plastic-looking seats from a car.
The bedroom sported a double mattress covered in a flowery sheet. Next to it an overturned box was set up as a side table. It contained empty beer bottles. In the corner there were new soft toys for [6-month-old son] Aidan.
Jane and Dani had been in the flat only ten days but more cracks had already appeared in their relationship. Jane had stopped writing in her diary weeks before. She knew Dani often read it and they would fight about what she'd written.
She knew he saw other women and accused him of cheating. She'd heard rumours that a woman called Stephanie Skidmore was pregnant to Dani. In the city one night [Jane's friend] Amanda Geraghty and Jane had seen Stephanie and confronted her. Eventually the fight had blown over. It would turn out Stephanie wasn't pregnant.
When I asked Dani about the incident, he smirked. To have two girls fighting over him may have been nice. IT'S A winter's day in 2016 when Chris Good and I meet in person for the first time.
The sun is out, and although it's a Friday afternoon the traffic in Auckland is inexplicably light. It's a nice day for a drive.
[Jane's mum] Judith has given me Good's number. She's told me that every year without fail on the anniversary of Jane's disappearance the taxi driver would drop flowers at her door, until one year she moved and he didn't know her new address.
Good is now in his fifties and retired, but once upon a time he had driven up and down K Road most nights in his Nissan Bluebird looking for fares.
When Jane disappeared he had been a taxi driver for about three years. He lived in nearby Mount Eden and had quickly learned the ropes. It would have been stupid to park his cab on any other street. Lined with sex stores, nightclubs and massage parlours, K Road was always busy. There were plenty of customers and he had earned a reputation as a friendly driver who often let the girls pay him later for rides if they didn't have cash at the time.
Much like the workers with their favourite patches, Good had a taxi rank he particularly liked, the one outside [department store] Rendells.
It was here he had got to know Amanda and Jane and also [friend] Natacha Hogan. He first met Jane after she'd been robbed on the North Shore. A client had driven her a long way out of town, stolen her purse and pushed her out of his car.
When Good picked her up, sensing her distress he hadn't asked her for the fare but had simply dropped her home.
Earlier, when we spoke by phone, Good had been eager to tell me about Jane's last ride with him. His schedule that night has been carefully examined by the police many times and he wanted to be sure to give me the correct information.
When I queried him about a time, he said, "Hang on, I'll just get my statement. It's better to be precise about these things or the police will be all over you."
Although he continued to drive taxis after Jane went missing, he didn't do it for long. That last drive had left him a tormented man.
JANE AND Dani spend most of the day sleeping but Jane also unpacks bits and pieces for the house. By the late afternoon they've firmed up a plan.
They will get Chris Good to collect them and Amanda from Amanda's mother's house and go into town. The girls will make some quick cash before they go out for the rest of the night.
Jane packs a green duffel bag with a change of clothes and her toothbrush, intending not to come home until the next day, or maybe even the day after, depending how well the night goes with the dates Amanda has set up.
Dani seems unconcerned. He's more worried about his and Jane's car, which has broken down the night before on a blind bend on Ian McKinnon Drive.
Walking or hitchhiking, Dani and Jane arrive at Amanda's mother's house on Rockfield Road at 7.30pm. The street, a short cul-de-sac up a slight hill, is lined with shabby weatherboard houses with small garages. Soon afterwards Good pulls up in his taxi and toots his hornBY NOW Chris Good and I have edged on to the southern motorway, taken the exit to Greenlane, and swung around the roundabout on to Great South Road. After a couple of lefts and rights I lose track of where we are. Good is finding his memory of the exact street where Amanda's mother lived and the exact driveway a little fuzzy.
We arrive outside a weatherboard home at the top of Rockfield Road. Good is confident this is it. He remembers the fence, and tooting for Jane, Dani and Amanda to come out.
I stare at the house intently, as if its facade will reveal something.
I think about Jane's last movements, her last time in this house.
Retracing her steps is sad and eerie, but it hasn't brought me any closer to the truth.
"So now they're all on board and we're off into town," Good says.DANI SITS in the front seat with Good. On the way up the southern motorway into the city he mentions his car.
Good offers to help him tow it after they've dropped off the girls.
The road it's on is notorious for speedsters, he says. It won't be long before someone ploughs into the back of the car.
I said to him, 'You know, man, you don't want to leave your car there. If you've got a rope I can at least tow you around the corner.' So that's what we decided."
About 8pm Good drops off Jane and Amanda outside Rendells, and Dani and he make a beeline for the Cortina, turning off K Road to go down Mercury Lane, then climbing back up the hill towards Ian McKinnon Drive.
Meanwhile, standing in their favourite spot, Jane and Amanda talk and smoke. It's not long before Amanda gets a job.
This is rare: usually Jane, with her fiery red hair and perfect figure, is the first to be picked up.
It's not the only anomaly of the night. Dani is usually watching over the girls and taking note of the cars they are getting into.
Tonight he's not there. Amanda says goodbye to Jane without a hug or a backward look and quickly jumps into the client's car. Her job doesn't last long and she is back within half an hour.AS WE drive down K Road, Good points out where Rendells used to be.
It's still one of the few places on the street where there's a designated taxi rank. Next to it is the bench where Dani used to sit and wait for Jane to return from her jobs.
Good comfortably zips in and out of traffic the way you'd expect of someone who's driven these streets thousands of times.
His stream of chat continues. I don't need to prod him much for information.
"They were okay, they were nice girls," he says. "I felt sorry for them being out on the street and I didn't understand that lifestyle. But I was also of the opinion that, hey, we've all got to make a dollar somehow."
DANI AND Chris Good hook the Cortina to the ageing Nissan Bluebird.
They tow it to a spot on Upper Queen Street, not far from K Road, but almost immediately Good realises this isn't ideal.
If Dani is going to be on K Road the car might as well be there too. They do one more loop around, rehook the car to the Bluebird, tow it to K Road and park it right outside Rendells.
Good notes that neither Amanda nor Jane is there. Dani's night isn't over. He asks Good to ferry him around Grey Lynn while he does some errands.
The first port of call is down a tight dark alleyway between two shops on Great North Road.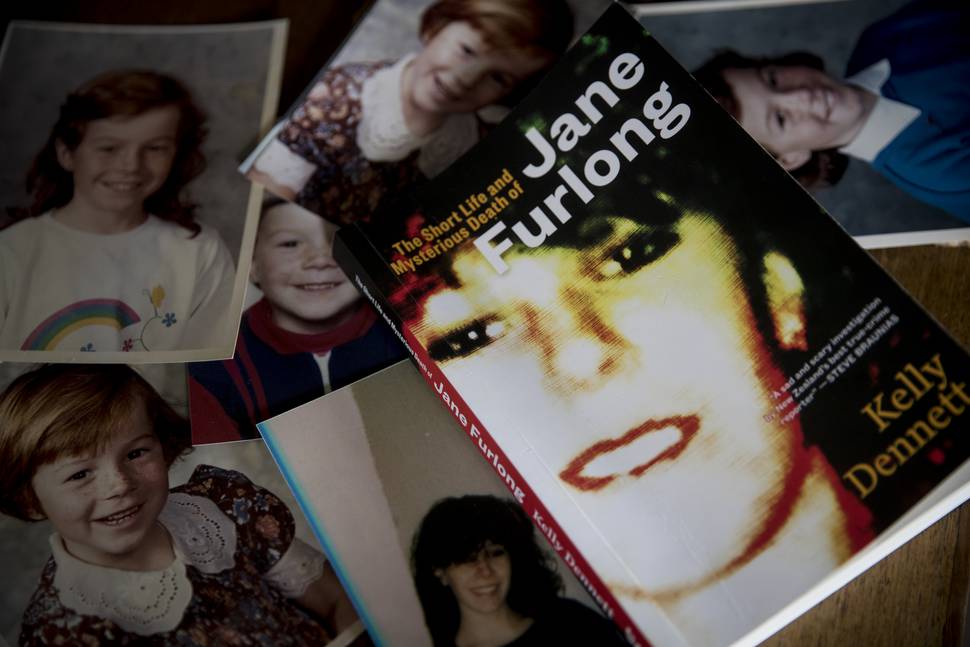 Once the car pops out the other side they're in a wide open car park. Around it Good can see small flats on the tops of shops.
Dani disappears inside one of the flats while Good stays in the car. He's happy to wait. It's all going on the meter.
After 10 minutes Dani jumps into the front seat and they're off again, through the alleyway and back out on to Great North Road. The next stop is just a few doors down — the Talofa Motel. It's a seedy-looking establishment.
Dani runs upstairs to the second storey and disappears into a room.
When he comes back he mentions that Natacha was there. By this time the fare on the meter is nudging $20 but it's a reasonable amount considering Good has been ferrying Dani around for the better part of an hour and paused the meter while he was towing the Cortina.
Good bids Dani a last farewell after dropping him back at Rendells.
He stops at the rank for a few minutes but it's not long before the depot has another job for him. He makes a U-turn and drives down Queen Street. He's to collect someone from a massage parlour on a side street.
After 10 or 15 minutes it's apparent his client isn't coming out and he heads back to K Road.
Parking outside Rendells, he is surprised to see that both Dani and the broken-down car have disappeared.
He wonders where Dani's gone and how he managed to move the car, and so quickly.
It's something he still wonders about today. In the meantime Amanda has returned and is waiting for Jane.
"When it started getting late and nobody had seen her between jobs I started to get worried," she tells me when we talk at her house.
There was always the possibility that Jane had opted to go for an overnighter but that would have been odd given the two of them had plans for the evening.
Good finishes work in the early hours. In the morning he's devastated to learn that his mother has died. Grief-stricken, he tells his boss he's heading up north for the tangi.
Days later, when he returns to his home in Mount Eden, he discovers a bunch of police cards stuffed into his front door. There are also messages from the depot.
It has been fielding phone calls and visits from police officers, who are extremely interested in Good's logbook and what he was doing on the evening of May 26.
On May 28, nearly two days after Jane was last seen, Dani Norsworthy had walked into the Auckland Central Police Station and reported his girlfriend missing.
Edited extract from The Short Life and Mysterious Death of Jane Furlong. Published by Awa Press. Available from Monday, RRP $42. See also Only the Living in Canvas magazine.