Emergency services are dealing with multiple reports of flooding across Tauranga and Rotorua tonight after a deluge swept across the North Island.
Fire and Emergency NZ has received more than 20 calls so far about flooding, northern shift manager Colin Underdown said.
"Starting about 6pm we had about a dozen calls from Rotorua, there's heavy flooding there. I think it's the same squall," Underdown said.
The majority of the Rotorua callouts were in Owhata and Lynmore. The city had a dumping of more than 33mm in an hour.
Rotorua resident Jonathan Dodd filmed a waterfall of water pouring from a neighbour's property down onto his flooded lawn and past his house just after 6pm.
His end of the street, next to a reserve in the suburb of Lynmore, was completely submerged as council drainage had proven inadequate.
Infracore staff who visited the property told him it was "not a case of poor maintenance but just poor design", made worse by earthworks carried out by a neighbour.
But Dodd said his house had "mainly just some wet carpets, thanks to some preventative action and makeshift sandbagging...Can't complain when you think of Edgecumbe".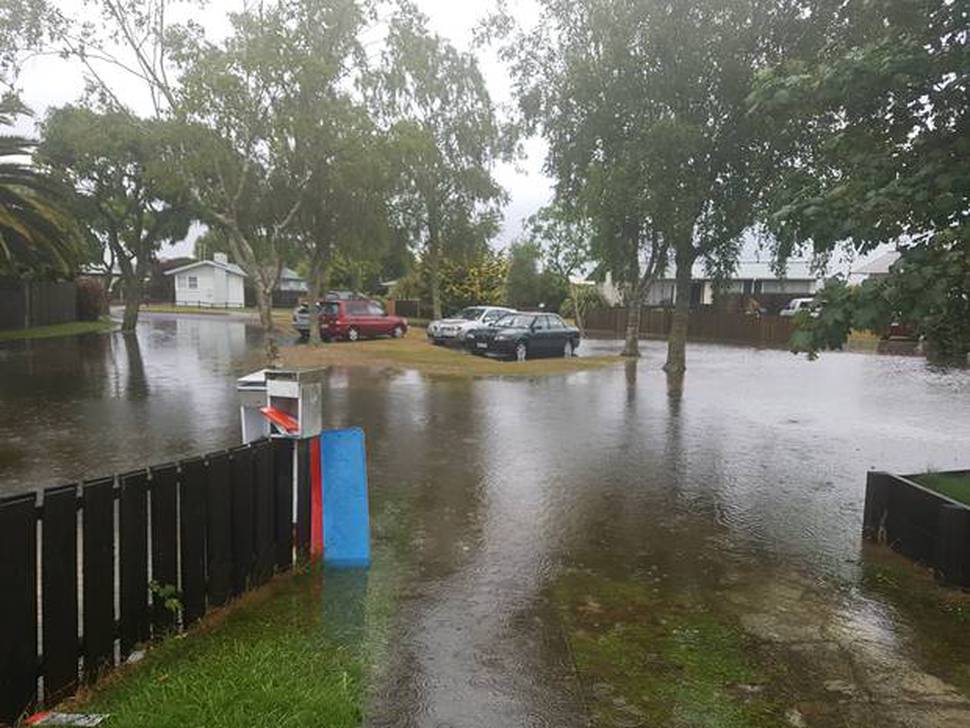 Around 7.30pm the calls started in Tauranga as the "huge downpour" moved east, Underdown said.
"It all seems to be flooding into houses, garages, basements," he said. Thankfully there were no reports of wind damage.
"We're just helping divert the water away from the houses. We've still got five calls active at the moment but we've got three appliances [spare] - for a while we had a dozen calls queued up."
Around 1000 homes have lost power in the Tauranga suburb of Welcome Bay, while power outages have been reported Rotorua's eastern suburbs.
Most Tauranga flooding callouts were in the 15th Avenue to Greerton area, including a report of a roof having collapsed in Lloyd Street, Parkvale, Underdown said.
A home was also flooded in Pemberton Crescent, Greerton.
There are unconfirmed reports of flooding at Frazer Cove.
Heavy rain has also hit Auckland and severe thunderstorms are set to arrive in the Far North later this evening.
But Underdown said so far there had been no weather-related calls from Auckland or further north tonight.
Police issued a warning to motorists in the Bay of Plenty to take extra care on the roads as surface flooding affects the region.
In Tauranga, areas affected include Cameron Road, Fraser Street, Eleventh Ave through to Fifteenth Ave, and to Greerton.
A Bay of Plenty Times reporter driving on Fraser Street said the roading between 13th and 15th Avenue is "very deep underwater".
"I can see a person standing on the side of the road gesturing to motorists to slow down, as cars are creating waves of water which appear to be going into nearby Phillips Garage."
Roads are also affected in eastern parts of Rotorua, including Te Ngae Road (State Highway 30).
Motorists are asked to drive to the conditions and limit their travel if possible.
The severe storms were expected to hit the Far North east of Kaikohe on Monday evening.
Further south on Auckland's North Shore, a strike of lightning brought powerlines down on to a road in Wairau Valley, in Hillcrest.
Emergency services rushed to the scene on Wairau Rd this afternoon.
The road was initially closed but police confirmed it was open to motorists by Monday evening.
Earlier this afternoon Niwa Weather warned of cloud-to-ground lightning flaring up near Waihi Beach down to Tauranga. The intense lightning was also striking around Whangamata.
Metservice warned of hail and dangerous driving conditions across parts of the North Island as a front from the South Island caused temperatures to plummet by as much as 10C.
The east of the South Island and the Wellington region was also a lot cooler than it had been over the weekend.
The hotspot for Monday was up in the Bay of Islands, where temperatures hit around 27C whereas Invercargill had temperatures 14C cooler.
But the system was expected to move fast, and rain was unlikely to bring any drought relief, except in localised areas affected by thunderstorms.
Later this week more fronts will bring rainfall to the southwest and cause temperatures to "yoyo", they said.
Christchurch was forecast to bounce from 19C today to 26C tomorrow, 19C on Wednesday and 29C on Thursday.
"As fronts make inroads onto New Zealand we can expect more variable weather conditions", meteorologist Tom Adams said.
"The biggest fluctuations between cool and hot, wet and dry, will be in the south. Further north the fronts will have weakened, but we still expect the coming weather to be more changeable than during the last few weeks.
"With the holidays approaching and people starting to make outdoor plans, it is worth remembering that the weather does change, and it always pays to keep an eye on the latest forecasts. Don't take fine weather for granted."