As the main long-living atmospheric greenhouse gas carbon dioxide continues climbing, research shows that climate model projections have been running too cold.
Research announced this month in Nature by Pat Brown and Ken Caldeira from Stanford University shows that warming will be greater than the 2014 Intergovernmental Panel on Climate Change (IPCC) projections.
They used all climate models in the latest phases of the Coupled Climate Model Intercomparison Project corrected for future climate change.
They find that the climate models used by the IPCC are under-estimating warming by up to 15 percent, or 0.5C.
The projections are shown below for the IPCC RCP 4.5 climate scenario, where greenhouse gases in carbon dioxide equivalents reach 575 parts per million (ppm) by 2100.
The current level is 445 ppm.
This gives a warming of 2.8C, with a range from 2.2C to 3.2C by 2100.
The IPCC estimate is 2.4C, with a range from 1.9C to 2.9C.
In this study Brown and Caldeira used all models, rather than a single model, and calibrated them against current observed temperature increases.
What this means is international action to keep warming below 2C will require cutting greenhouse gas emissions more rapidly and deeply.
Currently carbon dioxide is above 400 parts per million (ppm), the highest in several million years up from a pre-industrial value of 280 ppm.
The rate of increase in carbon dioxide shows no signs of abating, with a rise of 3 ppm in the last year.
With climate figures in for January – October 2017 global average surface mean temperatures are heading for the third warmest year on record back to 1880, after 2016 and 2015.
New Zealand mean temperatures are estimated to come in at 0.5C above the 1980 – 2010 average, putting it about fifth equal in records back to 1909.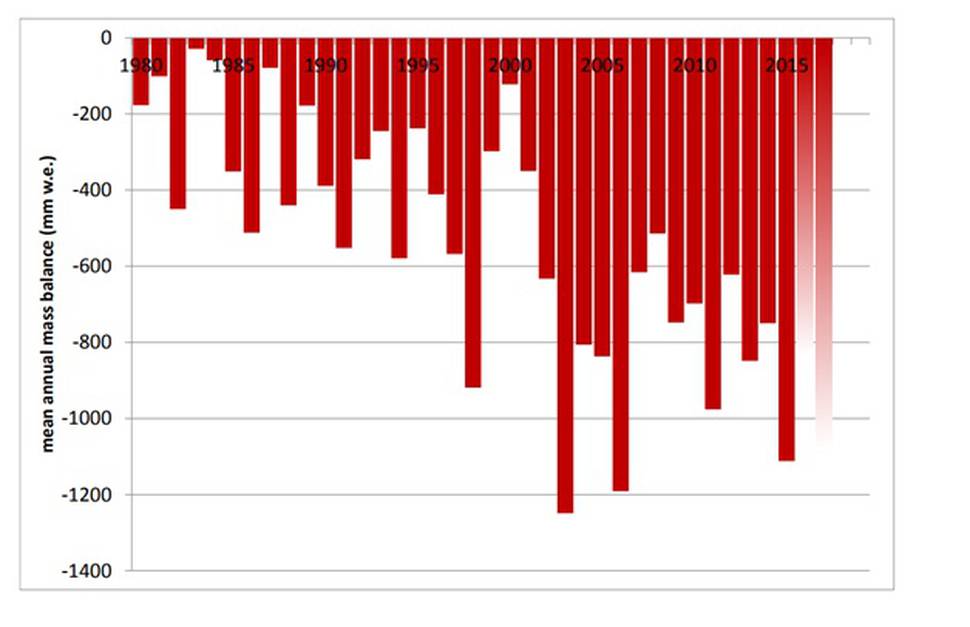 Mountain glacier monitoring from around the world shows continuous ice loss since 1980-81 which accelerated since 2000.
In terms of water equivalents, there has been a decrease of 22 metres globally.
In New Zealand, myself with Trevor Chinn and Blair Fitzharris have monitored the end of summer snowline for the Southern Alps over four decades.
Our latest calculations to the end of the 2015/16 season show a 40 percent ice volume loss: from 54 cu.km to 32 cu.km.
The "long white cloud" is rapidly shrinking.
And elsewhere the 2017 wildfire season has seen unusually high fire levels in many parts of the world, with extensive and severe fires occurring in Chile, the Mediterranean, Russia, the US, Canada and even Greenland.
This year's total burned area is estimated at about 622,000 ha compared with a 2008–2016 average of around 228,000 ha.
While high fire years such as 2017 are not unprecedented, it is very likely that the hot dry conditions — some of which are regionally record breaking — that facilitated these fires will become more common with climate change in the future.
In New Zealand, Ministry for the Environment figures show that net emissions (taking into account emissions and removals from forestry) over the period 1990-2015 have increased 64 per cent.
This is due to the combined effects of increased gross emissions and higher forest harvesting rates in recent years.
And New Zealand needs to have a more proactive plan for adapting and mitigation of climate change, according to environment officials.
Given that most climate projections that are being observed show that the planet is moving much faster along a path into a warmer world.
Groups of scientists, by nature tend to make conservative projections.
The new climate projections from the best models results show that greater global warming will occur.
Brown and Caldeira's results suggest to achieve any stabilisation of global temperatures will now require steeper greenhouse gas emissions reductions than initially thought.
Thus with Prime Minister Jacinda Ardern's statement that "climate change is my generation's nuclear-free moment", it is with urgency that the new Parliament in 2018 must put in place the Zero Carbon Act.
This will commence the path to climate change adaptation and mitigation as soon as possible.
The greenhouse gas emissions falls must start as soon as possible, no later than 2020, and continue every single year thereafter.
• Dr Jim Salinger is a climate scientist, an honorary research fellow at the University of Otago and deputy editor of the scientific journal Climatic Change.