Kristinn Steingrimsson, 95, was honoured by the Government of Norway yesterday after his service during World War II.
The second-world-war veteran worked as a merchant seaman aboard the ship, Sverrir EA 20, transporting food supplies from Iceland to England during a three-year period between 1942-44.
Crossing the Atlantic Ocean, Steingrimsson along with thousands of others risked their lives to help England function during the war.
"It took us about four days if it was good weather, if it was bad weather it could take up to nine days," Steingrimsson said, he wasn't sure how many trips he made.
He admits that sometimes they were nervous about being sunk while travelling across the Atlantic.
"I can't remember how many ships we lost in Iceland, over 150 people died and that's a hell of a lot for a small nation."
Steingrimsson spent the past year sourcing and researching evidence of his involvement in the war and compiled a portfolio of historical documentation with the help of his granddaughter.
The portfolio was sent to numerous government departments worldwide with the hope that Steingrimsson would get the recognition he deserved. After much rejection and waiting, Norway's Ministry of Defence confirmed they would be honouring his involvement.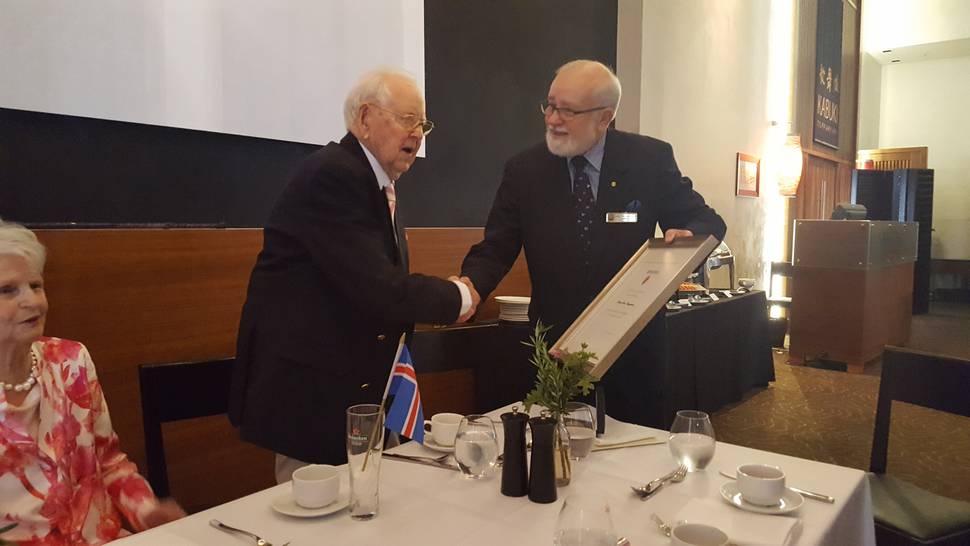 On Saturday 14, Steingrimsson received the "World War II Commemorative Medal" from the Norwegian consulate for his services at the Stamford Plaza in Auckland.
Steingrimmson insisted he did not want to be known as a hero, nor did he claim to be one, he just wanted recognition for what he and thousands of others did during the war.
In 1950, Steingrimsson became the second Icelandic person to settle in New Zealand.