A New Zealand Air Force plane is taking generators, tarpaulins and other emergency aid supplies to Vanuatu to help cope with families fleeing a possible volcanic eruption.
Eruptions from the Manaro volcano on Ambae Island, 65km west of the city of Luganville on the island of Espirtu Santo, has seen thousands leave Ambae for Santo. This has prompted Vanuatu to evacuate Ambae Island's 11,000 residents by October 6 and ready other regions for fallout from an eruption.
The Defence Force Hercules is bound for Santo's capital Luganville. It is loaded with 12 tonnes of aid, including 800 tarpaulins, 800 family hygiene kits, 200 mother-and-infant kits and five diesel generators.
"These supplies will help meet the basic needs for power, sanitation and shelter of the people who have fled for the safety of surrounding islands," New Zealand's commander of joint forces Major General Tim Gall said.
With half of Ambae Island's residents already evacuated to nearby islands, the supplies are expected to be put to immediate use.
Last week, a NZDF Orion surveyed the volcano to help Vanuatu's National Disaster Management Office determine if a large eruption was imminent. The survey, which also included Ambrym and Lopevi volcanoes, found huge columns of smoke, ash and volcanic rocks billowing from Manaro's crater.
Brad Scott, a New Zealand volcanologist who is helping in Vanuatu, said the volcano had stabilized over the last few days. He said lava is continuing to erupt from Manaro but is no longer interacting with water as it was in the volcano's earlier and more explosive stage.
Vanuatu Government spokesman Hilaire Bule said the latest scientific information it had received was that the volcano was stable and no longer a threat. But he said government ministers would need to meet and agree to lift the evacuation order before the exodus would be stopped or reversed.
He said ferries and commercial ships were helping move people from the island and most should have left.
He said about 7,000 people were making the 100-kilometer (60-mile) ocean trip to Espiritu Santo, another 3,000 were being transferred to Pentecost island and about 1,000 to Maewo island.
Ambae resident Lilian Garae said she, her husband and three children were at home packing after being told they would be moved at 6 a.m. Tuesday to Maewo. She said they would have to leave behind their animals, including a pig and three cows, as well as books and belongings. She said they had no family on Maewo.
"I'm worried about walking away from the village and the animals and everything in our homes, because we are just leaving them behind," she said.
Garae said the volcano was no longer making the booming noises it had last week and was emitting less steam and ash. She said officials had told her she needed to be prepared to leave for two or three weeks.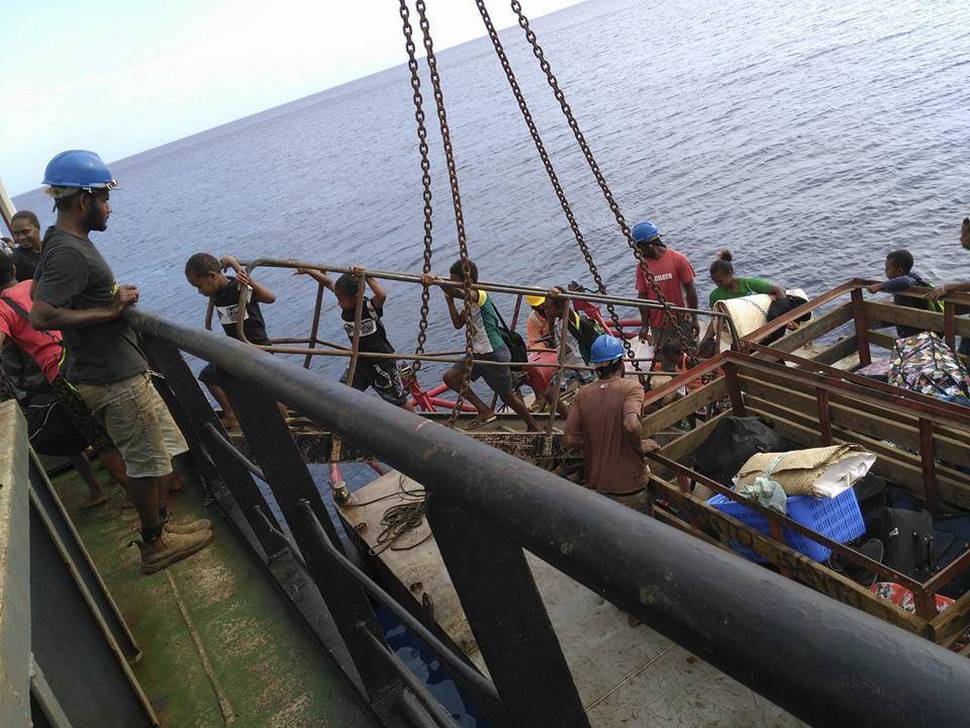 The ash could be smelled in the air and was polluting water supplies, said Joe Cropp, a spokesman with the International Federation of the Red Cross who has been helping on Ambae.
He said people were leaving with what they could carry and making the half-day boat journey, in some cases with 400 others in the military-style landing vessels and at other times with just a couple of dozen others in the zipping water taxis.
He said the evacuation seemed to be progressing well, although some people were afraid of what awaited them on the other islands. He said on Espiritu Santo, people were being housed in churches, schools and tents.
"Their main fear is they won't be able to return home," he said.
The government has deployed about 100 police officers to Ambae to prevent looting, and Cropp said they had a noticeable but low-key presence there.
Cropp said most people on Ambae live a subsistence lifestyle by farming and fishing, and few own cars to traverse the dirt roads. Many people live in tin or thatch huts, he said, with perhaps one brick building per village.
- NZN, AAP