It's a sewing "factory" devoted to help clothe and comfort everyone from newborn babies to women and children stitching lives back together.
And busy behind an array of overlockers, sewing machines, cutting tables and ironing boards is a volunteer band of mothers, grandmothers and great-grandmothers.
The Highland Park Sewing Group meets each week to make pyjamas, blankets, baby wraps, cot sheets, singlets, cardigans, through to jeans and shirts for teens, and women's clothes.
The garments go to Kidz First children's hospital and charities caring for children and families. Last year alone it crafted 6500 garments.
Howick grandmother Gretl Bass, 83, founded the group more than 20 years ago after reading an article in the Herald calling for clothes for youngsters at Middlemore Hospital.
With another helper she "collected used clothes and fixed them up" to donate to the hospital, advertised for extra hands and "quickly got a few more".
Department store Farmers gifted clothing and fabric samples, a couple of overlockers were donated, and the now 32-strong group of Samaritans swung into production mode.
St John makes its hall at Highland Park, East Auckland, available free, and from 9.30am-1pm each Thursday, it is a hive of heartfelt industry.

It's not all hard work. "There's a lot of laughing and talking going on," Bass said. "People become friends ... they look after each other."
Members, mainly in their late-60s and 70s, enjoyed the socialising and contributing to society, she said.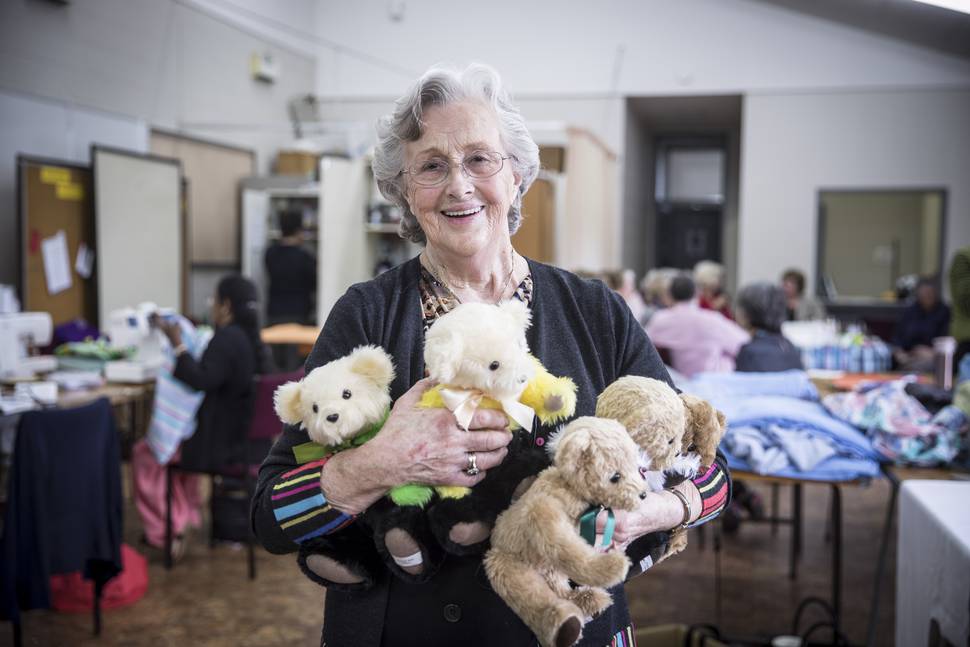 "They just love coming ... people want to be needed, especially when they retire. The worst thing is when the partner dies, and all of a sudden there's empty space."
Bass, awarded a Queen's Service Medal in 2014 for services to the community, knows the value of kindness and giving.
Her mother died of tuberculosis when she was seven months old in their homeland of Austria, and her father died when she was still a child. She was raised by her grandparents and then helped as a teen by a "very kind" woman in Canada.
"I lost my parents very early in life and I had first my grandparents and then somebody else who [also] looked after me very well."
Bass, who moved to New Zealand in 1973, went on to work in the fashion industry, designing clothes and operating a clothing factory.
The Highland Park Sewing Group helps repay St John for its generosity by turning out 'Trauma Teddies', which go in ambulances to comfort sick and distressed youngsters.
Bass also heard a woman was so comforted by one of the bears she discovered on a trip between hospital and a hospice, it was buried with her.
Helping finish the group's garments is Dorothy Brockett, 92, who sews on their buttons and does handwork.
The great-grandmother joined around five years ago. She was well qualified for her role, having worked as a dressmaker, including making wedding dresses, after leaving school, before settling with a family.
She sews dozens of buttons by hand each shift, but despite being in her 90s, when asked how hard it was on her hands and eyes, she replied: "No problem at all."
Brockett, made a Justice of the Peace in 1972 and a former marriage celebrant, had "always ... tried to do a bit of volunteer work".
"'Cause I think if everybody did that ... help someone, then it'd be a great world wouldn't it?"
• Inquiries about the Highland Park Sewing Group can be made to Colleen Muir - phone (09) 5374313.