It was just on closing at Gull Whitikahu, a small petrol station north west of Hamilton, when two balaclava-clad men burst into the store with weapons and demanded cigarettes and cash.
Tim Jeffs only bought the business, known for its cheap fuel and dairy goods alongside a private workshop, four months ago but he knew a robbery when he saw one.
The 26-year-old was sitting in his office about 6.10pm on Friday as his two workers, a man and woman both in their 30s, were finishing up for the day.
"A late 90s, silver Mazda pulled up and two of the three guys, wearing black head-to-toe, balaclavas and gloves, with hammers came in."
The robbers forced all the staff into the back office while they robbed the store, he said.
The woman crouched in the corner of the small office and the two men at the front as the robbers made threatening gestures with the hammers and tried to smash their way into the locked cigarette shelf.
"Our first concern was to get rid of them.
"They asked one of us to get up and unlock the cigarette cabinet. They proceeded to take cash from the till, our day's drawings, and emptied out the cigarette cabinet."
Jeffs suspects the robbers had cased the service station because they knew part of the layout.
As soon as the criminals had what they came for, including a computer, mobile phone and lollies, they fled.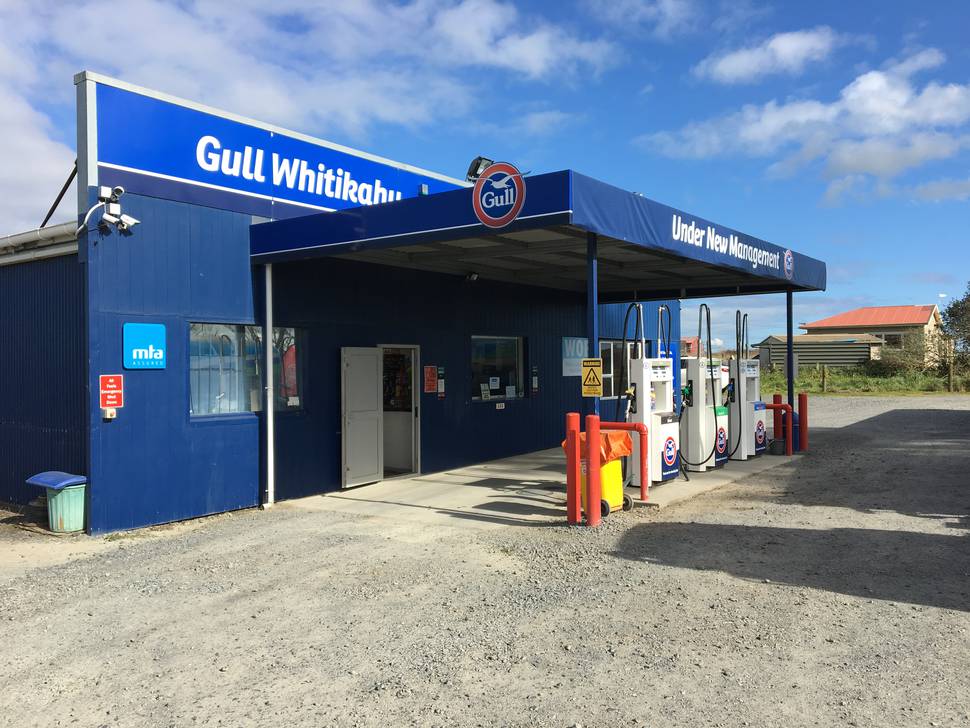 Unbeknown to them, Jeffs was following their escape route north up Whitikahu Rd and left onto Orini Rd, through a tracking system on the stolen smartphone.
The trail was lost however when the phone was tossed out the window.
Jeffs said his two attendants were uninjured but shaken up by the incident and were taking time off work.
He planned to beef up security at the busy service station, set in the middle of a farming community and on a popular short-cut to the Coromandel Peninsula.
Cash would be kept to a minimum, as would cigarettes, to deter crime.
When the Herald on Sunday visited Jeffs, dozens of customers showed support and concern for his wellbeing.
An elderly resident, who did not want to be named, said the tight-knit community was glad to have a service station and didn't want crime threatening its existence.
"They're just scumbags. He [Jeffs] is just a guy trying to make an honest living."
Jeffs said the tax on cigarettes was making service station and dairy owners a target for criminals who want the tobacco to sell on the black market.
"The problem behind it is the amount they're taxed and the value on them because we're not making much money on them.
"It's the tax on them that makes them such a high value item and then we get things like this happen."
A 50 gram packet of Park Drive tobacco cost $85 while a 30-pack of Rothmans cigarettes cost $33.50.
"I don't think we can get rid of cigarettes because I think those customers will then not fill their car here.
"They will fuel their car where they can get their milk and their cigarettes and their fuel all in one place."
In April hundreds of shopkeepers marched in Manukau calling for more police on the streets and a review of the law to protect them from often violent break-ins.
At the time the Herald reported a relentless spate of aggravated robberies targeting cigarettes, which have become "like stocking gold".
In two burglaries alone in different islands, thieves made off with $40,000 worth of cash and cigarettes.
Te Puke Four Square owner Vinnie Gillgren, who was robbed last year at knifepoint, said at the time tobacco was often being on-sold to unscrupulous small business owners who don't care about where the products have come from.
"That's what needs to be brought to attention. There needs to be more focus somehow on stopping business owners [buying from] the black market."
Police are appealing for sightings of a late model 1990s silver hatch back, possibly a Mazda Familia and ask anyone with information about the Whitikahu robbery to call Hamilton Police Station (07) 858 6200 or Crimestoppers anonymously on 0800 555 111.