British Foreign Secretary Boris Johnson has unveiled a striking new Weta Workshop-designed war memorial in Wellington.
The memorial at the Pukeahu National War Memorial Park is nearly five metres tall, and was officially unveiled before an invited group of about 100 this afternoon.
Johnson entered with Governor-General Dame Patsy Reddy and Foreign Minister Gerry Brownlee, and military personnel stood to attention and a band played God Save the Queen.
Weta Workshop built the memorial, and Sir Richard Taylor was at today's ceremony, along with other guests including Wellington Central MP Grant Robertson, Speaker David Carter and British High Commissioner Jonathan Sinclair.
The memorial is designed to show the trunks of a Royal Oak and Pohutakawa intertwining to form a single canopy that forms a shelter, which the memorial is named after - Whakaruruhau.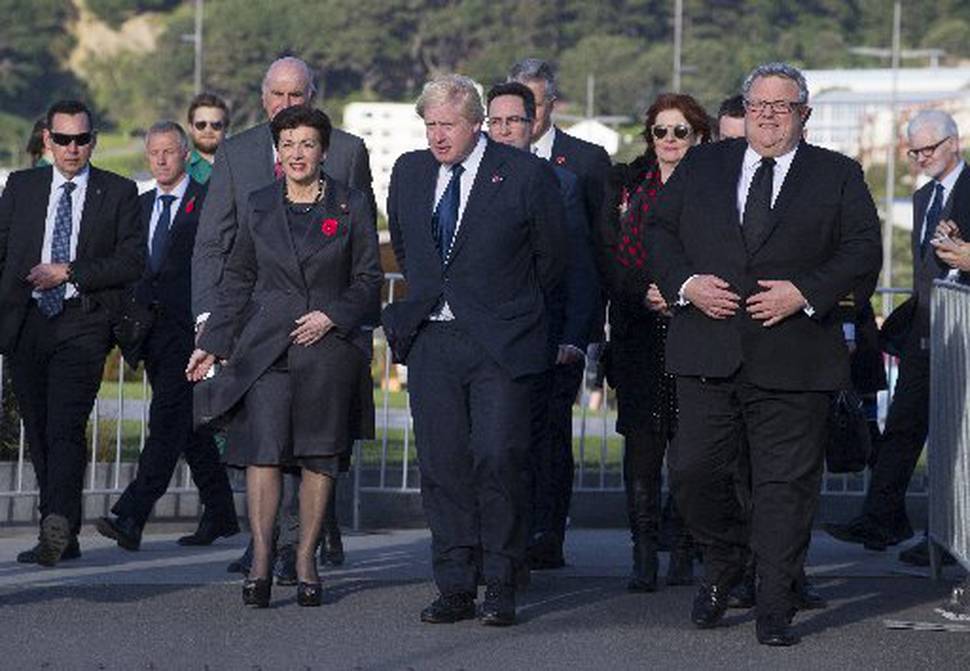 Stained glass "leaves" that dot the canopy shine red, green and purple as the sun hits the sculpture. A silhouette of a single soldier is featured between the branches.
Johnson will also lay a wreath at the Tomb of the Unknown Warrior, before a reception is held at the Great War Exhibition.
Earlier today, Johnson visited Kaikoura's Takahanga Marae, where he joked that the "beautiful" hongi he received "might be misinterpreted in a pub in Glasgow". Johnson thanked representatives of the Marae for the hospitality they gave British tourists who were stranded in the area after the earthquakes in November last year.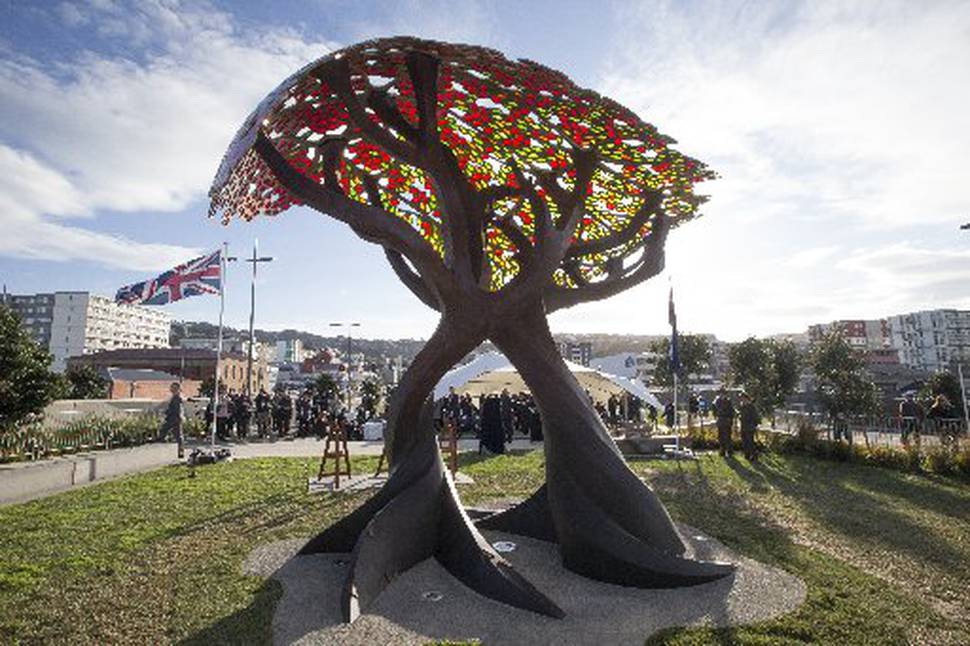 It is Johnson's first time in New Zealand. He said he was "ashamed" it had taken him so long to visit, saying it was the "most mind-glowingly, mind-numbingly beautiful country that I've ever seen".
"And I think probably the only landscape that I can think of that can conceivably do justice to the imagination of JRR Tolkien and the Lord of the Rings."
Johnson said today was a day to remember the personnel who served our two countries.
"I honour the memory of the 18,500 New Zealanders, Maori and Pakeha, who did not return.
"The war...shaped the lives of everyone in New Zealand and profoundly altered the development of your country, and created a deep and permanent sense of gratitude in Britain to the sacrifice so readily made by New Zealand."
The memorial was a gift from the people of Britain to the people of New Zealand, Johnson said, and he hoped it would inspire generations to come.
"Our friendship...is as important today as it has ever been. In a dangerous world Britain and New Zealand stand together against common threats.
"It is the rule of law...that are vital, not just for freedom but for our prosperity now and in the future...our freedom and prosperity today were made possible by the sacrifice of those who fought over a century ago."
Johnson said resolving to continue that work was the best way to pay tribute to those who gave their lives.
Foreign Minister Gerry Brownlee said today's dedication was a deep and enduring symbol of the bonds between the UK and New Zealand.
"This country's links with Britain are unique."
Many thousands of British had chosen to move to New Zealand, and vice versa, Brownlee said.
"We are proud to welcome this monument, to join those already in place from Australia and Turkey."
Brownlee said the memorial's shape was similar to the vegetation on the Gallipoli peninsula.
Sinclair said the memorial was the result of four years of work, and paid particular thanks to Sir Richard and the Weta team.
"We wanted to ensure it represented the very best of British and Kiwi ingenuity and excellence."
Minister for Arts, Culture and Heritage Maggie Barry said today was an "extraordinary" occasion, and the sculpture was "magnificent".
"It is a wonderful legacy and a great gift to New Zealand."
Members of the public gathered to watch the unveiling stood in silence during a blessing and prayer, including a lone protestor holding up a sign accusing Johnson of closing fire stations during his time as London Mayor.
The Last Post was played as a New Zealand flag was lowered, before a moment's silence.