The sentencing of former Kaitaia backpackers lodge owner Michael Harris for drugging and sexually abusing foreign tourists is underway in the High Court in Whangarei.
Harris pleaded guilty to 42 charges involving 19 victims. There were 15 charges of indecent assault, 12 of stupefying, seven each of making an intimate visual recording and possessing intimate visual recordings and one charge of attempted stupefaction.
Submissions were heard from defence and Crown lawyers this morning before Justice John Fogarty.
Defence lawyer Doug Blaikie said a starting point of three and a half years jail was appropriate and there was no evidence Harris committed the acts for sexual gratification.
Crown lawyer Bernadette O'Connor suggested a starting point of nine to 12 years.
Harris, 58, last year admitted drugging male guests who stayed at his Main Street Lodge backpackers before "spooning" them and taking intimate photographs.
Justice Fogarty has adjourned the hearing to consider the submissions before passing sentence.
One of the victims, who cannot be named, earlier told the Weekend Herald his tequila was spiked by Kaitaia hostel owner.
The young man - who was on a six-month backpacking holiday in New Zealand from the United States - woke during the night, befuddled by the spiked drink, to find Harris in his bed.
The victim returned to New Zealand from the United States to read a victim impact statement at an earlier attempt at sentencing which was postponed.
Justice John Fogarty allowed him to read his statement to the court even though he was unable to sentence Harris at that time.
The man told the court he had seen Harris as a "father figure" and "it felt so dirty" to discover he was the victim of a planned drugging and indecent assault.
Harris, who needed the court's permission to speak, sobbed as he told the victim: "I just want to say how sorry I am for any hurt I have caused you."
The victim told the Weekend Herald after the hearing the indecent assault happened three weeks before he was due to end a six-month backpacking trip around New Zealand with two friends.
The three stayed at the Mainstreet Lodge in Kaitaia, where they met Harris.
Harris, he said, seemed "odd" but "it seemed like he was sincere". "It was completely different to what it turned out to be."
When they left the hostel, Harris offered to find work for the three travellers if they happened to be in the area again.
Before long, the victim found himself on the road alone - his friends had become homesick and gone back to the US.
Short on funds, he found himself in Kerikeri with the prospect of work a few weeks distant, so he rang Harris.
"That's when I reached out to Mike and he said if I could get to Kaitaia then he would find me work."
It turned out to be renovation work on the lodge - initially on Harris' private residence and then on one of the accommodation buildings.
"He kind of took me under his wing. He would find work for me, a free place to stay, if I needed to go to the store he would offer to drive me."
By then, he had moved into a spare room in Harris' home while continuing renovation work with another traveller.
The evening of the assault, Harris asked what spirits he liked to drink.
"We were sitting around watching TV. Most of the time I would drink beer in the evenings. He had gone and bought liquor for us. He asked what we liked to drink."
The victim opted for tequila and, having had one drink, found himself feeling tired.
"I felt like I was going to pass out. I was so tired. I remember going upstairs and that's the last I really remember.
"I woke up and he was in my bed and he had his arms around me. I was pretty hazy.
"I woke up and just didn't know what was going on. He told me I was sick and he was taking care of me."
Harris got out of bed and immediately left the room. The next morning, Harris asked the man "if I was feeling better".
"Things were just weird. I just didn't know what had happened. I was confused."
He left the lodge a few days later, having shelved plans to stay in Kaitaia until his flight home a few weeks later.
Back in the US, he was troubled by the way his trip had ended.
"I knew something had happened I just couldn't name it. You don't really know if you don't remember. It's sometimes worse not knowing."
Then when a complaint was made about Harris, police - believing there were other victims - called for people to come forward. Those he had travelled with forwarded Facebook articles about the police call for victims.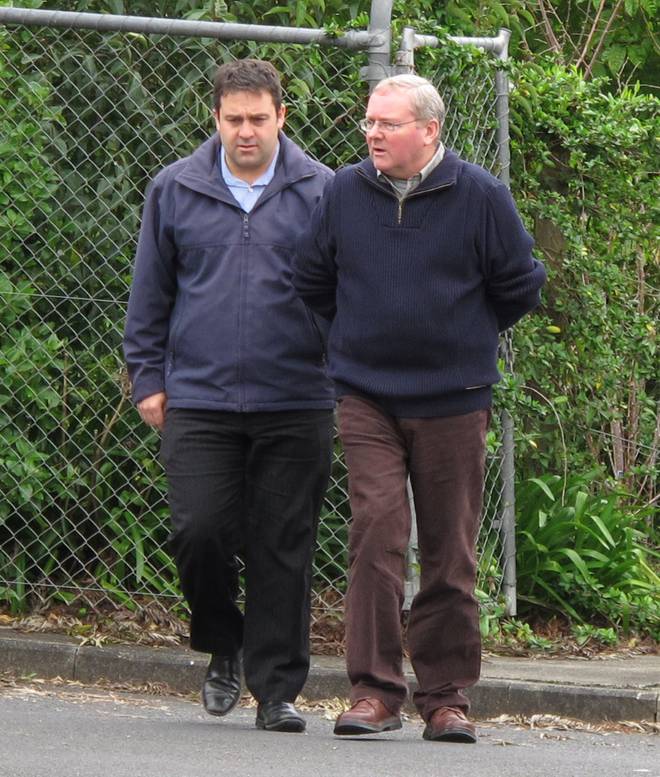 "I instantly knew. It kind of made everything clear."
The man emailed police, provided a statement by email and was interviewed over Skype.
By then, he realised there were a number of victims. "It was pretty shocking."
The incident had left a mark but "I have tried to push it away and not think about it".
"When I think about it, it feels kind of gross. It's scary how easy it was for him to drug me."
The court was forced to postpone sentencing to hear legal arguments over a police application to seize the Kaitaia backpacker hostel for which Harris paid $1.2 million.