It's mission accomplished for firefighter and former soldier Maaka McKinney.
After running, walking and cycling the length of the country during a three-week mission, Maaka knocked off the Sky Tower's 1103 stairs on Saturday to complete the annual Firefighter Sky Tower Stair Challenge.
The stairs of the Sky Tower were almost the easy part for the 45-year-old fire fighter, who has made his way to the charity event- which will raise at least $1million for Leukemia and Blood Cancer New Zealand - after a grueling mission which has seen him travel the country in his firefighter's gear.
"One of the highlights was the helicopter flight, it got me out of Kaikoura which saved me a lot of time".
He was welcomed to the Sky Tower with a haka in his honour.
McKinney launched his massive journey both to raise funds for charity and awareness of post-trauma stress amongst first responders.
"I had been sleeping out in the open on the side of the road, under the stars. Lots of people have offered me a bed but I have said "NO"
"I never thought about giving up- when I set a goal I always achieve it."
In 2002 McKinney was deployed to Bosnia as a troop sergeant attached to the British army.
Their job was to help rebuild Bosnia. Two years later McKinney was ready for another mission - heading to Iraq as a security contractor.
"It' was high danger, high threat and highly paid", he said. "You are in a war zone and high alert".
But after four years living on little more than adrenalin McKinney called it quits.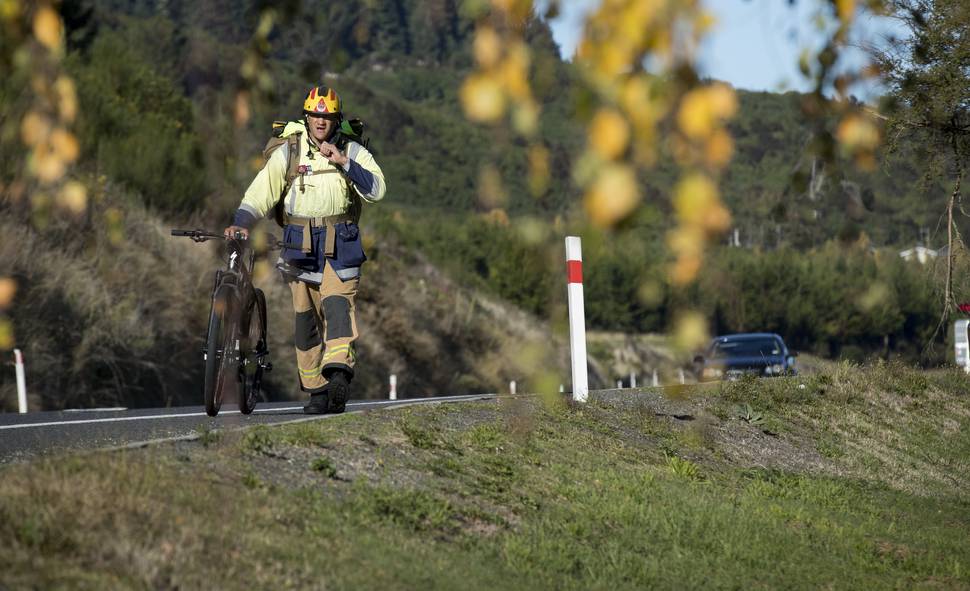 He was depressed for a year and started drinking, sometimes on his own to erase the trauma he had experienced.
Sometime while he was stuck in busy Auckland traffic, the sound of a car horn could trigger horror flashbacks. He encourages all first responders to talk to each other and not be afraid to ask for help.
"There are support measures - don't think you are ever alone."
He has lived mostly on chocolate and water and dossed down in paddocks, sleeping under the stars in sub zero temperatures. In his latest challenge,.
McKinney wants to thank fire fighters, police officers and members of the public for their support and encouragement.
"It's kept me going."
The soldier hasn't taken off his firefighter's boots at all and said his feet are covered "in blisters, the skin is coming off them. My shoulders,hips and knees ache- but I am not thinking about it, I am soldiering on."
He has hit his target of $10,000 but aims to reach up to $15,000 in donations.
"I am really looking forward to a hot bath and some good kai.
I would do it again in order to get the message across- there is help out there."