State Highway 1 in Waikato was closed for almost four hours this morning during peak commuter traffic after a roading truck crashed.
The vehicle, part of national company Traffic Management's fleet, appeared to swerve across the busy highway as it headed south at Pokeno before ploughing off the road about 6.40am.
Three people were injured, two seriously, but it is not known if they were travelling to or from work.
The truck was carrying stacks of orange road cones, which were recovered at the scene.
The owner of the company refused to comment when contacted by the Herald today.
St John Ambulance said two of the victims were seriously injured and one had moderate injuries. All were taken to Middlemore Hospital.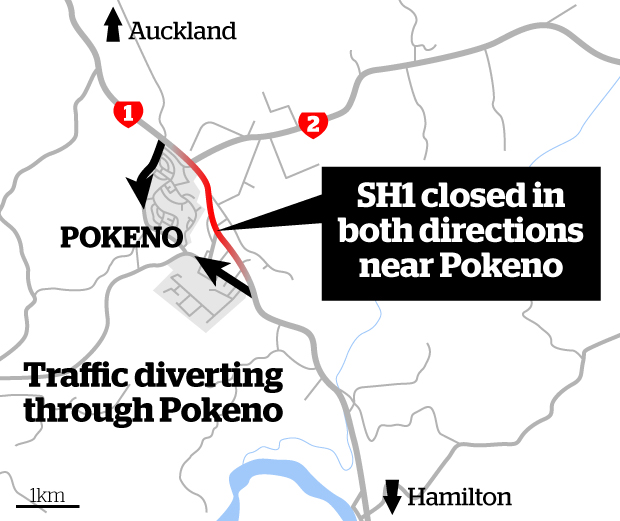 ​
"The car swerved across the lanes and into the side of the road," a police spokeswoman said.
The cab appeared to take the brunt of the impact.
The road was reopened about 10.30am.
in morning of mayham on Auckland and Waikato roads, traffic was also blocked on one of West Auckland's busiest roads after a motorbike and van collided during rush hour, quickly followed by a crash blocking a number of lanes on the Northwestern Motorway.
Another person was suffered serious injuries after a collision at the Saltaire St intersection with Great North Rd.
Traffic was blocked heading to Blockhouse Bay Rd and quickly built up on surrounding roads.
And a short time later, a crash also blocked a number of lanes on the Northwestern Motorway.
The New Zealand Transport Agency said a number of lanes were affected by a crash just after 9am heading into the city near Rosebank Rd on the causeway.
Motorists were warned to expect delays.