Is chocolate the first thing you reach for when you're feeling down? If so, you're not alone.
A study of shopper's habits undertaken by New World supermarket analysts revealed sad people were more likely to buy confectionery, chippies and cigarettes.
Happy people were more like to buy fresh produce, dairy, meat and a good beer or wine to wash it down with.
New World surveyed nearly 38,000 shoppers using Clubcard data and an attitude survey of their customers.
Customers were classed as happy if they agreed or strongly agreed they were happy with life right now, and unhappy if they answered "disagree" or "strongly disagree".
Results suggested happier people were trying to look after themselves and maintain their sense of wellbeing, while unhappier people seemed to be looking for quick fixes for their mood, said Foodstuffs customer experience head Emily Blumenthal.
The survey found happy people were more likely to choose omega-rich proteins like salmon and avocados; flavoursome meat on the bone and natural grass-fed dairy products, she said.
"People who are having a bit of a tough time tend to stock up on cigarettes, potato chips, confectionery and energy drinks."
Unhappy people were still likely to buy fruit, however.
They were also more likely to buy pet food, which New World's analysts thought could be because caring for a pet was a quick way to make yourself feel better.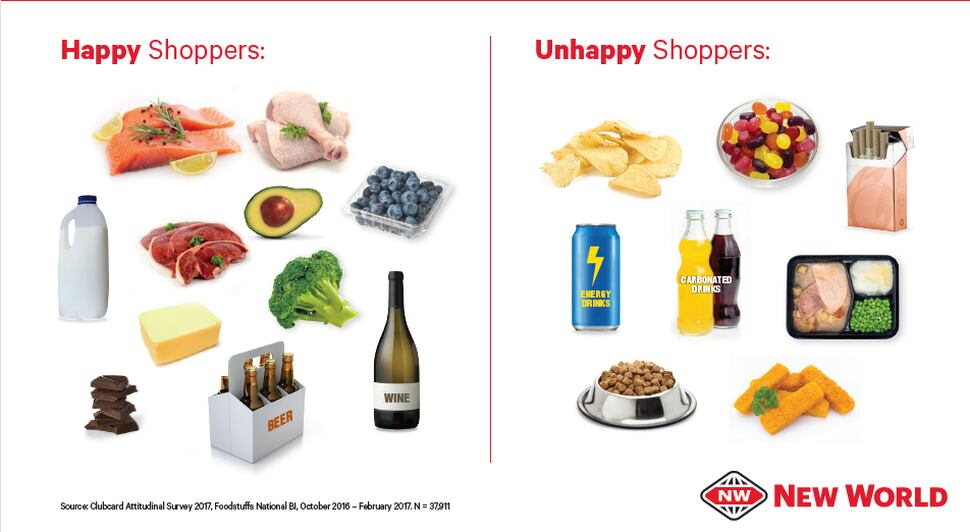 Most products picked by happier people had potential to lift a person's mood.
"Nutritional research repeatedly shows that products like salmon, walnuts and good quality dark chocolate are proven to give your mood a lift - while also giving your body a healthy dose of anti-oxidants," Blumenthal said.
For those sad and stressed about money, it was possible to eat these high quality foods even on a budget.
For example canned line-caught salmon and tuna were just as nutritious as fresh Marlborough salmon, and significantly cheaper, Blumenthal said.
"Supermarkets offer a huge range of omega-rich products. It's a matter of shopping for what's in season, looking out for specials and understanding what makes something taste great."
Skinless chicken breasts featured on the unhappy list, while chicken thighs appeared on the happy list.
It was possible this was because breast was quicker to cook, but bone-in chicken thighs and drumsticks tended to be more affordable and very tasty, Blumenthal said.
"It's worth noting that New Zealanders are amongst the happiest people in the world.
"In 2017, New Zealand retained its spot as the eighth happiest nation, in the United Nations World Happiness Report.
"New Zealand ranks just behind the Netherlands and Canada, but ahead of Australia and Sweden in the top 10 happiest nations."
Top ten grocery items bought in each mood:
Happy:
Fresh seasonal vegetables
Red meat - bone in and steaks
Quality chocolate
Chicken on the bone
Good wine
Good beer
Whole milk
Butter
Avocados
Omega-rich fish like salmon


Might need cheering up a bit:
Confectionery
Cigarettes
Energy drinks
Mince
Chicken breast
Low fat milk
Chippies
Ready meals like pizza, TV dinners
Pet food
Fruit