The sun is once again shining on the Coromandel district, where most towns barely have any significant memories of Cyclone Cook.
Civil Defence lifted the state of emergency in the Thames-Coromandel district this morning after the area escaped relatively unscathed overnight.
The biggest issue is the continued closure of the Thames Coast Rd between Thames and Coromandel Town.
Civil Defence controller Garry Towler says three times as much traffic is now expected on SH25 between Tairua and Whitianga and on SH25a Kopu-Hikuai.
He urged motorists to be patient.
"There are still road works in place so please, expect delays, add at least 40 minutes to your trip."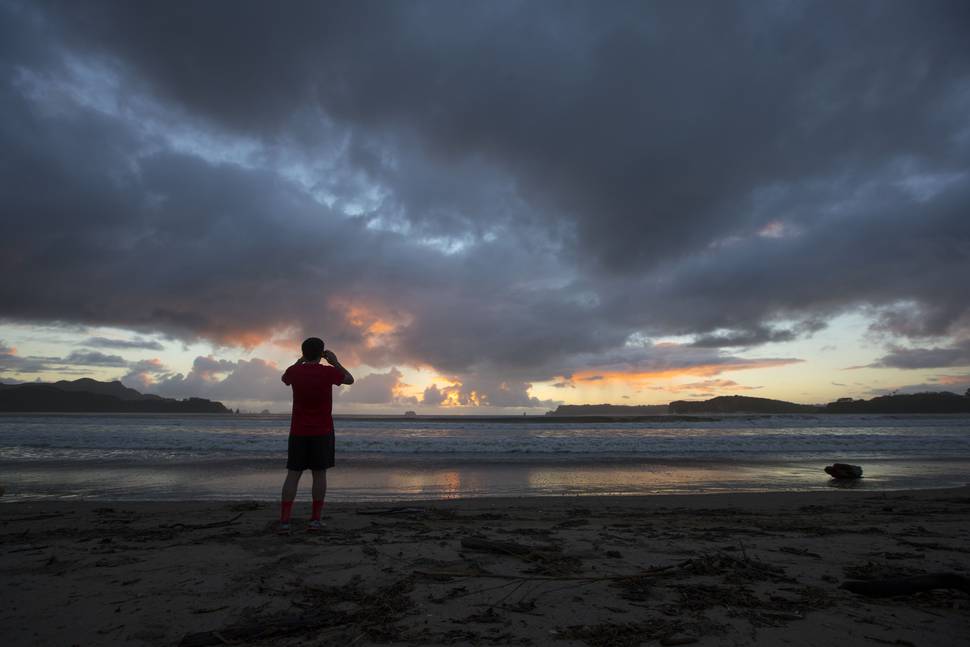 In Whitianga yesterday before the cyclone was due to arrive, shops began closing from lunch time as the rain began to set in. However, blue sky emerged at 5pm and residents gathered on Buffalo Rd beach to take photos of the strong surf.
The Fire Service visited all low-lying homes in the district, advising them of the risks, giving them the option to evacuate.
One long-time Whitianga couple, who didn't want to be named, were prepared to sit through a bit of wet weather but had planned to take off if the forecast gale-force winds arrived. They didn't.
But they're not annoyed with the strong stance taken by Civil Defence and say they would rather know the risks than not know what was going on.
"We had a place to go but it was a non-event to be quite honest. It was just another wet day. It was good to be warned as you don't know how these things will turn out."
Mercury Bay Holiday Park manager Luke Stevenson had a full house for Easter.
However, with the cyclone approaching, authorities urged him to ring his guests and advise them not to come.
He ended up with just one guest, out of an earlier maximum of 150.
But they all began ringing again this morning and most had since re-booked.
"We were fully booked yesterday for the weekend and the coming days beforehand and the cyclone was expected but they cancelled.
"Today they've reinstated their bookings and we've got the business back so it's good news for us and good news for Whitianga as well."
He didn't have any hard feelings towards Civil Defence or the council.
"They've got to do what they've got to do and keep everyone safe at the same time."
Admiralty Lodge Motel office manager Shivawn Elliott said she had a few cancellations because of the cyclone, but people had called back this morning and snapped up the rooms again.
"All our weekend bookings are still happening and they should all be travelling into the Coromandel today."
"Most of our guests rang up to see how the weather was [today]."
Elliott praised officials for going door-to-door yesterday.
"It's better to be safe than sorry."
By 8am today, the main road alongside the beach, was bustling with people walking either by themselves, with friends or with their pets.
Many were also flocking to any local cafes.
English tourists Monica and Ian Cooper, who are in New Zealand for the first time to compete in the World Masters Games, said they only spent two nights in Whitianga and it rained the whole time.
However, it wasn't going to put them off continuing their tour of the North Island before the games started this month.
As the Herald drove south to Tairua, a steady stream of traffic headed north.
The only damage was at Sailors Grave turn off, north of Tairua, where a massive portion of the road has slipped away - but that happened during last week's storm.
In Tairua, the town was also bustling as bursts of traffic came through.
All the businesses - apart from the local pub - followed police advice and began closing from early afternoon yesterday.
Punters Bar and Grill owner Julie Bennett said she thought she would see how the day went and whether any customers would turn up.
"We were so busy we were running out of food," she said.
As for the cyclone, she said, she'd seen worse.
"The wind got up for a little bit but it was only for an hour."
She agreed with authorities' advice to stay home as "when it gets bad here it gets bad".