Aucklanders used 15 million litres more than the target yesterday.
Watercare announced the water consumption was 415 million litres yesterday; six million litres more than Tuesday.
Watercare chief executive Raveen Jaduram said they were continuing to try to increase production at the Ardmore Water Treatment Plant.

"While we missed the target yesterday, we are confident that Aucklanders are making a concerted effort to reduce their water use. At this time of year, we would expect demand to be a lot higher. For example, on Wednesday 1 March the city used 444 million litres - substantially more than it used yesterday.

"If Aucklanders continue to reduce their water consumption, together we will avoid a boil water notice."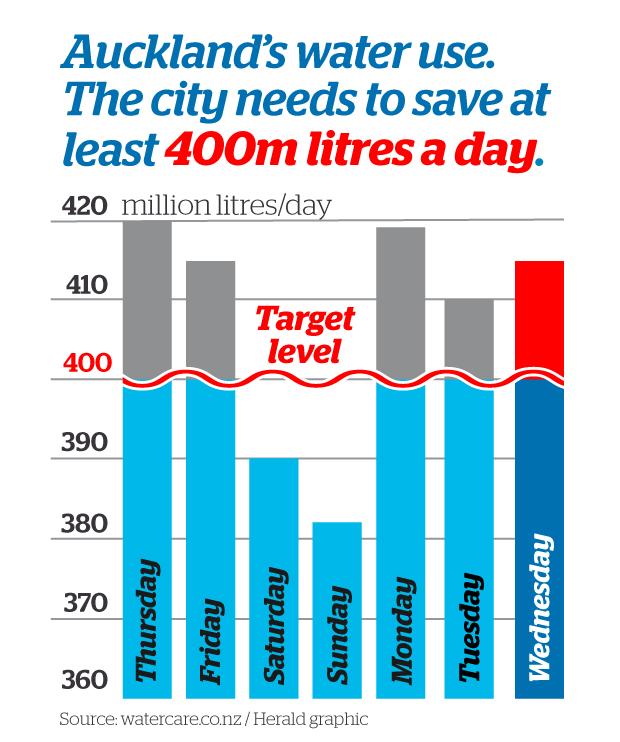 Watercare said it was going to take weeks for silt in the Hunua dams to settle after last week's devastating storms sent torrents of dirty water into the system. Until then, the region's largest water treatment plant at Ardmore would remain under pressure.
Water clarity at the plant was still 100 times worse than it should be.
People were asked to reduce their water use by 20 litres a day until the end of the month and avoid non-essential use such as washing cars or water blasting.
If significant savings are not made Watercare may have to release partially treated water into the system, forcing people to boil water.
Meanwhile, a video of a leak outside a house in Riverlea Ave, Pakuranga, has one Aucklander seeing red.
Vanda Jones said she rang Watercare yesterday concerned that precious water was being wasted.
A day later no action had been taken and the leak had worsened overnight with litres bubbling out in a continuous stream over the footpath.
"It's been 24 hours and nothing has been done," said the water-conscious Aucklander.
Yesterday afternoon, a Watercare spokeswoman said the leak was now a top priority, after it was initially noted as a lower priority job.
Meanwhile, a multi-storey building in central Auckland was in its second day of being washed according to people watching it from their office blocks.
At the same time other companies were beginning to clamp down on water use. Mobil became the latest service station chain to temporarily close car washes across the region to save water. Rivals Z energy and Caltex stations closed their car washes on Tuesday.
Mobil today instructed its 30 Auckland stations to close the washes immediately in direct response to the Watercare request.
The water savings apply to everyone in the region as far north as Waiwera and as far south as Pukekohe. The savings request could remain in force for some time.
For more details about the water situation, visit Watercare.
Watercare tips to save water
1.
Cut your shower time by two minutes: Estimated saving: 16 litres.
2. Turn off the tap when brushing your teeth. Estimated saving: 4 litres.
3. Only run your dishwasher when it's full.
4. Only run your washing machine when it's full.
5. Use the half-flush on your toilet.