The Ancient Mariner's plaint - water, water, everywhere - has rung out across Auckland this year. First came the city's dirty secret of wastewater and raw sewage flowing into the Waitemata Harbour almost every time it rains. In the past week, three rain bombs overwhelmed the main water treatment plant with silt and devastated homes and businesses in West Auckland. Here's a look at the water problem confronting Auckland.
How does the city's water system work?
Auckland gets water from the Hunua Ranges, Waitakere dams and the Waikato River. Most water is treated at the Ardmore, Huia and Waitakere treatment plants. Watercare Services, a council-owned business, provides water to homes and businesses. It also takes wastewater, sometimes mixed with stormwater, to plants at Mangere, Rosedale and other smaller plants for treatment before being discharged into the sea. The Auckland Council is in charge of stormwater.
Why is sewage flowing into the Waitemata Harbour in 2017?
Many of the pipes in the older parts of the city were installed 100 years ago when stormwater and wastewater were combined. Many of these pipes have not been replaced or "separated". In January, the Herald revealed waste flows from 41 points around the inner-city suburbs almost every time it rains. One million cubic metres of waste and raw sewage is pouring into the harbour each year.
What is being done to fix the wastewater problem?
Watercare has a $1.7 billion plan to build new "interceptor" pipes and feeder sewers that will reduce wet-weather overflows from the area by 91 per cent by 2035. Mayor Phil Goff has asked for work to be done by June 30 on bringing forward work to invest in clean and safe beaches, but has said it will come at a cost to ratepayers.
The past week saw a one-in-a-100-year deluge. What happened?
The power-packed storm that meteorologists dubbed the "Tasman Tempest" delivered Auckland more rain than typically falls for the whole of March. It was likened to a "weather traffic jam", not unlike an Auckland morning during March Madness, by Niwa meteorologist Ben Noll. It was an autumn trifecta of strong and slowing-moving low pressure, deep tropical moisture, and a blocking ridge of high pressure to the south. The storms left water-flooded fields, raging rivers and closed roads in Coromandel, Clevedon and other rural areas, left the Ardmore treatment plant struggling to cope with silt and wiped out homes, businesses and a sinkhole in New Lynn.
New Lynn bore the brunt of Sunday's deluge. Why?
The council's Healthy Waters general manager Craig McIlroy says wildly varying volumes of water can hit anywhere in Auckland metres apart. On Sunday, New Lynn was the worst-hit area. This led to the culvert in the middle of New Lynn shops becoming "significantly blocked". McIlroy said the old culvert, a "hot spot", had been inspected on Tuesday and Friday last week but the downpour significantly exceeded its capacity and debris built up behind a grille which made it overflow. Until the water levels fell, it was too dangerous to get into the culvert and assess the damage. It needed replacing at a cost of more than $1 million. Another culvert behind a block of flats on Great North Rd which was inundated, forcing all residents to evacuate, was also on the hot-spot list and had been inspected before Sunday's downpour. The culvert was upgraded in 2015 after a major failure in 2012. A screen installed to stop children entering the culvert made it prone to blockage, McIlroy said. The council said Sunday's deluge significantly exceeded the design capacity of the failed Clark St culvert.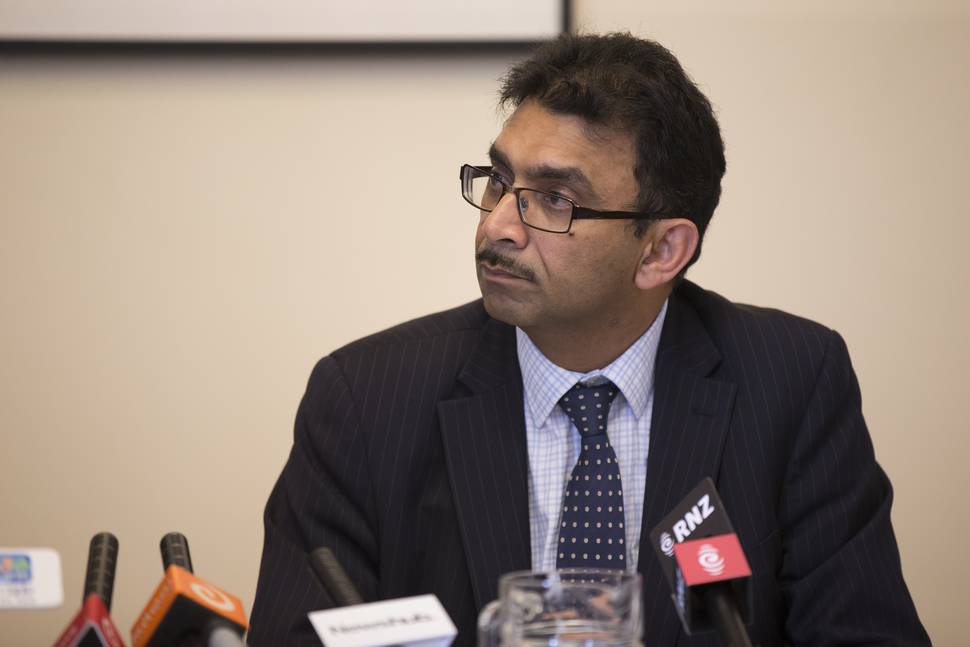 What has been Goff's response to the storm damage?
Goff cited the case of a multi-unit block of flats flooded four times in 15 years and the struggling Ardmore water plant for holding an inquiry, saying the city deserves a water supply that can be relied on 100 per cent of the time. We would have to think about ways we could improve the resilience of the system to cope, said Goff, adding the city's population growth of 45,000 people a year and more extreme weather events due to climate change were adding to the strain on infrastructure. The terms of reference, who will conduct the inquiry and when it will report have not been set.
What is Watercare doing?
The company is asking every Aucklander to save 20 litres per day until the end of March when the silting problem at Ardmore is resolved. The goal is to reduce the city's water use from 460 million litres a day to below 400 million litres. This is to cope with the inability of the Ardmore plant, which provides two-thirds of the city's water, to filter silt. If Aucklanders cannot meet the sub-400 million litre target, Watercare said partially treated water would be released into the network and a boil water notice issued. Right now, Jaduram says, everyone is getting AA-grade water.
Why is it so hard to filter sediment at Ardmore?
Jaduram says Ardmore is not designed to quickly treat heavy levels of sediment-laden water. It uses a compound known as alum (aluminium sulphate) mixed in with the water which makes the silt particles stick together, or coagulate, forming larger, heavier particles which sink to the bottom in a process called flocculation. The so-called "floc" is removed and clarified and fed through sand filters to further removed suspended solids.
Can Aucklanders have a water supply that can be relied on 100 per cent of the time?
Yes, says Jaduram, but at a cost of hundreds of millions of dollars. After Auckland's drought of 1994 Watercare was instructed to safeguard the city from a one in 200-year drought. This led to the city broadening its water supply and securing consent to take up to 150 million litres a day from the Waikato River. Watercare has applied to take a further 200 million litres a day from the river to supply future growth. To guarantee 100 per cent reliability would require building a new water treatment plant and consent for more water from the Waikato in the event Ardmore or another large treatment plant failed, says Jaduram.
What is Auckland Council doing about stormwater?
McIlroy sees the need to replace the New Lynn culvert and stands by comments to the Herald in January that the current and planned level of capital investment is appropriate to manage council's stormwater asset risk profile. It took four years for Auckland Council to match the capital spending of $105m by former councils before the Super City was formed in 2010. In the first four years stormwater spending rose from $40m (part year) to $83m, before rising to $119m in 2015. This year the budget is $150m.
A 2011 council report said it would cost $5.4b to bring the stormwater system up to scratch over the next 50 years and $4.5b to cope with growth.