Newstalk ZB's Georgina Campbell went to Christchurch to help cover the Port Hills fires. Here she tells what she saw.
A cyclist pants as he pedals up the Port Hills, surrounded in a misty haze.
It's a scene like any other in Christchurch.
Except, actually, the mist is smoke and the cyclist has dodged several police cordons to get halfway up Dyers Pass Rd.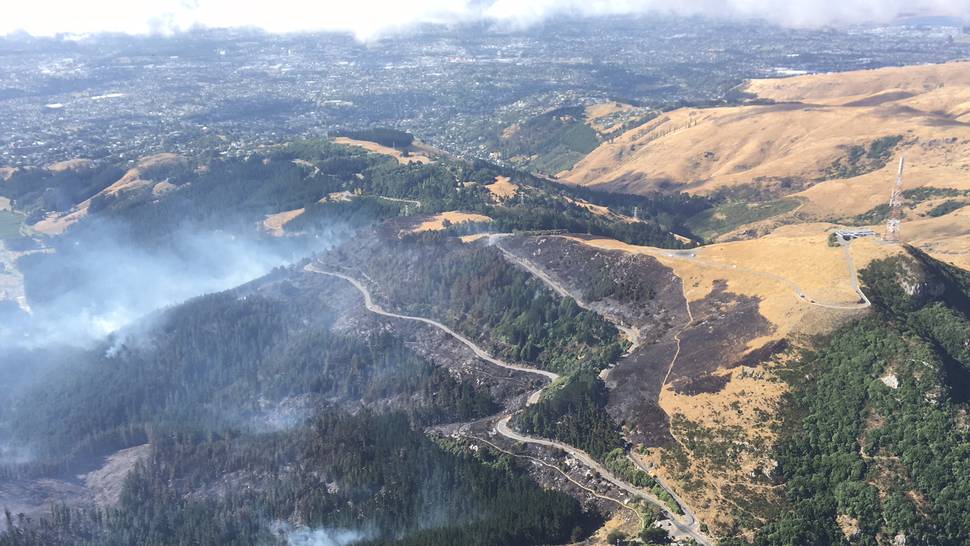 A firefighter pulls up and paces to the staging area at Princess Margaret Hospital in Cashmere. He's after lunch and new batteries for his radio.
Sitting outside the operations unit is a trestle table stacked with fruit and homemade chocolate chip biscuits, with a woman standing guard.
She tells me one school kid came in with cupcakes and a handwritten sign saying thank you for saving his home and cat.
It's midday on Sunday, and it's calm. These women have already handed out hundreds of lunch bags packed with baking, an apple, a sandwich and a small bag of popcorn, among other things.
This firefighter is out of sync with the lunch rush for a good reason though.
Minutes later he zooms over to two small boys and a woman. His family.
He ruffles their hair and asks how their day has been. They tell him they've been watching movies.
The two boys stare up at him, slightly bewildered and probably unable to comprehend the massive task their father has been dealing with - battling an inferno.
An inferno which has now moved several metres beneath the earth's surface, snaking through soil and rocks.
Two park rangers escort me up the hills to assess the damage.
We drive past that cyclist, who's somehow evaded authorities - the rangers' eyes widen and they holler in disbelief.
They radio through the sighting to someone higher up.
The hills are charred and blackened, a wound that lasts 2075 hectares.
We drive past a small platform next to the road where my friends and I used to perch and watch the sun set over a city that's still very much recovering from another disaster.
There are no flames, just a smouldering mess and flashes of orange from trucks' lights or firefighters' uniforms.
We reach a car park that's being used to park heavy vehicles and control water supplies.
A firefighter named Lou bounds up to me and puts out his ash-stained hand to shake mine.
He smiles without any indication he's done hours of back-breaking work.
He asks me what I want to know.
It's not what I want to know though, it's what I want to see.
On Thursday afternoon I was flown from Wellington to Christchurch to help cover the Port Hills fires.
I've lived and breathed it the last few days. I know how many houses are affected, the latest cordons to be lifted, who's asking what questions about the emergency response and what 400 residents had to say at a heated public meeting on Saturday.
I haven't seen the fire zone with my own eyes though.
To be honest, it's incomprehensible. It looks like a wasteland, a different planet where everything is singed.
Humans and machines are digging out that landscape inch by inch.
They're tiny in comparison but they're taming the beast that was the fire, they're winning.
I check my watch. It's past 1pm and I have to catch my flight back to Wellington.
I apologise to Lou and tell him I have to go.
From there it's a race to the airport, away from the hills and their fires, away from the earthquake building sites, away from the city I lived in for more than four years.
The firefighters and the people of Christchurch though, they don't get to leave and it's most certainly not a race for them.
It's a slog that'll last many months if not years of work and regeneration.
There's one thing that my colleague Kurt Bayer wrote in a piece about the fires.
"Just don't call us 'resilient'. We hate that."
I won't say that. But i will say Cantabrians are a bloody hardy bunch of people who know a thing or two about tough times.
They know the way through them is together.