It was a warm day in mid-January when a lanky New Zealander and his Swiss mate cast off the ropes from a white sloop at Tauranga Bridge Marina and sailed into the biggest cocaine bust in Australasian history.
The breeze was, at best, calm to moderate, so Hamish Thompson and Valentino Fries probably motored the yacht, the 15 metre Elakha, for at least part of their journey towards Australia.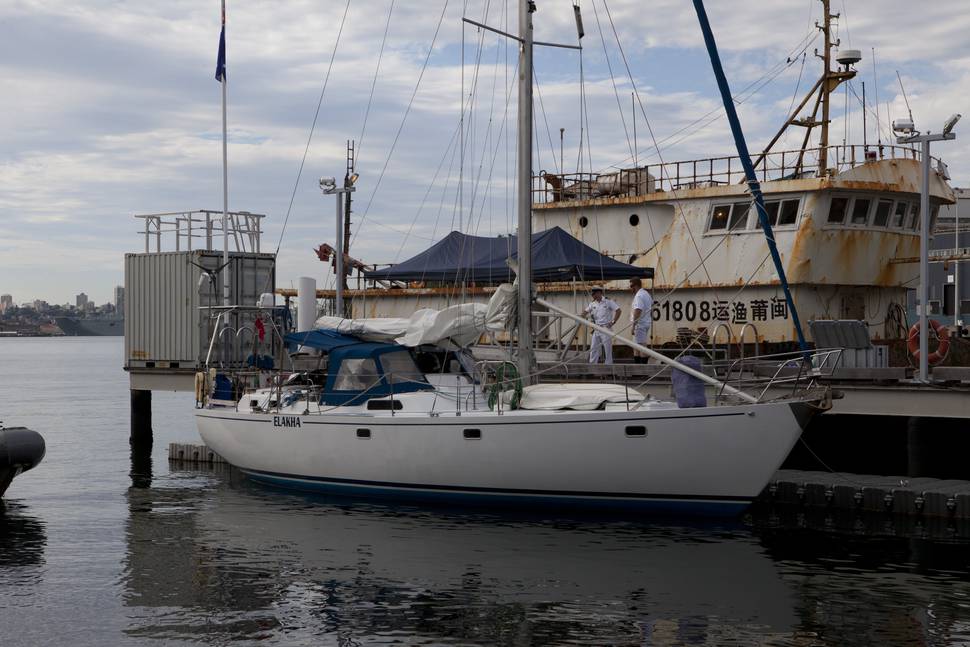 According to four New Zealand and Australian law enforcement agencies, the Elakha met a drugs "mothership" in the southern Pacific Ocean where the men helped to transfer dozens of black bags onto their boat.
The bags contained 1.4 tonnes of cocaine worth NZ$327 million.
Early on Friday, New Zealand time, the Australian patrol boat HMAS Bathurst intercepted the Elakha 370km east of Sydney and arrested Thompson, 63, and Fries, 54.
Later in the day, police arrested three other men aged 62, 63 and 66 who they allege had intended to launch a motor boat to meet the Elakha at sea. They also arrested a 32-year-old man in Sydney.
All six men have been charged with conspiracy to import a commercial quantity of a border-controlled drug. The maximum penalty is life imprisonment and a fine of AU $825,000.
Thompson, Fries and the Elakha arrived in Sydney on Sunday.
The Bay of Plenty Times can reveal that Thompson, described by one boatie as "tall and jovial", has been a regular visitor to Tauranga during the past 15 years and that he has sailed to Fiji, South America, and many other parts of the world.
In the early 2000s, he entered the Tall Ships race in the Bay of Islands, finishing in the middle of the field. He earned the admiration of Gisborne boatbuilders by shouting them beer with $100 notes.
New Zealand Customs agents yesterday confirmed that the Elakha left Tauranga three weeks ago and alleged that its occupants had not cleared customs in doing so.
Customs' group manager of intelligence, investigations and enforcement, Jamie Bamford, said his service had been investigating the Elakha and its crew for three years. Information had been shared with Australia's federal police and border officials.
Australian Federal Police acting deputy commissioner of operations Neil Gaughan described the seizure as "huge" and said Brisbane-based officers had been "doggedly pursuing this matter" since 2014.
Thompson was barefoot and wearing cargo shorts and a T-shirt when he appeared in court via video-link from Surry Hills police station yesterday. Legal Aid lawyer Deone Provera did not apply for bail, and Thompson will re-appear in court tomorrow with his co-accused.
Thompson was well-known at Tauranga Bridge Marina, but yachties would only discuss him on condition of anonymity.
One woman said news of the arrest was "quite a shock" to local boaties, although there were obvious signs that the marina was under surveillance.
"They knew they were being watched and we knew they were being watched because there were cameras everywhere," she said. "They were great guys and everybody around here did like them."
Another woman said that Fries was married to a New Zealander in Fiji.
The marina's manager, Tony Arnold, said the Elakha was originally from Canada and had been "in and out" of Tauranga during the past three years.
The latest owner had sailed it "all over the world".
ARRESTED
Hamish Thompson, 63, New Zealand
Valentino Fries, 54, Switzerland/Fiji
David Wren, 66, Australia
Kevin Michael Geraghty, 63, Australia
Glen James Willcox, 62, Australia
Yahay Magdalawi, 32, Australia
As reported by Australian media